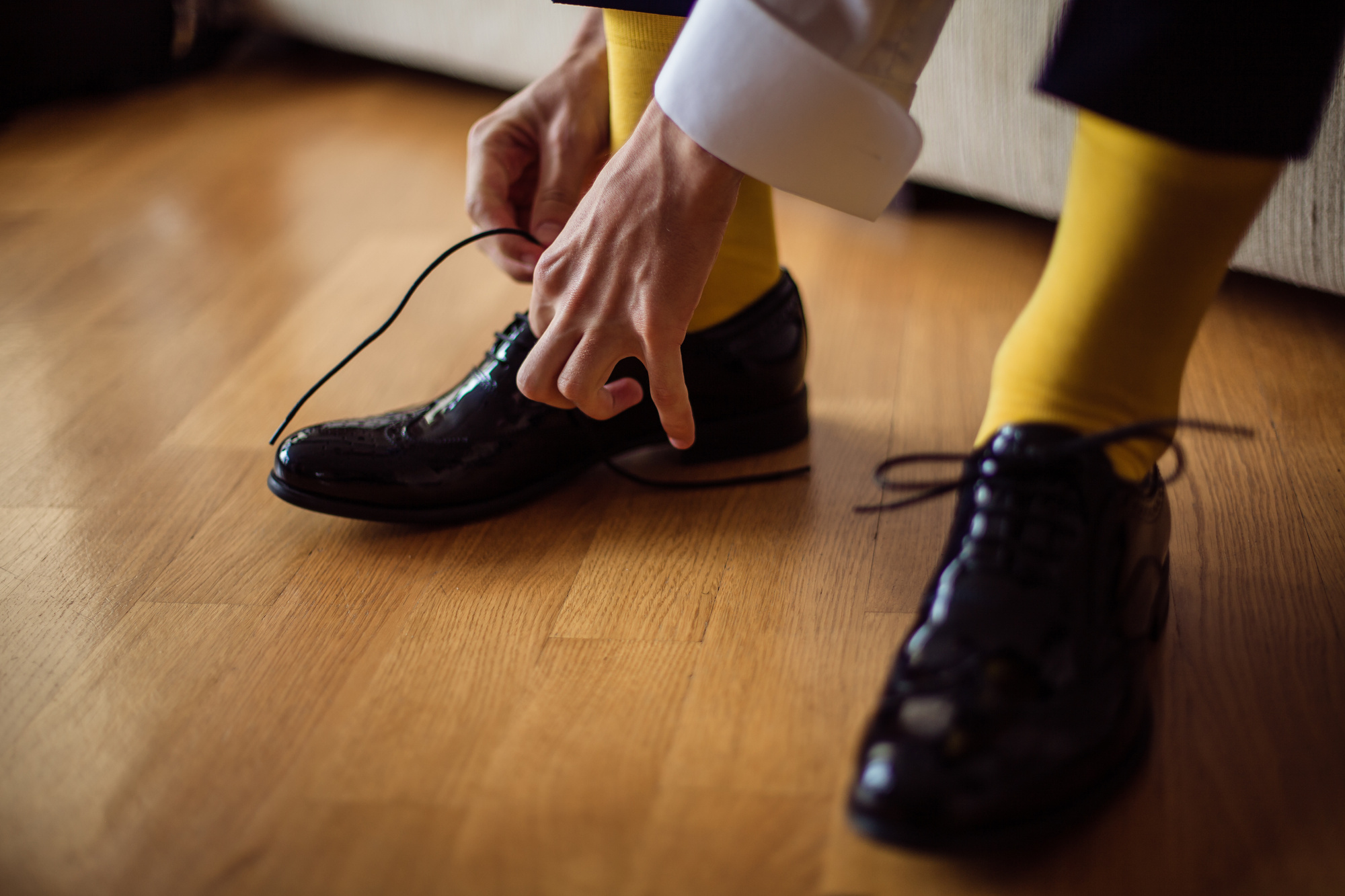 Unique socks are a great way to make a statement. Are you a man who can't resist colorful socks? Use these 9 tips and look lavish in bright colored socks.
Do you feel like your outfits have been looking a little drab lately?
Would you like to add a pop of color to your look, but aren't sure if you can pull off bright pocket squares?
Are you interested in representing your favorite sports team, celebrating a holiday, or trying a bold pattern or print — but still want to keep your look elegant and professional?
If you answered "yes" to any of these questions, then it sounds like you already have the right personality to wear colorful socks.
But how can you do the trend right, but still maintain a professional demeanor?
Read on to find out how to rock colorful socks, as well as novelty socks, like a true gentleman.
1. With A Suit
So, you have a big meeting coming up — and you'd be lying if you said you didn't feel a little nervous.
Also, find a way to express a bit of your personality without compromising the professionalism of your look.
Especially if you're looking to give yourself a bit of a boost of confidence?
Colorful socks are the way to go.
Plus, wearing bold socks can also make you stand out. The most important people in the boardroom will remember you long after the meeting.
Remember, to create the perfect balance, it's best to stick with a solid-colored suit. Shades of navy, black, or grey work best here. Additionally, make sure you choose socks in a color that compliments one of the colors in your suit, dress shirt, or tie.
For example, if you're wearing a grey suit, you may want to wear bright pink socks with smaller grey polka dots. Or, if your button-down has subtle blue threads running through it, pick colorful socks with a similar shade of blue.
2. To Represent Your Favorite Sports Team
Does your favorite sports team have a big game coming up?
Do you want to represent your team everywhere you go but know that you can't wear a jersey to the office?
Are you and your friends superstitious? Maybe you and your friends are in a pact not to change your socks until your team makes it through the playoffs.
Whatever the reason, one of our favorite ways to wear colorful socks is picking a pattern that represents your team. You can choose the team's logo, or go for a simpler look by selecting socks in your team's colors.
Make sure that, especially on game day, you cuff your pants.
This way everyone will be able to see exactly who you support!
3. As Part Of A Groomsmen Ensemble
Let's face it — sometimes, making those matching groomsmen ensembles look interesting can be a bit of a challenge.
All your guy friends have unique personalities. Dressing them all in the same outfit makes you feel guilty, and doesn't allow them to have much fun, either.
The solution?
Colorful socks!
Not only will this add an awesome pop of color to an otherwise standard suit, but it allows your groomsmen to express their personalities.
You can select colorful socks for your groomsmen as the perfect "thank you" gift. Or, you can let them pick out the specific socks they'd like to wear on your big day.
Don't forget to ask the photographer to capture an amazing shot of all of the groomsmen showing off their socks!
4. With Shorts (Not For The Faint Of Heart!)
Are you in the fashion world? Do you take your Instagram game to the next level? Then you know that sometimes to stand out you have to be willing to take risks.
Are you brave enough to wear colorful socks with shorts in the warmer months?
If so, here's how to do the look right.
Pair your colorful socks with pastel-colored shorts. You're already going for a bold statement, so why not commit to it fully? Keep your shirt simple — a short-sleeved button-down or a plain tee-shirt will work best.
When it comes to the length of the socks, look for a pair that's a bit longer than normal. You'd like them to come up to about three inches below your knees. To avoid looking like a camp counselor, steer clear of khaki shorts.
Finish off the look with a hat and sunglasses, and prepare for compliments on your bold and brave look!
5. To Celebrate A Holiday
Do you want to properly celebrate and prepare for a holiday — but you're not interested in decorating your entire apartment or cubicle?
If so, you can use colorful socks to help you to celebrate!
Look for a pattern that matches the holiday you're looking to ring in. For New Year's, you can try socks that are black and gold in color.
If you're looking to celebrate Valentine's Day, wear socks with a pattern of hearts of cupids. As a bonus, wearing these silly socks will definitely help to break the ice on any sort of date that you decide to go on!
For Christmastime, the possibilities for patterned socks are limitless.
Look for patterns with Christmas trees, snowmen, and even Santa Claus himself!
6. With Boating Shoes
Are you more into the preppy look?
Looking for the right pair of colorful socks to wear on a cruise, boat party, or a day out yachting with friends?
If so, don't be afraid to rock your colorful socks alongside your favorite boat shoes!
We love the idea of wearing bright socks with more of a nautical theme to them, as well. Look for socks with prints of waves, signal flags, or even the staple of nautical wear, the anchor.
For a truly preppy and polished look, pair your boat shoes and socks with khakis. Don't forget to cuff them, so that everyone can see how awesome your socks are!
7. With Cuffed Jeans And A Tee
Are you looking for a way to dress up a more casual outfit?
Are you the type of guy who is a lot more likely to rock a band tee and a leather jacket than a three-piece suit and tie?
If so, then you can still wear colorful socks — but we know that you still want to wear them your way.
The solution?
Pair your socks with dark skinny jeans and your favorite tee-shirt.
If you want to take your look to the next level, you can pair your socks with your favorite pair of high top tennis shoes.
It can sometimes be a challenge to properly cuff your jeans. We recommend checking out this tutorial to make sure that you're doing it the right way.
8. To Show Off A Hobby
Do you often rely on your clothes to help you to start a conversation?
Are you looking for socks that help you to celebrate the things you love — whether it's your favorite television show or the fact that you love video games?
The right pair of novelty socks will help you to connect with the people interested in the same kinds of things that you are.
Look for a pair that's printed with video game controllers, books, a paintbrush, or whatever else floats your boat. These kinds of socks look awesome on everyone, and they're a great way to let people get to know your personality in an instant.
9. Join A Sock Of The Month Club
We know that all this reading about colorful socks has got you excited to try out the trend on your own.
In fact, now you have so many different options, that you might even be feeling a little overwhelmed by choice!
The good news?
Joining a sock of the month club takes care of doing the work for you, and always ensures that you have plenty of options.
Click here to sign up for our favorite sock of the month club, and get fashion delivered on demand!
Need More Advice On How To Rock Colorful Socks?
We hope that this post has helped to remind you that fashion is something that you can use to express yourself from your head to your toes!
There are countless ways that you can wear socks to express your personality and have tons of fun in the process.
From the boardroom to the boat dock, we hope that you are no longer afraid to add a pop of color to your routine.
Looking for more fashion advice? Want to upgrade your current look?
We can help.
Spend some time on our website and blog to learn how to make the most out of your life, whether you want to change your look or your career.