Showcasing your business at an expo is one of the best ways in which you can drive sales to the company and show off the products and services that you are offering. Unlike traditional marketing, expos give you the chance to meet and greet some potential clients, adding a face and a personality to your business in the mean time.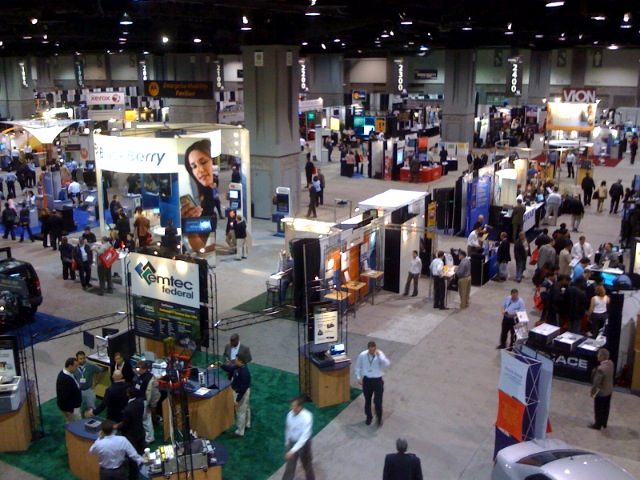 One of the biggest challenges which you are going to face at a trade show or exhibition is how to get the people coming to your stand, instead of to another. Simply because there is a great deal of footfall doesn't directly indicate that you will be lucky enough to gain interest, but here are some tips which can certainly increase your chances of bringing folk in.
Stand Design
The first step here is going to be ensuring that you have a great looking stand which is good enough to grab someone's attention. Avoid going with a monotonous design as some do who believe that the product should "sell itself'. You have to stay one step ahead of the game and invest well in a  great looking trade show stand. Check out a company like Quadrant2Design and you'll see the levels that you should be aiming for.
Gameshow
Inviting guests to come and play a game is a great way of getting them into your stand so that you can follow up with an introduction to your business. This can be a very simple game such as spin the wheel, with a selection of small prizes available. Whatever it is, the game needs to be enticing enough that someone will come for a laugh, and then stay to see what you are all about.
Wi-Fi
There have been complaints at so many events that there is no wi-fi or that the wi-fi is not strong enough, much to the malign of many journalists and trade show attendees looking to cover the event. You can solve a problem and get people to your stand very simply by providing a solid wi-fi connection for them. This will not cost you very much money and through a simple router you can bring the crowds flocking to your stand, where you'll be able to take advantage of that by showcasing your business and its products.
Influencers
Get in touch with bloggers and influencers before the event, ask them to come in early and snap some shots at your stand. Once this has been done with appropriate hashtags, you'll have increased the number of people who are going to be looking for your stand.
Small and Quaint
Bigger is not better when it comes to trade shows and the more personal and cozy that you make your zone, the better. This is for a number of reasons, firstly a crowd can build up quicker because of limited space, which of course excites others who wish to know what everyone is looking at. This also ensures absolute focus on the products, which won't be lost because of the size, but will instead stand out for all to see.
Simple tricks which you can use that will significantly boost your chances of trade show success.