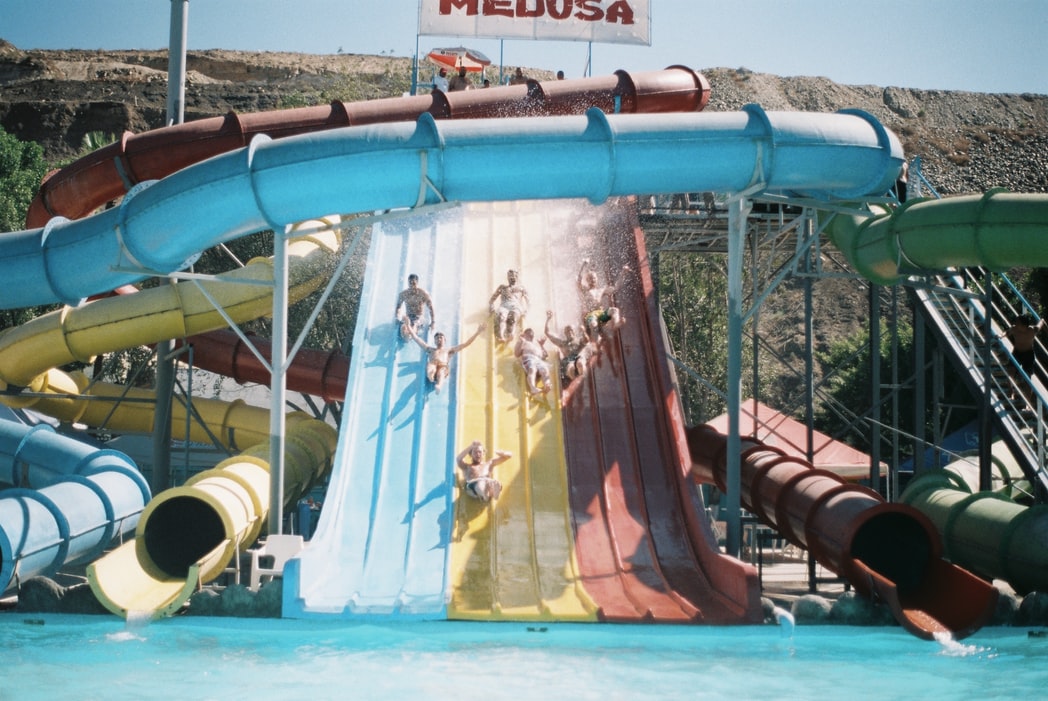 Source: Unsplash | Brandon Hoogenboom
Nothing beats the hot weather than a cool splash at a nearby pool. While the United States has countless destinations for amazing resorts and water parks, experience something different by going to none other than the Palmetto State. The water parks of South Carolina can easily compete with the rest of the states. Get ready and take the family on a fun and memorable experience with these top water parks in South Carolina.
1. Myrtle Waves Water Park, Myrtle Beach
Over the past few years, crowds are drawn to visit Myrtle Beach to enjoy this water park. The Palmetto State's largest water park boasts more than 8 hectares of area filled with over 30 water slides, curves, pipe chutes and more than 1.2 million gallons of water for guests of all ages to enjoy.
Kids can enjoy all day long at the Saturation Station, a large children's area and a water playground. The station features a huge volcano, a couple of slides for children and limitless sprays and fountains of water to enjoy. Other kid-friendly attractions include the Bubble Bay, a leisure pool 7,000 feet long with bubble jets dotted along the edges. The water depths in this pool only range from six to eighteen inches.
For a more exhilarating adventure, challenge the water park's Turbo Twister- take a 10 story climb only to begin a rapid descent in one of the three tubular slides more than 350 feet long. You can't miss one of the park's novelty attractions, the Arooba Tooba. It takes guests through a whirl around a closed flume for a few times and ends with a fun splash in the center drop.
2. Whirlin' Waters Adventure Waterpark, North Charleston
Another massive resort intended for the whole family to enjoy, the Whirlin' Waters has 15 acres of seasonal, island-style fun to offer.
Living up to its name, the Big Splash Tree House surely offers a big splash of fun with almost 70 interactive features including movable pinwheels, body slides, water and bubble jets, and an absurdly large bucket capable of dumping a thousand gallons of water. For your little toddlers, the Lily Pad Lagoon is a shallow water pool safe for small kids with added geysers which spray water every now and then. Kids a little taller can have their share of fun at the Otter Bay with its six-lane slide and around ten more features for them to enjoy.
One of the central attractions in Whirlin' Waters is the Tubular Twister. Go whooshin' down three hundred feet of near-vertical slides through a variety of twists and turns, and get with cool water spills.
3. Wild Water & Wheels, Surfside Beach
If you are after an afternoon of going wet and wild with a little track racing on the side, this water park and resort is the best choice for you. Choose from any of its 33 exciting rides – from high- speed tubular slides, flumes, a wave pool, and even waterfalls. Aside from the exciting water-based fares, the family can also enjoy a bumper boat ride, race track cart racing, and a miniature golf course for an all-around fun experience.
Some of the must-see attractions in Wild Water include their various mat slide experiences. In Head Rush, you get to feel that adrenaline rush as you slide in high speed down to the pool below. Meanwhile, their Wild H20 Racer has become quite the popular activity as guests get to race against three others in this four-lane slide with a couple of steep descents, ramps, near-vertical rolls, and drops.
Speed slides like the Triple Dip lets guests experience the rush of water and the wind through them as they pass through what appears to be a long, nerve-wracking experience with its three sharp dips. The SideWinder will toss you from one side to another with this long and winding slide. For something a little on the extreme, the Free Fall Cliff Dive definitely won't disappoint. Imagine a body- only slide to send guests down up to speeds of 45 miles per hour through a tubular tunnel ending in a near-vertical drop.
4. The Orangeburg County YMCA, Orangeburg
Located within the Midlands region of South Carolina is the Orangeburg County YMCA. There are a couple of activities for the family like therapeutic pools, a fitness center and gymnasium, as well as a natatorium. The attraction with most visitors, however, is the water park which is only open during summertime.
A lazy river is available for people who prefer to lounge around and float. Guests of all ages can take their pick on the various slides and features of the water park. There are two different Family Fun Slides, a Bowl Slide, the Spider Spray, Group Pavilion, and a Zero Depth Pool. Afterward, take a bite and quench your thirst in their fully- stocked snack bar. Admission is free for members of the YMCA of Columbia but for guests, the fee starts at just 4 USD for guests below 4 feet and 8 USD for guests 4 feet and above.
5. Family Kingdom Amusement Park, Myrtle Beach
Myrtle Beach definitely has a lot to offer, especially when it comes to your wet and wild party requirements; enough to take another spot on the list with Family Kingdom Amusement Park. It is a seaside amusement park along Ocean Boulevard, with 37 rides and amenities for all guests – family rides, water slides, thrill rides, and even go-kart tracks.
As an overall amusement park, it also features a figure-eight wooden roller coaster named the Swamp Fox. Named after the famous hero from the American Revolution, the ride runs over 2,400 feet of track and goes up to a height of 75 feet.
The Splashes Oceanfront Water Park is the main attraction for your water-soaked fun. It also has a lazy river, a couple of water flumes, and eight slides designed for children. TripAdvisor, a leading travel and dining website, once named Family Kingdom and Splashes Rank 5 in its Top 10 amusement parks outside Orlando, Florida. darmowe spiny za rejestrację bez depozytu 2022