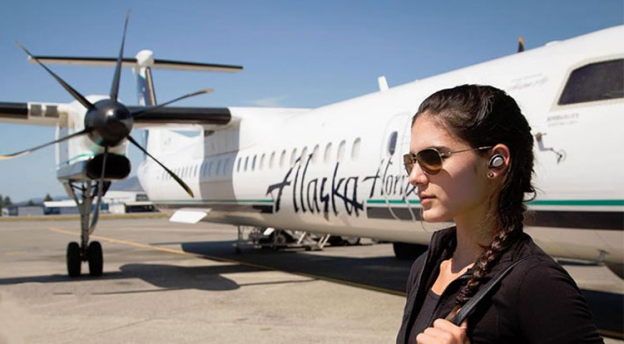 (Image Credit: Nuheara)
The vacationer or business traveler has limited space when packing and needs to decide what stays and goes, including electronic accessories and gadgets. While some might argue that taking any type of device along defeats the purpose of travel, certain devices can be quite useful. Below is a list of this year's top-rated accessories and gadgets that can make any traveler's life easier.
The Tablet
Popular among business travelers, tablets help them stay productive while spending several hours en route to their destination. The main advantage of tablet computers is that they're lighter and easier to use on the go than laptop computers. They're also larger than a smartphone for times when a small screen just won't cut it.
The Apple iPad is now lighter and less expensive than ever. The 10-inch tablet provides excellent speed for browsing and doing simple tasks like checking email or watching movies. It charges extremely fast as well.
E-readers
Paperwhite is a new alternative to Amazon's Kindle. Its features include a long battery life, non-glare screen, and a built-in light that reduces eye strain and doesn't project a bright image to people sitting near the reader. This makes it ideal for travel by plane.
Beyond the Cell Phone Camera
Selfies and cell phone shots will do in casual situations, but those who want high-quality photos of their travel experience should consider investing in a stand-alone camera. Canon recently released its PowerShot G9 X Mark II, a lightweight and high-end camera that easily fits into a pocket. It features a 3x zoom lens, 20-megapixel image sensor, and a one-inch screen.
A Portable Battery for All Devices
The more devices a person travels with, the greater the likelihood of dead batteries due to not being close enough to a power source. The Anker PowerCore 20100 is a high-powered battery pack that can bring life back to multiple devices. The one downside is it's a bit large to pack. If that's an issue, travelers can always choose a smaller charger such as the Jackery Bolt.
Earbuds for Airplane Travel
According to Smithsonian Magazine, the noise level inside a typical airplane can easily reach between 75 and 85 decibels. That's to say nothing of the noise from people bustling about in the airport itself. Travelers looking for a more peaceful sensory experience often turn to noise-blocking headphones or increase the volume of their personal earbuds.
Unfortunately, both options have drawbacks. Noise-cancelling headphones make it impossible to speak to flight attendants or fellow passengers without removing them. They also don't help those with hearing difficulties to understand what's going on around them. Turning up the sound on traditional earbuds only magnifies the decibel level and increases the risk of future hearing loss.
IQBuds offer a better solution. These wireless earbuds for airplane travel from Nuheara allow travelers to decide which sounds they want to amplify, reduce, or eliminate. It also comes with wireless phone call capability. By turning the setting to airplane, travelers can reduce noise from the engine as well as people talking and moving around to their desired comfort level. They can also balance speech and ambient noise and equalize levels of treble and bass from their surroundings. IQBuds make what can be a stressful experience enjoyable again.