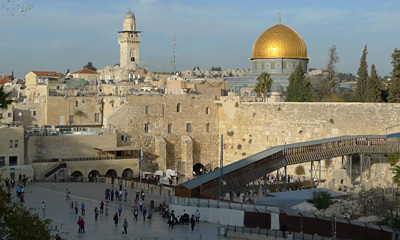 Are you thinking of hitting the road soon to a far flung, warm and friendly destination and you have chosen Israel as the go-to place for you? You won't be disappointed at all, what with its ancient cities, beautiful temples and churches and storied history. Considered to be one of the safest places for visitors in the Middle East, you will find only treasured moments and enjoyment in the winding cobbled lanes of the cities of Israel.
When To Go?
Without doubt, the best time to visit Israel is in the spring time, when weather trends are more predictable and temperatures haven't quite reached their summer peaks, making outdoor activities more enjoyable. The autumn is likewise an enjoyable time, however much of the land will be parched and dry while the spring will have the added enjoyment of many fresh blooms having been fed from the winter rains. Winter can be a good time to come if you don't mind unpredictable temperatures, but ensure you bring clothes for every eventuality – even for hot weather as you can get away with some summery temperatures in winter still. Summer will be the hottest time of the year with extremely high temperatures throughout the day, so unless you really enjoy the hot, dry sunshine, try to plan your trip in the shoulder seasons.
What To Bring?
Israel is a great place for the outdoor lover as well as the history buff. Bringing appropriate outdoor gear for walking and climbing (if you plan on it) is advised as well as a good, modest swimsuit. The coast of Israel is beautiful and perfect for lazy days on the sand, and you don't want to miss the opportunity to take a dip in the famed Dead Sea, renowned for its extremely high mineral concentrations, ideal for skin treatments of all types. Hiking is a favourite past time in the north, so good, sturdy shoes are advised if heading up there to do some hiking in the hills and valleys that offer beautiful views. While summer won't likely experience much in the way of rain, it's advisable to bring a waterproof coat in the shoulder seasons – while not common, rains can still fall, especially outside the cities.
Staying In Touch
As with most other places, Israel is home to some great internet connections and hotspots as well as good wireless in many places. Internet cafes as well as public telephones are common. If you're interested in texting or phoning home or even using your own phone to access the internet, you can always pick up a great Israeli sim card that you can purchase online before your trip and that comes in great options for 7-21 days, perfect for most trips to the region with thousands of minutes and texts as well as great high speed internet access for low rates.
So there you have a quick run down on when to visit and what to bring on any typical visit to Israel. With it becoming such a new hot spot for tourists there's never been a better time to visit this mysterious, spiritual and awe-inspiring place. So book your ticket today, you really won't regret it.