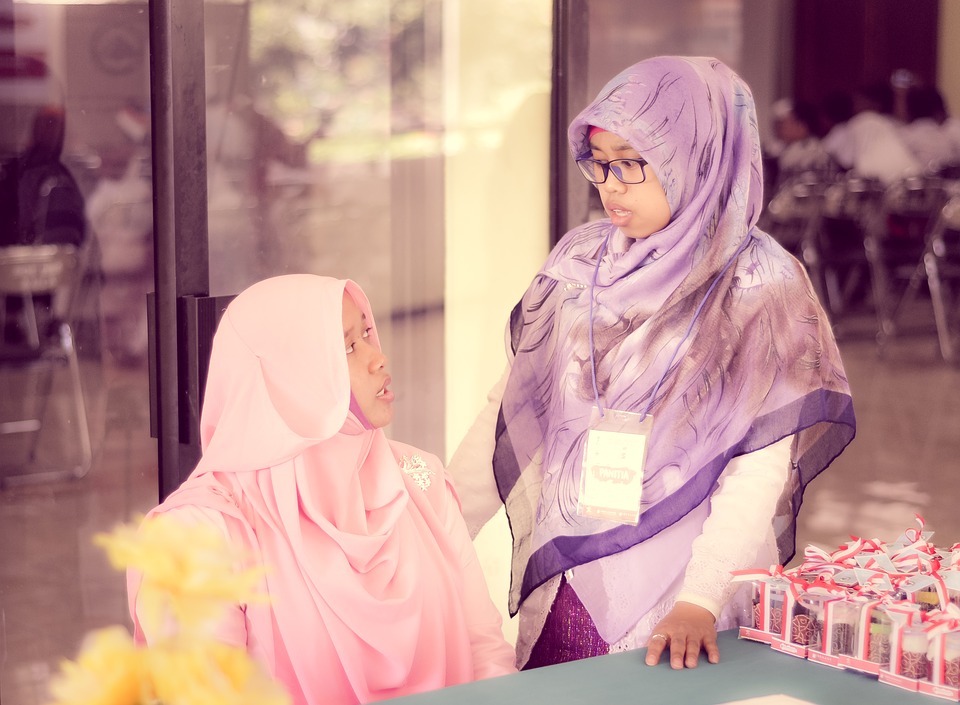 Hijab is an undoubted symbol of decency. Also known as a headscarf or veil, it is traditionally used by Muslim women to cover the head and chest region. It is a religious requirement for any woman who will be surrounded by men who are non-family members. There are different kind of hijab fabrics, and materials like cotton, jersey, linen, etc. are fairly popular. Today, though, there are multiple other types of hijab for the modern Muslimah.
Pearl Lace Hijab
This hijab style is uber attractive, giving the Muslim woman a cool, almost spicy appearance. The pearl lace hijab is made from chiffon material, and is designed to have a luxury lacey appearance. It gets the "pearl" in its name from the pearls (typically in off white color) used in lining the borders of the hijab, or used to decorate the entire body of the hijab.
Pashmina Hijabs
The pashmina hijab is a simple design for the modern hijab fashion. This hijab is made from a shawl-like material, giving it an enchanting soft outlook. The two ends of the rectangular hijab are given a threaded finish which you can show off with a hijab style that lets the ends hang loose from the shoulder neck to your chest.
Printed Hijab
Traditionally available in black or white colors, hijab fashion has seen hijabs of many different colors appear on the scene. What is more, beautiful floral or other well patterned prints, are now increasingly popular. Printed hijabs could be available in satin, linen, cotton, or just about any other type of hijab fabric. The beautiful patterns can only make you gape excitedly. If you do get a printed hijab, be sure to adopt a hijab style that shows off your prints.
Kashmiri Hijab
Kashmiri hijab is typically based off of chiffon material. But it is designed to be extra light and breathable, giving it a lovely shimmering appearance. Kashmiri hijabs traditionally come in standard bold colors; in recent times, though, they have had their elegance elevated using beautiful floral patterns with colorful threads, or well-designed prints. This hijab is designed for special occasions or small parties.
Embroidered Hijab
This hijab is mostly designed to accompany a particular matching dress. Embroidered hijabs take hijab fashion to a whole new level by including embroidery work at the top portion of the hijab. The hijab is made to fall backwards without covering the chest. This embroidery work may be done with golden thread or similarly catchy colors. The embroidery is designed to match with the embroidery on the accompanying dress. Embroidered hijabs are ideal for functions such as marriages.
Bridal Hijabs
Bridal hijabs or wedding hijabs are some of the most attractive hijabs you will ever lay your eyes on. Particularly made from silk, these hijabs are given multiple decorations that make them striking in appearance. These decorations include pearls, lovely borders, and decorative stones, all combining to give your hijab the best possible look. The top and borders of a bridal hijabs are typically decorated, while the sides and chest portion are mostly made of exquisite plain silk.
Workout Hijab
If you are a sports lady, you will have noticed that most typical hijabs are not very suitable for workouts. Hijab scarves specifically designed for sports women are made from ultra-light high-tech fabric. These fabrics are very breathable, comfortable, and lightweight, and are great for the Muslim woman trying to stay fit.
Turkish Hijab
Some of the most traditionally decorative hijabs you will ever find are Turkish hijabs. These hijabs, which are generally plain all through, are usually designed with diamante-styled accessories on the head portion of the hijab. These beautiful diamond attachments on the forehead region give the hijab a broad border, and gives the wearer a diamond-shaped face. It is thus different from every other hijab pattern. Like the embroidered jersey hijab, it is made for functions, parties, and marriages.
Ready to raise your hijab game to a whole new level? There are multiple hijab types and hijab styles to give you a graceful, elegant, and striking appearance for any occasion. Whichever the occasion or outing you have in mind, there is always an ideal hijab type to go with it.