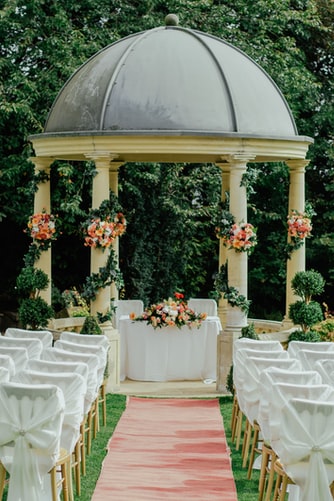 Think of weddings and straight away the chances are that you'll be picturing a traditional white wedding in your mind. Or, it might be that you're picturing a large Asian wedding full of glitz and glamour, colour and vibrancy. That's because these types of weddings are the most popular and commonplace.
There's nothing to say, however, that your wedding HAS to be one of these types. It's often said that the most memorable and enjoyable weddings are those that are full of personal touches from the bride and groom, and that's where wedding event hire plays its part.
And that's also why tip weddings, destination weddings and many other wedding venues are becoming increasingly popular with brides and grooms in the UK. Dare to be different, and the chances are that you'll create memories that will last a lifetime.
Outdoor weddings are an example of a different wedding venue, and certainly the UK plays host to a wonderful array of outdoor wedding venues, many of which are in London, which we look at below;
Kew Gardens
Offering civil ceremonies at this world-famous location, the botanical gardens of Kew provide beautiful scents and smells for your special day. Your guests can explore the gardens at their leisure, and there's no better backdrop for your wedding photos!
Regent's Park
This central London location offers private gardens to explore, with the York Lawn offering a marquee with opening sides. Licensed to host civil ceremonies, it also has a secret garden which your guests can explore.
Hampton Court Palace
With its 1920s-style orangery with huge French windows opening out into the walled garden, this historic London wedding venue is a must-see. The outdoor space provides not only space to conduct your civil ceremony, but is also ideal for photos and lawn games, and simply enjoyment in the sun for your guests.
Chelsea Physic Garden
An impressive London botanic garden, boasting over 5,000 species of plants and fauna. It provides an idyllic backdrop for your wedding photography.
The Hill Garden & Pergola, Hampstead Heath
The Hill Garden and Pergola is a beautiful Edwardian formal garden and raised walkway hidden away in Hampstead Heath and is a licensed wedding venue. It offers an almost fairytale blend of historic and natural beauty, making for a magical and entirely unique place for a ceremony, with stunning views across not only the Heath but also the City of London.
Battersea Park
This Grade II-listed historic park contains three very special wedding venues. There's the Bowling Green Pavilion and Lawn, the Pump House Gallery and the Victorian Bandstand, all of which are stunning outdoor wedding venues which you can make your own.
Of course, what you will need when it comes to wedding event equipment and furniture hire at these venues will be very much dependent upon the specific outdoor event venue you decide upon. During your wedding planning process, and as you in the process of organising your venue, make sure you ask what is included, as there are certain elements that are essential for outdoor weddings.
Think of outdoor tables and chairs, rustic wedding furniture, folding wedding chairs, patio heaters, wedding event decoration hire and so on, and you get a feel for the items that you should be putting on your outdoor wedding equipment rental list. This is all part of the overall package of requirements that you will need, which you've no doubt already got itemised in your wedding budget (if you haven't done this, then it's really important that you do!)
So, hopefully we've given you some ideas about where you could hold your outdoor wedding in London so thayou know where to start like warehouse venues London.  London is blessed with many licensed venues for outdoor weddings, and so take your pick.  As the bride and groom, choose one that is most personal to you.  It might be that this is where you met or even proposed!  Suffice to say that the more flexible the venue in terms of working with you to achieve the dream wedding you want, the better!
And finally, a word of advice about London. Get your negotiating hat on, as wedding venues and wedding equipment hire can be quite expensive if you don't ask the right questions. Every little helps when it comes to your wedding budget, and so try to look after the pennies, so that the pounds will look after themselves!
All that's left to say is congratulations!