If you're trying to grow your business in 2021 or make a living using Instagram, then Instagram marketing is a must — and Instagram tools are the way to get the job done. From account growth to scheduling content to tracking analytics, there's an Instagram tool out there for virtually every task. And by selecting a few key tools to use, you can automate marketing processes to save time and improve your Instagram account. Let's take a look at the best Instagram tools that'll help grow your business in 2021.
Instagram Growth Tools
As a business on Instagram, growing your account should be a major priority. After all, the more followers you have, the more brand awareness and conversions you're likely to get. An Instagram growth tool can help you gain more followers and automate the job so you don't have to spend time growing your account manually.
As you focus on follower growth, make sure to think about the type of followers you're trying to attract. Too often, businesses choose to buy Instagram followers or work with a shady Instagram growth service. In these cases, brands end up with followers that are bots or fake accounts — followers that aren't going to benefit their brand accounts. It's important to select a high-quality Instagram growth tool that focuses on organic growth, helping you find authentic followers who are in your target audience.
Here are a few of the best Instagram growth tools to help grow your business this year.
Kicksta
Kicksta is a tool that's designed to help you get more Instagram followers. The platform focuses on organic growth and works by interacting with accounts in your target audience.
How it works: When you register for Kicksta, you provide information on the type of followers you'd like to attract. Then Kicksta uses your account to interact with those users so they'll come back and check out your profile.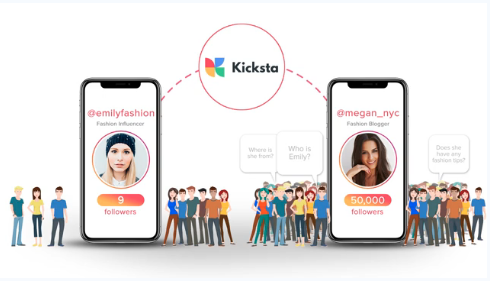 Pros: Safe and secure; targeted filters make sure the platform only engages with real users.
Cons: Doesn't provide any additional services, such as a scheduling tool. This Instagram platform focuses solely on growth.
Pricing: Kicksta's pricing plans cost $49 or $99 per month, both with a 14-day money back guarantee.
Combin
Combin is a set of Instagram marketing tools that promise quick and safe growth. With both growth-oriented and scheduling tools available, Combin is a helpful platform for businesses doing Instagram marketing.
How it works: Combin's growth service helps you find your target audience by searching hashtags and locations. You can check the quality of your Instagram audience and monitor your growth.
Pros: Can manage multiple Instagram accounts (with a business plan); supports two-factor authentication.
Cons: Machine learning software doesn't work as well as reported; sometimes unfollows accounts automatically that you didn't want to unfollow.
Pricing: Combin offers a free plan in addition to two paid plans that cost $15 and $30 per month, respectively.
Upleap
Upleap sells Instagram followers and promises to grow your account fast.
How it works: Purchase the number of followers you want and Upleap will deliver them to your account within three minutes.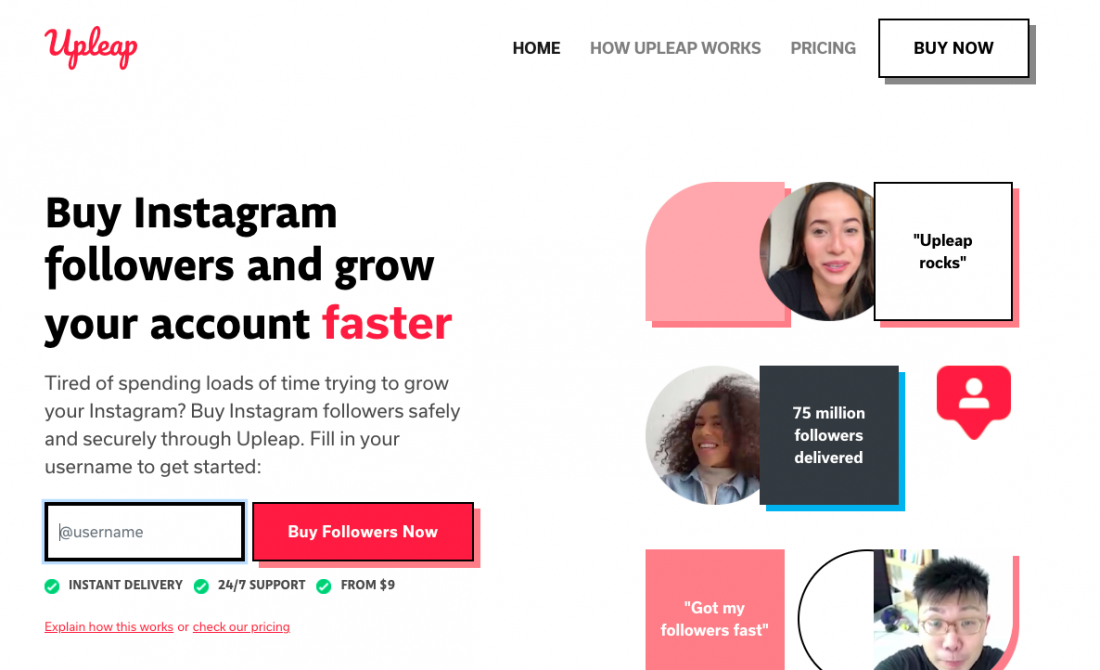 Pros: All orders come with a replacement guarantee and dedicated support; Upleap doesn't ask for your IG password.
Cons: The followers you receive will most likely not be genuine accounts.
Pricing: Pricing varies depending on which package you purchase. 100 Instagram followers cost $9.
Instagram Scheduling Tools
For businesses, scheduling Instagram posts ahead of time is a smart idea. Instagram tools that allow you to schedule your posts will save you time and ensure your content publishes consistently. These tools let you post whenever you want, zeroing in on the best posting times for Instagram and then scheduling your posts so as many people as possible will see them. Here are a few of the best options out there:
Planoly
Planoly simplifies social media marketing by helping you visually plan, manage, and schedule your content to share your story on digital platforms.
How it works: Planoly's scheduling tool lets you draft, plan, schedule, measure, monetize, and publish your Instagram content. Then auto-post your photos so you don't have to remember to manually post.
Pros: Link additional Instagram accounts; analyze metrics; post multiple Instagram Stories at one time.
Cons: No live customer support.
Pricing: Planoly has a free plan; a Solo and Duo plan that cost $7 or $15 per month; and a Custom plan that starts at $23 per month.
Sprout Social
Sprout Social is a powerful, all-in-one social media management platform to transform your marketing strategy.
How it works: Schedule and automate your Instagram content using this Instagram tool. Sprout Social's visualized calendar supports a long-term strategy, and images and videos are located in a centralized library to make the scheduling process easy and quick.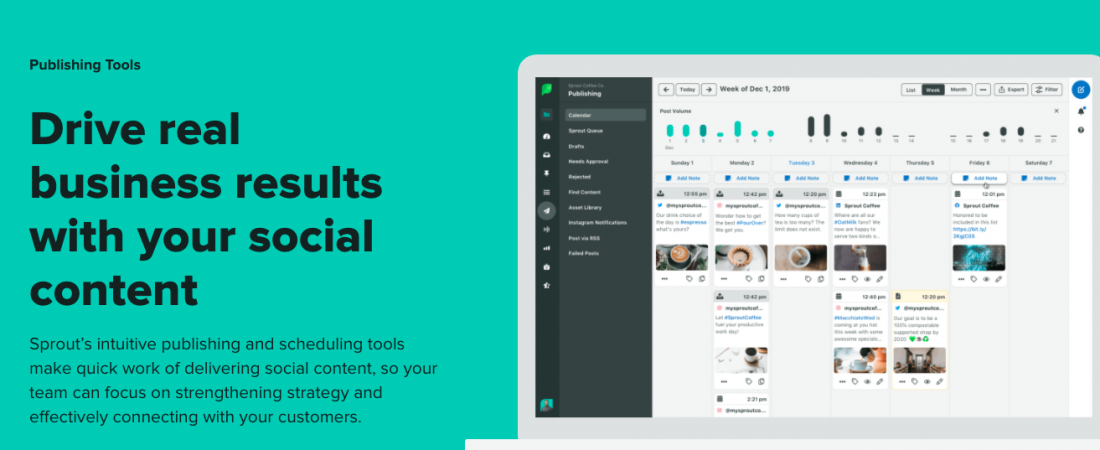 Pros: Monitor engagement; dashboard is well-organized and easy to use.
Cons: Pricing model is higher than comparable Instagram tools.
Pricing: Try it out with a 30-day free trial. Then pay $149 or $169 per month.
Hootsuite
Hootsuite functions as "the unofficial member of your social team." This tool integrates with multiple social media platforms and covers publishing and monitoring your content.
How it works: Hootsuite's Instagram scheduling tool is easy to use. Map out your campaigns on the visual calendar, using Bulk Composer to schedule several posts at once. Hootsuite also will automatically schedule posts to fill gaps in your calendar.
Pros: Suspends all scheduled posts in case of emergency; curates content with the Hootlet extension.
Cons: Interface can be difficult to navigate.
Pricing: Hootsuite plans cost $49, $129, or $599 per month. Hootsuite also offers an Enterprise plan with custom pricing. Most plans come with a free 30-day trial.
Instagram Link-in-Bio Tools
A link-in-bio tool is a handy way to gather all of the links you want to promote and put them in one place for your Instagram followers to easily access.
Url.bio
Url.bio is a link-in-bio tool that provides you with one URL and unlimited opportunities — all for free.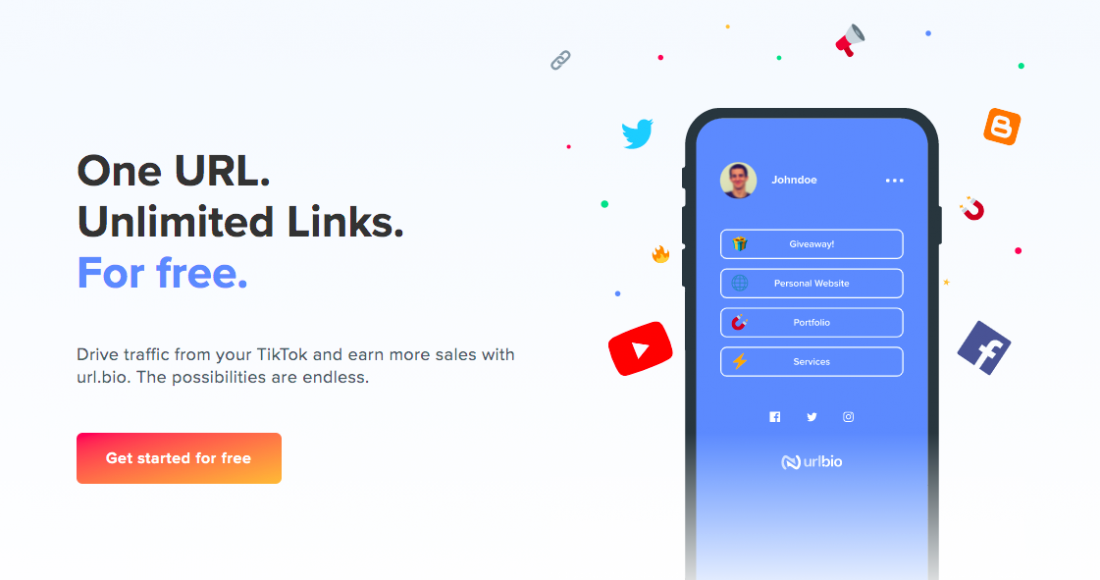 How it works: Add all of the important links you want to share. Customize the colors and thumbnails of your links to match your brand. Finally, track analytics to see which content is performing best with your audience.
Pros: Unlimited links; link scheduler; priority links.
Cons: Unable to save custom themes.
Pricing: Url.bio is completely free to use.
Linktree
Linktree is a popular link-in-bio tool option that connects your audience to all of your other content with just one link.
How it works: Customize your theme and add unlimited links, using features like Priority Links, Link Scheduling, and the Leap Link functionality to improve your landing page. Then add your Linktree link to your Instagram bio.
Pros: Embed video content directly into your Linktree; take advantage of integrations; track analytics.
Cons: Many helpful features are only available for Pro users.
Pricing: Linktree has a free plan, a Pro plan for $6 per month, and an Enterprise plan with custom pricing.
Skedlink
Sked Social helps you make the most of your Instagram account with its link-in-bio tool.
How it works: Add a series of buttons with your links that you can easily swap or reorder. Or use the gallery feature to direct Instagram users from your post to a specific webpage. You can also style and edit your Sked Link to make it be on-brand.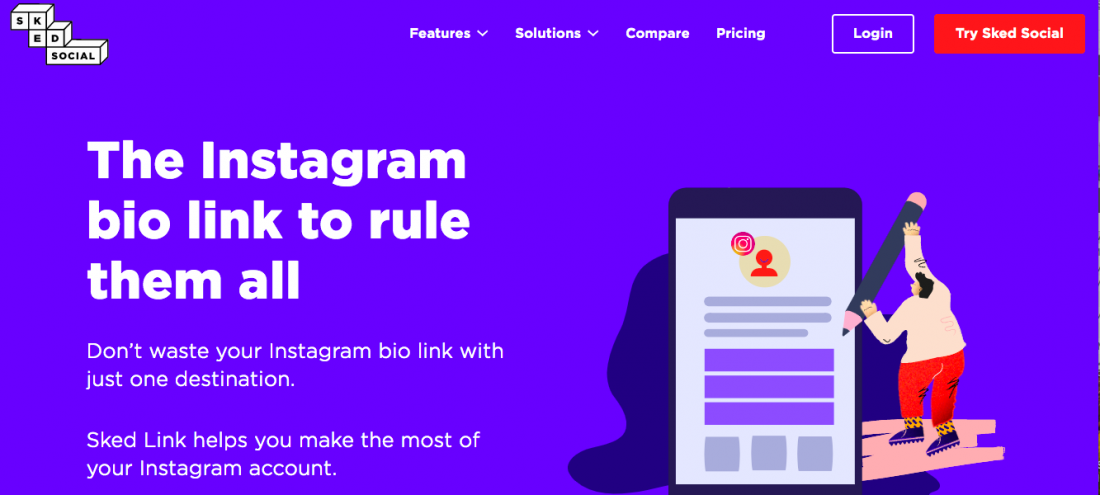 Pros: Facebook Pixel and Google Analytics integration; CSS customization
Cons: Doesn't offer features such as animated links
Pricing: Sked Social offers a free seven-day trial. Then select from plans costing $25, $75, or $135 per month.
Instagram Analytics Tools
You can grow your account, schedule your content, and add a link in your bio — but if you don't keep track of the results your efforts are producing, there's no point in trying so hard. Use these Instagram tools to measure your analytics and help inform future marketing decisions.
Awario
Awario is a brand monitoring tool you can use to discover and analyze all mentions of your brand from around the Internet and social media.
How it works: Awario crawls over 13 billion webpages daily in addition to API's. You can input your brand name as a keyword to find and join discussions on social networks. Awario also has features that allow you to conduct market research.
Pros: Advanced filtering options; receive email alerts for selected keywords
Cons: Onboarding process is not comprehensive; platform is somewhat difficult to learn to use
Pricing: Awario has three plans that cost $24, $74, or $249 per month. Awario does offer a free trial.
Social Insider
Social Insider gives you one unified dashboard for social media analytics, reporting, and competitors' analysis for brands and agencies.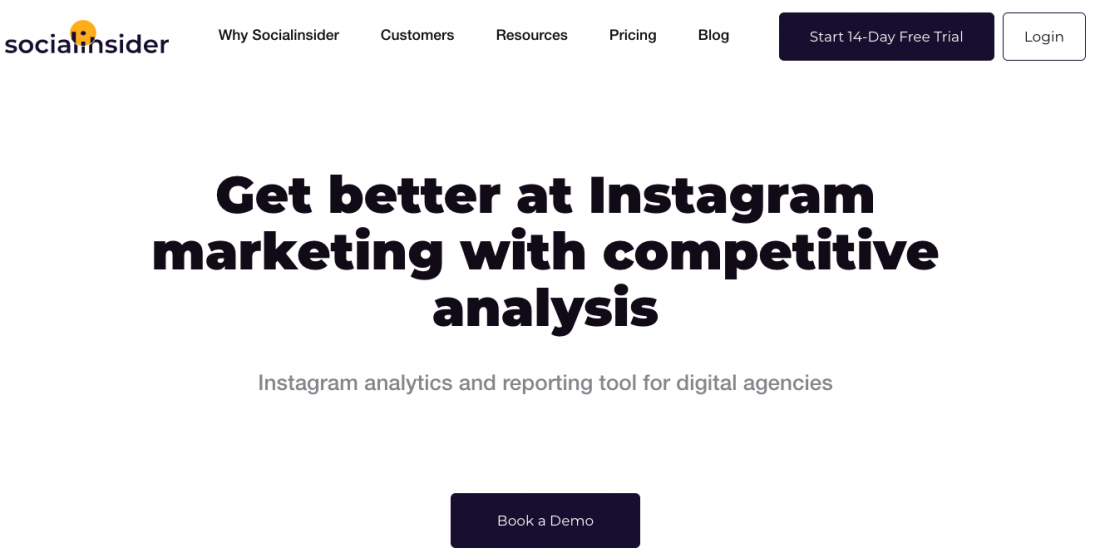 How it works: You can use Social Insider for analytics, benchmarking, reporting, campaign reporting, and brand metrics. It's easy to access your analytics on the go and benchmark the numbers against top competitors in your industry.
Pros: Easy to access and view data; saves a lot of time
Cons: Does not offer additional services such as a post scheduler
Pricing: Social Insider has a free 14-day trial. Then choose from plans that cost $83 per month, $141 per month, or come with custom pricing.
Iconosquare
Iconosquare provides actionable social media analytics to help you make data-driven decisions for Instagram and other social platforms.
How it works: Iconosquare's customized dashboard quickly visualizes the metrics most important to you. You'll also receive scheduled reports, and you can manage multiple social profiles in one place.
Pros: Also offers post scheduler; provides insightful benchmarks for over 100 industries
Cons: Can't separate paid and organic posts
Pricing: Iconosquare has a free 14-day trial and three different pricing plans: $49, $79, or $139 per month.
Save Time With Instagram Tools
Instagram tools make it easy to save time and work more efficiently as you manage your Instagram account. While some of these services require an investment, it's worth it — the benefits they bring to your business will pay for themselves. By carefully researching the Instagram tools on the market in different categories, you can find the best Instagram tools to help streamline your workflow and grow your business on Instagram in 2021.