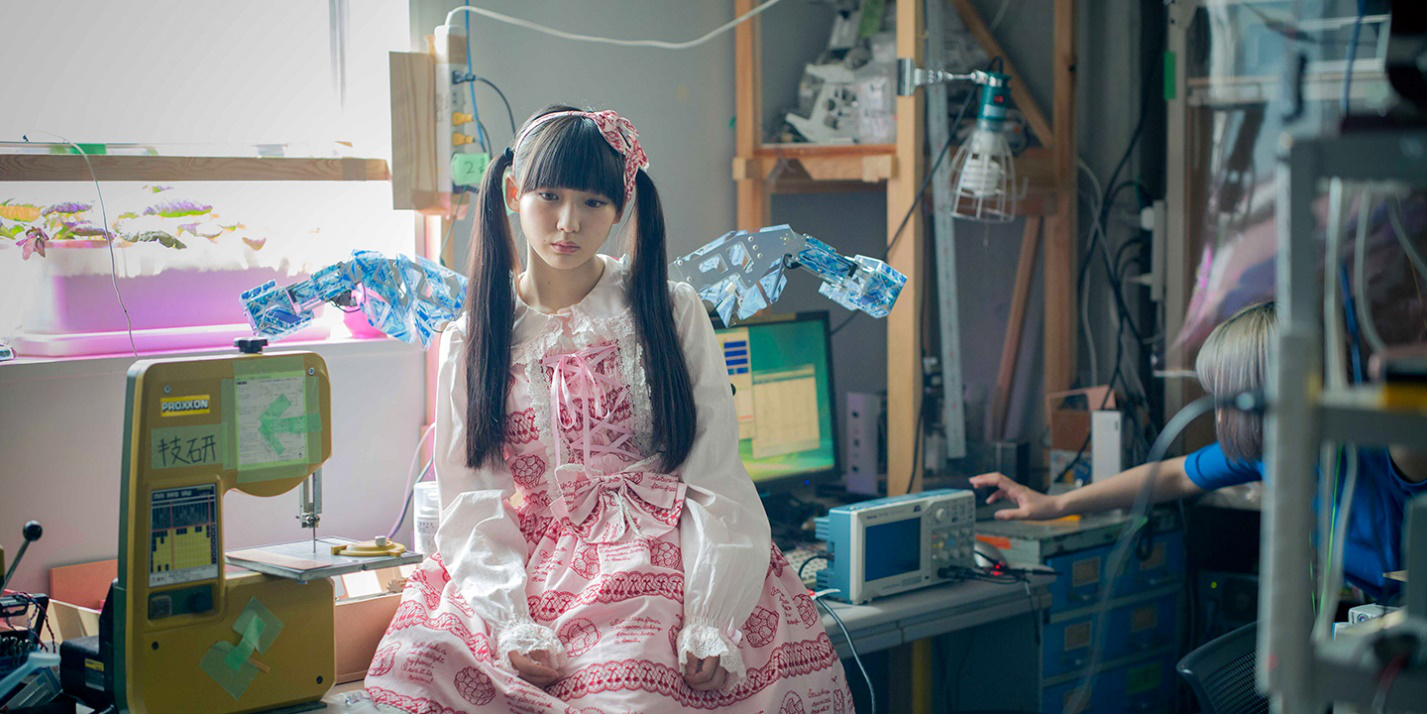 Robotics and automated machinery have been part of everyday life in industrialized nations for decades now. Today, robotics is even making waves in the worlds of modeling and fashion design. This is perhaps nowhere more evident than in Japan, a country with over 300,000 industrial robots currently sharing space with humans in that country's factories.
The Japanese have a special cultural affinity for robots, with many individuals pursuing robot-making in their spare time. Students design robots for fun and enter them in contests across the country.
Until recently, robot-makers in Japan always put function before fashion. However, Kyunkun, a robotic fashion designer, is changing that paradigm. She combined two of her interests, fashion and robotics, into wearable technology. By creating a set of wearable robotic arms, Kyunkun has helped the Japanese break out of the mindset that robots are only made to serve or communicate with humans.
The Height of Robot Fashion
Robots can be whatever their designers want them to be, so why not fashion models? Smart robotic engineers understand that mimicking fashions from movies and pop culture is a sure-fire way to attract the attention of the modern, tech-savvy consumer. By having robots model their latest wears, fashion designers are creating unique and futuristic themes that get them noticed. Here are just a handful of examples:
Robotic Casual Wear: This design, which debuted in 2011, features colorful and bold pieces similar to what people might expect to see when looking at a Transformers robot. It successfully plays on a superhero theme while displaying primary colors attractive to children.
Structured Cyborg Couture: Released in 2014, this fashion collection uses black and white monochromatic tones to highlight futuristic fashions. With a powerful air about them, these so-called Cyborg fashion shirts redefine what it means to be a woman in the modern era.
60s Cyborg Editorials: This robotic wardrobe takes its inspiration from a 60s MOD and adds in eccentric styling. The exaggerated proportions and extra-large silhouettes create a look that most people won't soon forget.
Robots on the Runway
Unlike their human counterparts, robots never age, gain weight, or have any type of physical imperfection. This makes them ideal for the modeling runway. Even the biggest skeptics have been won over by the extremely realistic robotic models. Today's robot models boast human facial tics, advanced motor skills, and superhuman consciousness that can't help but quiet their detractors. With hair that never moves, these runway robots leave much for people to envy.
The newest model of robots have beauty, but do they have the brains to match? Yes, according to Sidney Perkowitz, the author of Digital People and a renowned physicist. Artificial brains are now so advanced that they can solve complex problems in real time, simulate human empathy, and read emotions.
From creating a new fashion sense to mimicking human emotions to creating works of art, will robots of the future be superior to human beings? Stay tuned to find out.