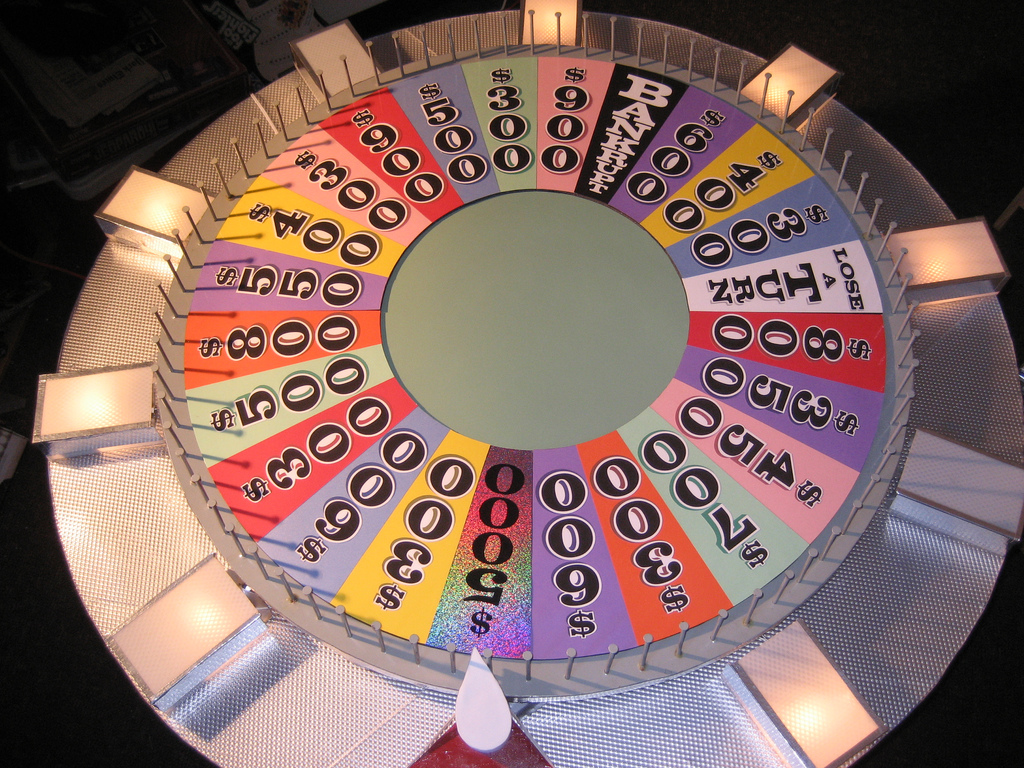 An Emmy Award winning classic that first hit screens way back in 1975, Wheel of Fortune is one of the most successful gameshows in US TV history. In that time, the programme has brought us plenty of lucky winners – not to mention hilarious on-screen fails.
Sit back as we recall some of the funniest (and stupidest) errors from Wheel of Fortune contestants.
1. Geography lesson needed.
Lucky couple David and Keri were winners of a fabulous trip to Venice. But it quickly became apparent that David would have benefitted from paying a little more attention in his high school geography classes, after letting slip that he thought they were on their way to France rather than Italy.
Maybe an Atlas would have made for a better prize. . .
2. Revealing naked desires.
Show contestant Kevin, who had accumulated a decent $1,600, only had 1 letter left in the following line-up: 'A STREET CAR NA_ED DESIRE'. A no-brainer, right?
Or at least that's what you would have thought. Instead of calling out the obvious 'M' needed to complete the title of playwright Tennessee Williams' Pulitzer Prize winner, A Street Car Named Desire, Kevin guessed the letter 'K'.
'A Street Car Naked Desire'? We don't think so, Kevin.
3. The root of the self-potato.
Sometimes, the pressure of the show and the glare of the studio lights makes contestants blurt out some rather dumb guesses that they never would under normal circumstances.
Nevertheless, no one saw Lolita's down-right ridiculous stab at 'Self-Potato' coming. As soon as the nonsensical answer left her mouth, she was instantly apologising between her own giggles.
Safe to say, it wasn't Lolita who revealed the correct hidden phrase, 'Self-Portrait'. What even is a self-potato anyway?
4. A not-so-super superhero fail.
There's nothing super about missing out on an $8,800 prize.
Wonder Woman and Spiderman (not to mention every DC and Marvel fanatic) must have been watching on in horror as one competing couple got their heroes all in a muddle.
Faced with an incomplete line-up of letters reading 'W_NDER W_ _ MAN', what else could it be other than. . . 'Spider-Woman'?
5. The missing dwarf.
Hi-ho, hi-ho.
With $10,000 in cash up for grabs, all Tara from Ohio needed to do was correctly guess the names of the seven dwarfs in Snow White. Let's see – there's Dopey, Grumpy, Doc, Bashful, Happy, Sneeky – wait!? Sneeky?
That's right. Instead of identifying Sneezy from the letters 'SNEE_Y', Tara called out 'Sneeky', letting the cash prize get swiped by another contestant.
6. Strictly speaking.
An unfortunate mispronunciation cost one contestant dearly.
Strict Wheel of Fortune rules meant show hopeful Paul missed out on $1 million after getting his tongue tied up trying to read 'Corner Curio Cabinet'. He stuttered out the words 'Corno Curio Cabinet'.
Close, but not close enough.
Whilst we're pretty sure it did little to comfort missing out on that seven-figure jackpot, Paul didn't walk away empty handed. He won £2,000 in cash, a new Hooked on Phonics and even a snazzy bowtie.
7. Working magic.
There was no magic in the air when this memorable episode aired.
One questionable show contestant literally called out the entire alphabet trying to guess the missing character in 'MAGIC _AND'. Cleary not a Harry Potter fan, he even tried his luck with 'Magic Yand' before conjuring up the correct answer, 'Magic Wand'.
8. A spell of sheer stupidity.
We're going to go out on a limb and say that 2007 contestant Casey wasn't a child spelling bee champion. With just 2 characters left in the phrase 'E_CLUSI_E NIGHTCLUB', she left everyone speechless by calling out the letter 'K'.
Oh dear. 'Ekclusive Nightclub'? She's not going to be getting invites to the VIP lounge any time soon.
Play it for yourself
If you want to avoid having any of your own embarrassing mistakes aired live on TV, get the excitement of the iconic American game show delivered straight to the privacy of your own home, playing the range of Wheel of Fortune online kasyna bez depozytu.
There's Wheel of Fortune Extreme Spin, Wheel of Fortune on Tour or Wheel of Fortune Ultra to choose from. Good luck!