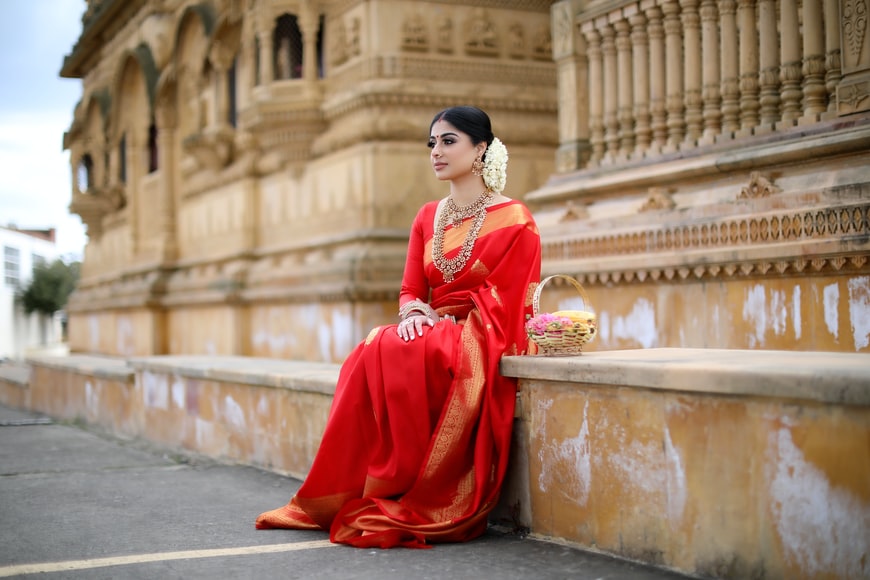 Sarees have been portraying the fine craftsmanship and rich cultural heritage of India since time immemorial. Available in a plethora of varieties, a saree holds a special place in every Indian woman's heart. An intricately patterned and beautifully textured saree in rich fabrics like georgette can give a sophisticated, glamorous glow-up to your personality while keeping the Indianness intact.
Georgette, The All-rounder!
Not just in sarees, georgette as a fabric has also become one of the most popular choices among women, especially of the younger generations for its innumerable qualities. It is lightweight, easy to carry, looks extremely graceful, is easy to drape and dye. Georgette defines versatility at its best, attires made out of this fabric be it a saree, salwar suit or anything else work well for all small and big occasions in all seasons.
Georgette sarees are highly preferred for a number of reasons. Being flowy, georgette sarees can be draped in various traditional and modern styles such as mermaid styles, Mumtaz style, dhoti style and pant style amongst the others. The fabric flatters the curves of your body giving an extremely attractive and aesthetically pleasing silhouette. Embellishments and work of all kinds look stunning on georgette sarees. The plates in georgette sarees fall in a very dramatic and classic manner, thanks to their smooth and silky texture.
The Ethereal Types of Georgette Sarees
Georgette sarees come in a variety of different styles and patterns, proving the fabric's versatile nature. To list a few:
Embroidered Georgette Sarees
Embroidered georgette sarees speak for your style with the charm they exude. The fabric carries all kinds of embroidery, thread work, zardozi, mirror work, gotta patti, cutdana, etc with grace. An embroidered saree when worn with the right accessories and add-ons, gives an alluring outlook to the adorner. Be it a festive gathering or grand events like weddings, embroidered georgette sarees can never be a wrong choice.
Banarasi Georgette Sarees
Synonymous to royalty and class, a Banarasi Georgette Saree represents the richness of Indian culture and craftsmanship in its finest form. Glamorous in the most elegant manner, these sarees help the adorner match the grandeur of Indian occasions. Made from the fine cutwork and hand-weaving techniques by the weavers of Varanasi, embedded with zari, motifs and other beautiful work the saree amalgamates together the finesse and royalty.
Chikankari Georgette Sarees
Delicate and graceful, chikankari is loved by women all around the world. For centuries chikankari georgette sarees have had a special place in every woman's heart and wardrobe. Chikankari sarees have a unique charm, they lighten up the adorner's personality in the most effortless way. Amping up your outlook with an ethnic glam these sarees flatter all body types.
Exhibiting a royal finish, these sarees are extremely easy to carry. They give the comfort of lighter fabrice while exuding the glamour of silk. Helping you flaunt your Indianness with a modern touch, these lustrous and sparkling silk georgette sarees are ideal for all Indian occasions, celebrations and festivities.
Indian wear in all its forms be it a saree, suit or lehenga choli can step up your glamour game in the most effortless manner that can be matched by no other attire.