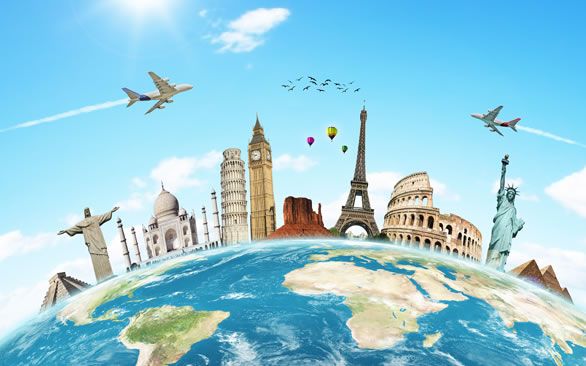 If world travel is on your bucket list of things to do before you die, there are definitely a few locations that you will not want to miss when planning your trip. Below we have compiled one country from each continent that you will want to include in your bucket list travel itinerary.
Asia
You might be surprised to see that the country we picked for the continent of Asia is, Cambodia. Although it is often portrayed as a poverty-stricken region of the world by media and news outlets, Cambodia actually has some of the most spectacular scenery, ancient ruins, temples, and pristine natural activities that you will find anywhere in Asia.
Besides being the land of $.50 happy hour beers and luk lak, Cambodia is also the home of the Angkor Wat ruins, where you can explore how the ancient civilization lived while embracing the laid-back easy-going lifestyle that the locals live. Don't forget to visit the Bayon Temple for your personal nose-to-nose photo with King Jayavarman VII.
Africa
Centrally located with, South Africa, Namibia, and Zimbabwe on all sides, Botswana is your bucket list destination for the African Continent. Botswana's lush, dense vegetation, big game, and amazing views along with its central location, are what make it the perfect African travel destination.
You will want to spend some time with the San people of the local villages to fully explore this region of the world in order to better understand the people, their art, and their way of life. Rock paintings along with visiting the Hambukushu tribe's people will submerse you into the African culture allowing you to fully experience the African continent.
North America
Home to 10 of the world's top natural wonders, the United States has to be our pick for the best country in North America to visit. You will want to schedule plenty of time for this trip since the United States of America includes 50 states, two of which that are not connected to the main body, as well as sixteen territories that include;
Guam
Puerto Rico
Northern Mariana Islands
S. Virgin Islands
American Samoa
To get the most out of your U.S. trip consider traveling the country by RV. The expansive size of this country leaves its natural wonders like the Grand Canyon, Yosemite National Park, the Giant Redwoods of California, Mammoth Cave, and the Everglades spread across great distances with many hidden wonders that can only be discovered by driving in between. You will have to fly to see Denali in the great state of Alaska, or the tropical islands of Hawaii, though.
South America
When you think of South America images of drug lords and violence may come to mind, and in the past, you would have been correct for most of the South American region; with the exception of Uruguay. Located next to Argentina and Brazil, Uruguay is considered to be the safest country in South America and is often called South America's Switzerland.
Safety is not the only reason to explore Uruguay, though, their sprawling beaches, cobblestone streets, cattle ranches, and cultural events beckon visitors to come experience the South American way of life.
Europe
With so many amazing countries to choose from on the European continent, the choice was a bit more difficult, but in the end, Italy has to be on your travel bucket list.
Italy has something for everyone with its historical venues and ruins, cultural and art influences, wine, food, and spectacular countryside and ocean scenery it is no wonder that this ancient country is our pick for must-see places.
And, with Italy being located within driving distance to Spain and France you could expand your visit to include some additional countries without much effort.
Australia
Although Australia is its own continent, it also maintains territories such as Fiji, Bora Bora, and Tahiti. Their close proximity allows you to incorporate a variety of cultures into this leg of your trip as you explore this country's diverse terrains.
With so much to see and do like the Great Barrier Reef and The Whitsundays with Airlie Beach tours, Sydney's Opera House, the Royal Botanic Gardens, and the Gold Coast in this vast territory, you will want to give yourself plenty of time to explore this country.
Antarctica
Although Antarctica is an independent territory, it does still have some incredible tourist destinations that will leave your friends green with envy. Send them a postcard from Port Lockroy if you really want to see them turn green.
You don't have to be a wilderness junkie to have the Antarctic experience. Take an Antarctic cruise to enjoy the comforts of home as you traverse this desolate wilderness; making sure to check out the penguins up close and personal at Deception Bay, where you can swim if you dare.
For the more adventurous traveler, you will also find camping and kayak tours available, that will take you to some of the safer areas so that you can enjoy nature as it was intended in a safe manner.
Hopscotching from continent to continent is an experience that should be on everyone's bucket list. So, now that you know which countries to hit as you complete your list of achievements, it's time to start booking your trip.