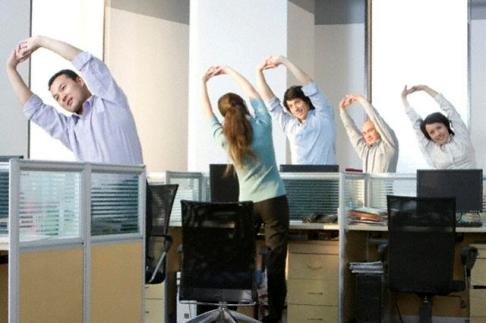 In the fast paced, modern world today it can be easy to run out of time in the day and lose track of where it all goes, especially when you're working long hours in an office, stuck behind a computer most of the time. Gym memberships can be expensive and also time consuming when you work long hours, having to then dedicate part of your evening to working out and staying in shape. It doesn't have to be this way though. There are some great ways to get exercise in while you're at your desk or in your cubicle that can save you time, money and leave you feeling refreshed all day long.
Yoga – Not Just For Mats Any More
If you have been trying to think of some exercises you can do at your desk then look no further. Some yoga positions are perfect for doing on the go, without necessarily needing to get on the floor or head off to one of the often really expensive classes that are available. Using some of your furniture at work such as your desk or filing cabinets can really help you keep your balance and keep the poses. You can even use them to help rest your legs or arms on when doing some poses, especially if you're a beginner.
So, What Are Some Pose Suggestions For The Office?
Anything that you can do while seated is usually a winner in this category, however other fantastic options include some folds, bends and standing poses. Warrior poses work well, as do front bends, essentially where you bend forward and inward so you're almost hugging your legs while standing. Shoulder releasing poses are good, especially if you have a piece of office furniture that is about the same height as your hips. Stand about 1-2 feet away, place your palms on the desk flat, and walk backwards with your hands on the desk until you're bending forward to a 90 degree angle. This will help stretch out your back as well as your arms and legs.
Why Is Yoga So Popular?
Yoga isn't just for the health conscious or dancers and hippies. People the world over are feeling and reaping the health benefits associated with yoga. Yoga is an exercise regimen consisting of holding poses for periods of time (usually 10-20 seconds, although you can hold them for longer if you feel able), and requires the practitioner to practice mindfulness and slowing down in order to hold the poses accurately. Breathing is also a huge part of yoga, and breathing deeply alone can help relieve stress and anxiety, so yoga as a whole is becoming a huge favourite for people from all walks of life, and from all abilities. An added benefit is that yoga is likewise quite low impact, so for people who have injuries, yoga offers the perfect alternative for exercise.
So there you have a couple of great reasons yoga in the office is not just a great way to go to get some exercise in, relieve stress and anxiety but also help in saving yourself time and money. Utilising furniture of any kind can help you get into the poses and offers a great stable point for you to lean on to help stay standing, especially if you're a beginner! So take it easy and enjoy your foray into office yoga. Have fun!