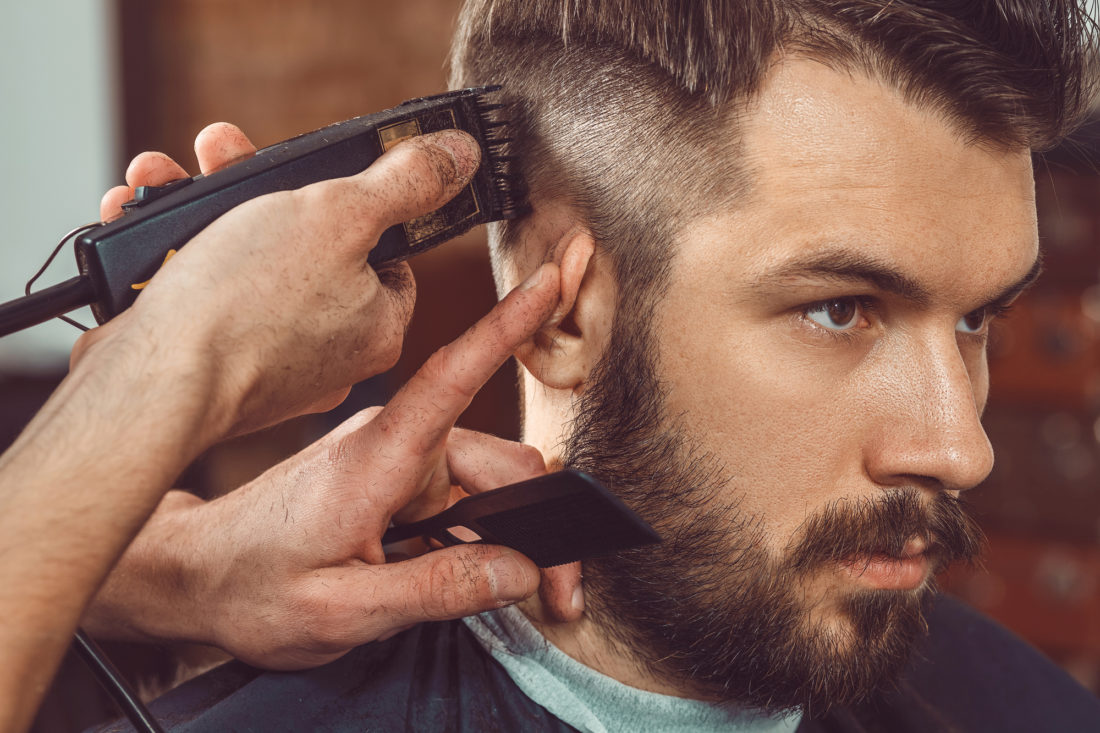 Do you want to put yourself out there and try a fresh hairstyle you can call your own? If you're lacking in the ideas department, don't worry! Here are 8 inspirational hair ideas to jumpstart your new style.
Fellas, are you tired of your look and want to tap into some spontaneous energy?
Getting a haircut or new hairstyle can really change how people look at you, and how you look at yourself! It sounds pretty simple, but we know how tough it can be when you're staring at a mirror, trying to figure out your new look.
Well, don't worry because we've done some research into inspirational hair and what it takes to look your best. Book an appointment at your favorite hair salon or barber shop; we're about to roll out the red carpet on your new look!
These are the eight most inspirational and popular haircuts right now.
1. Pompadour and Quiff
This inspirational hair is a classic manly, yet playful, style that keeps Father Time at bay. It can work for virtually any age, as long as you rock it with confidence. Basically, you leave the sides short, either a standard fade or blended cut.
Quiff hairstyles are always shorter on the sides, but essentially the same concept. Then, you'll want to invest in some quality pomade to keep the volume. Never used pomade, you say?
This is basically a wax or clay-like substance, much thicker than standard hair gel. Pomade is thick and can be heavy if you use a lot. We recommend hair "clay" to avoid too much sheen with a big hairstyle like a Pompadour.
2. Crew Cuts and Short Textured Style
This is another classic look, but it will never go out of style. Crew cuts are great for the business professional. Low maintenance, yet still able to provide style with hair products.
Opt for the soft fade, blending up into the hair to give it a balanced texture. This cut is deceptively simple, yet easy to spot flaws. Make sure you find an experienced barber, as newer stylists may try to rush it.
3. The "Man Bun"
Yup, this is another heartthrob inspirational look that is very popular. Often associated with big-name celebrities (Thor may come to mind), the man bun is both manly and practical.
It's easy to pull off, and you don't need a lot of hair to make it work. The best part is that you can still dress to impress while sporting a man bun. Only the most conservative of businesses would possibly frown at this stylish look.
Perfect your man bun hairstyle! Take this popular men's hairstyle to the next level by adding product and deliberate, textured finish to your bun. Follow this step-by-step to create the look at home.
4. Buzz Cuts
Looking for a haircut with a bit more edge? The buzz cut is often something thought to only be for those in the armed forces. The truth is, a buzz cut can be a really sharp look for older men with thinning or balding hair.
Buzz cuts can be toned down, too, if needed. Just opt for a less aggressive fade or none at all. Sideburns should also be tailored for your level of funkiness. The "safe zone" is generally in the middle of the ear.
You should obviously try to keep your sideburns short if your hair is short, but if you have a beard, you can blend them into each other and use a beard straightener to groom your beard. This will create a warm and friendly inspirational hairstyle.
5. Comb-overs and Parts
Look, just because you're getting up there in your age, it doesn't mean comb-overs are bad. Conversely, just because you're young, doesn't mean you can't get a comb-over. It's all about how you part it and how you hold it.
The key is in matching your hairstyle with the shape of your face. If you have a rounder face, opt for a part to the side, rather than straight down the middle. Middle parts are good for sharp jawlines and strong noses.
If you do go for a middle part, make sure your hair has body. Otherwise, you'll look like an old Englishman or German adolescent. Keep these tips in mind when styling a toupe. If your hairpiece is lacking flexibility, it might be time for a new one. There are some great choices these days, like at Super Hair Pieces: check it out!
6. The French Crop
One of the lesser-known picks on our list, the French Crop is a bold, but simple hair-do. This is a custom tapering fade that creates a defined edge. This is, admittedly, a hairstyle that works best with younger patrons.
Not to say that thinning or balding men can't get this cut, but it will make those more pronounced. Long sideburns are also a no-go with this look unless you're really going for a narrowed impression.
7. Long, Textured Hair
If you have long hair, say shoulder-length, then you can breathe new life without chopping it all off. Go for a textured, layered haircut to give your hair more depth. Take this new style to the next level by using volume-boosting creams or mousse.
Stay clear of cheap hair gels; these can be a pain to wash out and stand out much more with longer hair.
8. The Metropolitan
Similar to the "crew cut," the metropolitan is your classic "Mad Men" professional cut that exudes style and charisma. The difference between the two is a matter of length and hair product. The metropolitan will be longer on top and the sides.
It is usually worn slicked back, but it can be allowed to flow freely, kissing the edges of the ears. Women love this look, making it attractive to run their fingers through it. Looking for a hairstyle that will get nods at work and eyes from your lover? This is the look to go for.
More Inspirational Hair and Fashion
We hope this list has inspired you to try a new look. It's easy to get stuck in our old ways, but life is short, trying new things keeps us young. Even if you don't like your new look, you will likely have a better idea as to what does work.
If you're interested in more fashion advice, we have plenty more tips to complete your look. Men and women can live vivid, just follow our blog and be bold!
If you have any ideas, feel free to share them in the comments.