Instagram's growth since it was launched in 2010 continues to show us why the platform is so important for reaching customers and forming relationships. Instagram's user base has doubled over the last two years and the app is now twice the size of Twitter in terms of monthly active users.
With such an enormous number of people using Instagram every month, businesses have been hard at work carving out their place on the platform. If you're one of the many people interested in tapping into your target market using Instagram, you'll want to consider the following tips to market your business effectively.
Monitor your engagement level.
One of the key metrics you'll want to track and improve as you market your business on Instagram is engagement. 
High engagement (likes and comments) on your posts means you're creating good content that your followers want to interact with. This will tell Instagram's algorithm to improve your post's positioning in the feed and therefore get you even more attention on the platform.
Stick to your brand personality.
As you continue to post content, make sure that it aligns with whatever central theme or personality that you've created for your brand. When your posts are congruent with one another and lined up with the branding and style of your other marketing sources, it creates a solid unifying experience for your customers and boosts conversion rates on your site.
If you don't have a basic brand kit – specific colors, style, tone of voice, etc. – already set up, you should go ahead and put one together and follow it each time you create something for your business. If you have one set up already, make sure you apply it to your Instagram account.
Do some planning ahead of time and come up with three or four basic categories of content that you plan to share from your Instagram business profile.
Maybe you're a hardware store and want to use the platform to share DIY tips, announce sales and promotions, and highlight your customer's creative home improvement projects. Use these three categories to start planning out your posts and sharing them in a way that communicates your brand personality of being helpful and resourceful.
Whatever you choose to do with your content categories, make sure that you stick to them once they've been established and always apply your businesses personality to the content you create around them.
Use hashtags.
Hashtags are a fundamental part of marketing on Instagram (and Instagram in general!) because they are how users will find content through Instagram searches. When you post content to Instagram, you can add up to 30 unique hashtags in the caption and/or the comments section, but be careful not to stuff every post with them and make yourself look somewhat spammy.
To keep things practical, let's continue our hardware store example to demonstrate the process of finding the right hashtags.
From the businesses perspective, we will want to brainstorm and come up with a list of terms that we think our customers would search for to find things related to each of our content categories. For example, our customers who shop with us for materials for their DIY outdoor projects would look up very different things from our customers who shop for indoor painting supplies, so we should keep the categories separate for now.
Once we have our lists created, it's time to start learning what will work and narrowing things down. There are plenty of online tools available to help you understand the frequency of use and other important data on your tags. One of my favorite tools for this is Hashtaghify. Once you've picked at least 11 tags for each category, you'll want to include them in your posts and measure their performance.
The metric that will help you understand how good of a job your tags are doing at getting new people to see your posts is your reach. Reach (found in Instagram Insights) is a count of unique accounts that have seen your content over the past week. You can also view each post's reach to get a more specific understanding of different sets of hashtags if you're doing some testing.
Since you can't view hashtag specific data using the Instagram Insights tool, you should consider using a third-party Instagram analytics tool like Owlmetrics to get a complete view of your results including hashtag performance and other useful insights that the app doesn't natively provide in Insights.
Include location with your posts.
Instagram has been expanding the geo-tagging feature and I expect to see new developments around location based marketing as they continue with the project. In the meantime, adding location information to Instagram posts has shown a correlation with increased engagement.
To be precise, posts with a location got 79% more engagement than those with no location tagged. As I mentioned before, engagement is going to be one of the key metrics that you'll want to monitor and improve, so make sure you take the time to tag your posts with a location before sharing.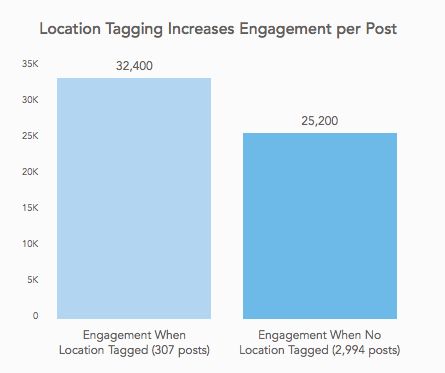 Conclusion
Instagram provides businesses with one of the most effective platforms for sharing their story with customers. In addition to enabling visual storytelling at scale, the platform also provide businesses with basic analytics on their performance to help them understand how to better connect with users. You can even take a shortcut by learning how to get 1k followers on Instagram in 5 minutes.
Smart businesses will take full advantage of the features mentioned here and learn how to get the most out of their investment in Instagram. Using these simple tips as a starting point, you'll be on your way to developing a powerful Instagram marketing strategy that grows your business.