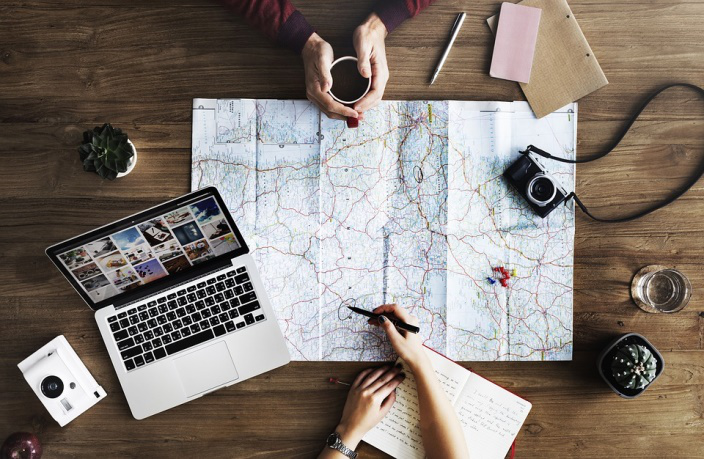 Being a travel enthusiast is like a never ending lust for exploring the world. It is urge of never stopping. That little travel itch you get while scrolling through Instagram, looking at pictures of different travelers or cities. The want of always adding more to the experience. Always searching for new adventures and never getting bored or tired. And always being on the road is like that one true fantasy we all want in our life. It feels great to be lost in new cities. Yes, it is scary but its way more fun than that. You get to explore the parts of the city you never thought you would. Even the feeling of the wind touching your hair is like the most beautiful thing ever.
LOOK BEFORE YOU LEAP:
One thing that comes with all this is research and planning. It's always better to know about the place that you are going to visit. The attractions of the cities, cheap flights to get there, the places of adventure and of course the free tourist sight-seeing places. The best way is to either search through the internet or just subscribe to online magazines. Online magazines not only help you plan a better trip but they also make you plan your next trip to your dream location. It tells you about all the adventurous fun places that you can go to and you just keep adding to that bucket-list of yours.
THE TRAVEL MAGAZINES TO FOLLOW:
National Geographic Traveler:
If you're looking for some serious, real and genuine information about a city or a country, then this is the magazine you need to subscribe to. It doesn't just have aesthetic nature pictures but it also has some candid culture, landmarks, people, street scenes, and day-to-day life pictures which really make reading it a treat even for non-travelers. One of the fun facts about it is that it mostly shows places out of the ordinary, perfect for people looking for some adventure. Not just that you also learn a lot about the wildlife of different countries.
Afar:
If you're a foodie who loves to travel then this is definitely the magazine for you. Or even if you're not a foodie even then subscribe to it because who doesn't love to eat good food while travelling. The perfect shots of food making your mouth water and the beautiful views of places making you want to plan trips even more often. And the consistency in writing and the topic selection are just like a cherry on the top. The topics will never bore you and will make you want to read even more.
Condé Nast Traveler:
The ultimate luxury travel guide. Yes, the magazine is mostly for those who are not travelling on a budget and want to make the most of their trip. The beautiful places will make you want to plan more and more trips even more and each and every picture will hype up your wanderlust making you visit places that you never imagined you'd travel to. The magazine has won 25 national magazine awards. The photography on the magazine is amazing and very eye-catching.  It helps you discover the best islands, cities, spas, castles, cruises and eateries.
Lonely Planet:
Lonely Planet has been providing their readers with trustworthy and genuine travel knowledge since 1973.   Lonely planet not only gives you the ideas for you next travel destination but it also gives you the best tips and advices for travelling to a certain place. You can also catch up on some stunning photos of places around the globe in the magazine. Reading the novel will make you feel like you are being transported to a place with different cultures, locality and traditions.
Travel and Leisure:
Travel + leisure magazine is known to be the #1 travel magazine. As you can already tell by the name it mainly focuses on leisure travel. They provide its readers with quality content and astounding pictures of places from around the world. Their articles touch topics like a country's local culture, poetries, architecture and much more. They make your dreams come to reality. They have about 4.8million readers from around the world who are absolutely stunned by their content.
Wanderlust:
The magazine emphasis on independent and adventure travel. So if you are a solo traveler looking for some adventure then is the magazine just for you. The articles are very informative and inspirational. Their content makes you feel adventurous and gives you the ready to travel spirit. They help you make the best decisions regarding your next travel destination and everything you can do there.
Departures:
If you are a card holder of the American Express Platinum charge card, then you are already familiar with this magazine as it is a mandatory and free subscription for you. Departures not only tells you about the best travel destinations but it makes you follow the most recent fashion trends and helps you catch up on the latest cultural events around the world. You will be impressed by the layout and pictures. Reading it makes you want to travel more and without any limits.