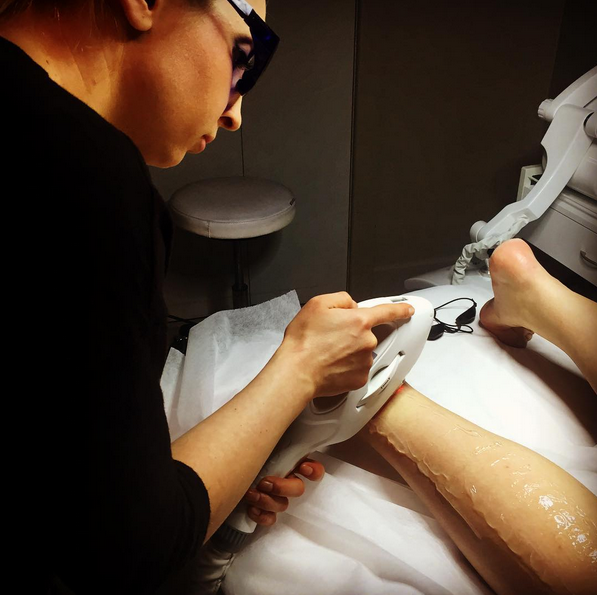 Laser hair removal (IPL) is fast becoming the world's most popular hair removal treatments with beauty salons all over the world offering the service. Why? Because it has several hard-to-beat benefits. It's cost efficient over the long term saving you tonnes of money down the track. Once your treatments finished you'll have heaps of free time usually taken up during your regular routine. There is also the mess of shaven hairs & sticky wax that'll never be a problem again. The only way to get rid of the daily grooming grind is permanent hair removal and the only way to achieve this is by laser treatment.
How does IPL Laser Hair Removal work?
Pulses of filtered light are directed onto the skin by a laser hair removal machine. These light pulses are absorbed by the hair follicles. This causes damage to the hair follicles and stops hair from growing. This laser treatment stops hair growth at its source.
Pulsed light systems are like normal lasers, but with a larger, smooth beam, and a long pulse for safe, fast, and comfortable treatments.
The other frequently asked question is if Laser Hair Removal Treatment hurts? The consensus on whether laser hair removal & IPL hurts is that it is 'uncomfortable.' Many patients experience a feeling like that of a rubber band being snapped on the skin, but most people do not report this sensation as painful. It all depends on your pain tolerance and whether the short-term discomfort is outweighed by the long-term gain.
Now that you're convinced that laser hair removal is the treatment for you, read the following tips so you know what to expect.
Before Treatment
Stay out of the sun. This means no sun-tanning down at the beach, at home self-tan or tanning beds for 4-6 weeks before you have your first treatment. Side effects, such as skin lightening, can occur if you have a tan prior to your laser treatment. If you have a tan, natural or otherwise, wait until the tan fades completely before undergoing laser hair removal. Some doctors recommend staying out of the sun for up to six weeks before laser hair removal.
No waxing, plucking or bleaching for 4 weeks prior to treatment. These hair removal methods can disturb the hair follicle and interfere with laser hair removal.
Shaving is OK since it preserves the hair shaft and follicle. In fact, shaving is recommended so that the laser treatment doesn't target hair above the skin, potentially causing burns. It's best to shave the treated area the night before the treatment. Dry shaving at the appointment time is painful and can cause irritation.
Another top tip prior to your laser hair treatment is to use an SPF30+ on the areas that are to be treated for 2 weeks prior. This helps protect your skin from the laser hair removal treatment.
After Treatment
Immediately after treatment, you can expect a mild sunburn-like sensation. This doesn't last long and can be eased with some Aloe Vera gel or something similar.
Treated hair will continue to appear for 7-30 days post treatment. This is not new hair growth, but the treated hairs being expelled from the skin.
At any given time, some of your hair is not in a phase of active growth. Therefore, you will need more than one treatment to affect the growth of all your unwanted hair so make sure you book another appointment. Typically, several treatments will be necessary to achieve permanent hair reduction.
Will all this information you should be good and ready to get rid of all that unwanted hair with laser hair removal. If you're in Melbourne why not try Beautyologist. They have one of the best offerings in town. Check out what they offer at https://www.beautyologist.com.au/