If you would like a home gym but have a small space, worry not. A folding treadmill is designed to fit in minimal spaces and has wheels for easier movability to and from the storage.
Likewise, having one in your home minimizes the hassle of going to the gym daily especially when on a strict schedule. Nonetheless, buying a treadmill is an expensive investment so, make sure that the machine you purchase is the ideal one.
We suggest you consider the following factors before settling for a particular folding treadmill. It is also advised that you do a little research before making a purchase.
The only way to achieve desired results from a treadmill is by purchasing a solid one. If your machine is shaky, it can be so uncomfortable and you might fall when exercising.
Similarly, the cost of the machine may determine its stability too. This why we recommend you try it out before bringing it home. You can try jumping, walking, or jogging on it to determine its stability
Cost is considered among the topmost factors to consider when purchasing any item. That means you must consider how much you're willing to spend on your treadmill before your shopping spree.
You should also factor in things like quality and longevity. If you are planning to use your machine for a longer period or both walking and running workouts, then you might be required to spend a little more.
You might want to move your work-out to the living room instead of your usual spot in the basement. In this case, opt for a wheeled machine so you can move it around easily.
Nonetheless, most standard treadmills are two-wheeled which means they can be cumbersome to push around especially because of their bulkiness. We suggest you opt for a four-wheeled model, as it is more manageable.
The sizes and capacity of this appliance differ. That's why you should get one that can handle your weight to avoid putting too much pressure on the belt, rollers bearings, and the motor.
Every treadmill will have a manual from which you can get these details. For instance, the weight listed by the manufacturers of Sunny Health and Fitness Folding Treadmill is approximately 265lb.
From this, you can easily make your purchase depending on your body weight. Still, most of these listings are way higher than the machine can handle so, you should subtract about 50 pounds to get a more accurate weight limit.
Folding treadmills are expensive and for this reason, you must have a warranty to cover unexpected damages or repairs.
A warranty also guarantees you that you are getting value for your money. Experts recommend a minimum warranty of 5 years for the motor, 1 year for the services ad 2 years for the parts.
If your service provider issues you with a 3-month warranty, consider buying elsewhere.
The idea that this foldable treadmill is ideal for minimal spaces makes it so versatile. Nevertheless, always consider whether or not it can fit in your room both when folded and when in use.
The best way to this is by measuring your available space with a tape measure then compare it with that of the machine. Also, look out for other things like the height of the ceiling as it will go up several inches after you set it up.
Some appliances are bulky and might be hard to fold especially if you suffer from a neck, knee, or backache. You may also find it difficult to manage the unfolding speed if it's too heavy.
Slamming it down can loosen the belts or damage the cushioning. Go for those that feature a hydraulic lift for easier folding and unfolding.
The quality of your machine is determined by its horsepower. The higher the horsepower the more powerful it is and the better your exercise will be.
Nevertheless, if you are a beginner, getting the right motor and horsepower specification can be challenging.
To sum it up, the average machine should have a motor of not less than approximately 1.5 CHP. Also, if you want to use it for daily work-out, you should consider one with about 2.5 to 3.0 CHP.
When buying a fold-up machine there are other extra accessories you need to consider to make your experience even better.
Just like any other standalone treadmill, your machine should include multiple pre-programmed modes, speed, and inclined controls, and heart rate monitors. Additionally, the belt must be approximately 18 inches wide and 48 inches long.
If you are 6feet tall and above, you will need one that is at least 54 inches long for running and 52 inches long for walking. Plus, having a port for an MP3 player is an added advantage.
If you plan on using your machine for heavy running, you will need one with good cushioning. The cushioning works as a shock absorber while running, meaning the belt will not shift when the feet strike. Similarly, not only does having good cushioning enhance your workout but it also increases the lifespan of the belt.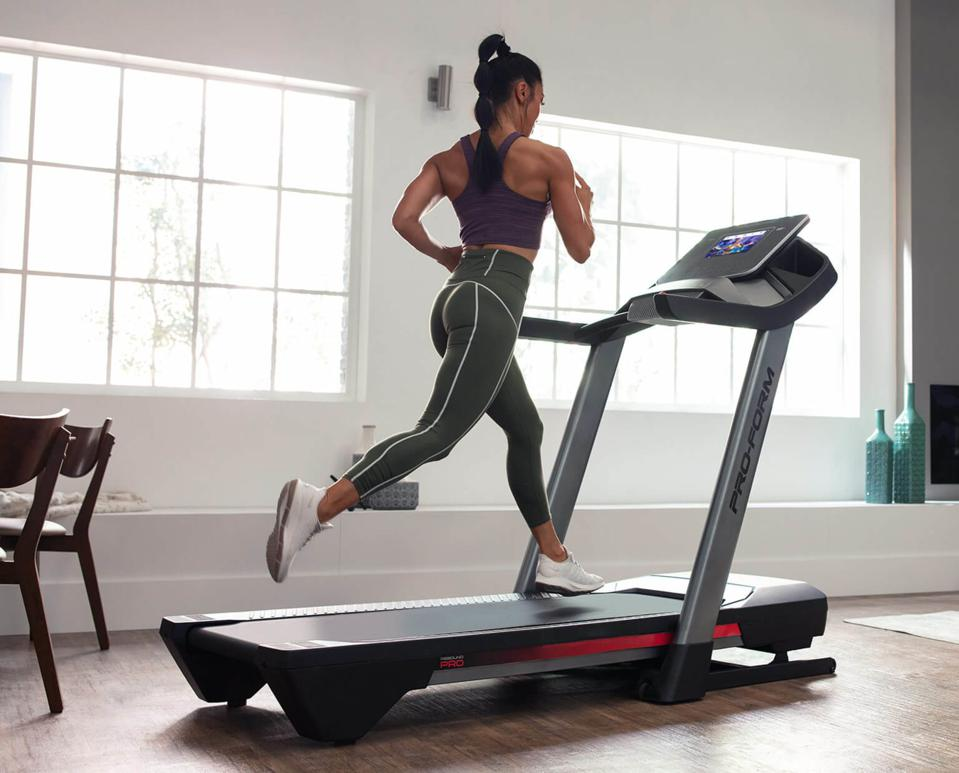 The speed and incline ability of the appliance determines the type of workout you will be performing.
For example, if you are planning on running go for one that has a speed of approximately 10mph or more.
On the other hand, if you enjoy uphill walks you will need a treadmill with a high inclination of about 10%. Click here to see more.
Conclusion
Having a gym in your home can be so economical. Luckily, there are several good brands available offering these services. If having a running machine is what you desire, then you need to consider things like stability, horsepower, space, warranty, in addition to cost before purchasing one. Also, be vigilant when it comes to assembling the parts to avoid damages. You could use the provided manual for guidance or hire an expert to help you do the job. Plus, don't forget to oil the machine constantly.