While many recognize Ottawa as Canada's political city, they may not be aware of just how much the old "Bytown" thrives on its sparkling nightlife. If you're planning a weekend getaway with your friends or family this winter, and if you want to add some adventure to kick the seasonal blues, there are a variety of community building activities to check out in Ottawa once you've immersed yourself in the city's sites. With Winterlude happening February 3rd – 20th, there hasn't been a better time to celebrate Canada's quintessential northern climate and culture.
After an afternoon spent visiting parliament or the National Gallery, why not take the crew out for some friendly competitive fun and learn to throw axes in Ottawa? The thrilling and adrenaline-pumping hobby is gaining in popularity all across the country. Short for Backyard Axe Throwing League, the Ottawa location is conveniently situated just a few minutes from Highway 417 at the old Tommy & Lefebvre factory warehouse outlet; near the Minto Skating Centre, and Ottawa Athletic Club. The venue is easily accessible from neighbouring areas including Gloucester, Nepean, Hull and Gatineau. It also offers a fully licensed bar and kitchen serving a selection of local beers, wine, coolers and full menu of shareable plates courtesy of Milano's Pizzeria – a regional staple. The menu has a variety of vegetarian and meat lover's pizzas, sub sandwiches, nachos and poutine (another Canadian favourite). You can take these finger foods directly to your lane – killing both dinner and play time with one throw.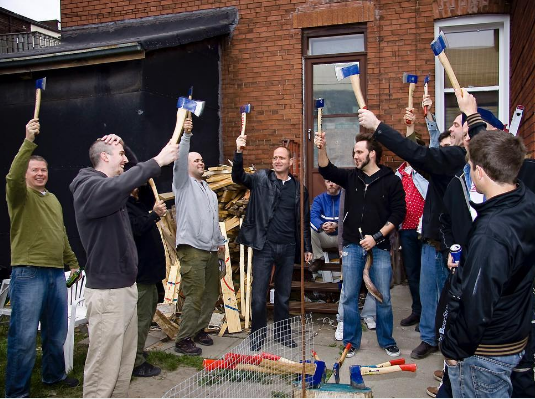 The company is quickly receiving notoriety; having expanded to several locations around Canada, throwing axes is becoming a national sport while remaining true to it's backyard roots. However, Ottawa is one of the few locations that offers the full-service experience – making it ideal for out-of-town visitors. You can book a private event, or drop in during designated hours; rounding your trip off with the sound of sharp, lumber jack steel hacking into spruce wood – you can't get more Canadian than that. It takes playing darts at the local pub to a whole new level.
Furthermore, the instructors are highly knowledgeable and will teach you and your group the ins and outs of axe throwing – including stance, posture, throwing technique, and follow through. Rest assured that your safety will be kept top priority, and that every staff member is certified in first aid.
To prepare for your visit and impress your friends, check out their website for videos on how to make trick shots. You can also brush up on the company's history with "vintage videos" from their original BATL grounds – Toronto backyards and their first ever venue on Sterling Avenue. Who knows, you and your buddies might be inspired enough to join a league back home!
Ottawa has so much to offer, and is one of the few cities that really knows how to come alive in the winter time. Don't let those February blues settle in – take a road trip up north and see what it truly means to be Canadian. From skating blades to axe blades – embrace the season with adrenaline filled fun.