Whether your goal is to relax, be pampered, reinvigorate your life, or swoosh down untamed descents, you can find it with heli skiing in British Columbia. If you are not familiar with helicopter skiing, then you have no idea what you are missing. Small intimate groups provide the best ski experience, since you're not fighting for runs or worrying about keeping a large group together. The advantages of helicopter skiing are no lines or lifts, a more personalized experience, and fresh uncharted powder.From the luxury chalet to the top of the mountain in a matter of minutes, your vacation will be spent purely on skiing with the best view of the mountains. We saw Tempston Luxury's video on Instagram on their breath-taking ride to the top of Verbier.
Heli skiing doesn't have to be extreme, nor do you have to be a pro, but you should bring a qualified guide with you on your trip from a highly recommended company in the region like Great Canadian Heli Skiing who can tell you exactly which spots will provide you with the type of runs you're looking for. Most lodges have expert guides who work directly with you on and off the slopes to plan your trip and make it one you will never forget. At the end of your memorable day, you will find hot chocolate, cozy stone fireplaces, and gourmet meals await you. Check out the Canadian Heli Skiing Blog for an idea of the amazing experiences these incredible adventure companies are known for.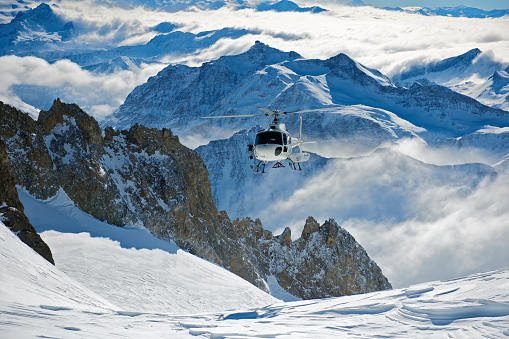 If you are looking for excitement, escape, or just the love of virgin powder under your skis, then this sport is for you. The helicopters in trips are used exclusively for your group and fly you directly to select mountaintops and wild virgin slopes – there is nothing better than being airlifted directly to fresh powder. Access to remote locations, no crowds to contend with, and birds-eye views are all reasons to try this form of skiing. All sorts of terrain are available for those who are new to powder skiing or already at advanced levels. Revelstoke is one of the top destinations for helicopter skiing and has been home to skiing since the early 1900's and Golden, British Columbia, is another top destination for those that seek adventure. It is said that heli skiing was started near Golden in the Purcell mountain range.
A typical day with any of the best tour operators in the area begins with nutritious breakfast options and a review of the day's ski plans. After your group is thoroughly satisfied, your helicopter will lift you off to your new adventure. Lunch is typically served on the slopes picnic style, where you are warmed with soup while overlooking the stunning mountain ranges. Then, more skiing of course! Vertical meters skied are often 5,000-9,000 daily. After a full day on the slopes, dinner is served with a standard of exemplary customized personal service. The lodge accommodations are often lush and private, generally with high-beamed wood ceilings and crackling fireplaces. If you're really feeling it from the slopes, massage sessions are often available to warm you and re-awaken your senses.
The next time you get the itch to ski, make sure you book an intimate helicopter ski adventure –trips like these help define your life and change it for the better. You won't regret your newfound sense of freedom and pure joy on the slopes as you take in thefresh smell and feel of the mountains. British Columbia helicopter skiing offers all that and more, so book your trip before it's too late!