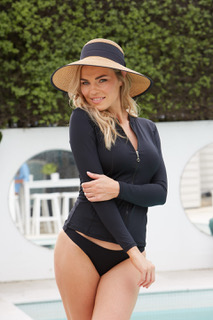 If you are currently in the market to buy womens rash vests, you will want to know what the latest trends for sun protection are. As we were invited to display our sun protection collect at Miami Swim Week, we got a good look at what is about to come out for summer and the latest trends that will be hitting our Australian shores in the not too distant future. If sun protection hasn't been your thing in the past due to being uncool and not fashionable, then rest assured that these 'must have' accessories have definitely caught up. Think well fitted, gorgeous prints and matching swimwear so you can have the full solution to hanging out by the pool or at the beach.
The gold standard is still the long sleeve rash vest womens with the front full zipper. So popular as they provide a really good range of coverage from protecting the arms fully as well as a high neckline to look after the neck, shoulders and chest area. The zipper also can be done up to your desired position – whether that it all the way up or lowered for a sexier look. The main thing of difference these days with these types of tops are the fit. Gone are the baggy and shapeless styles that never really fitted all that well. You will now find that they have been designed with contoured sides that hug the figure and also can give a really lovely silhouette. Long sleeves that actually have got a good length so you can also cover the top of your hand as well as body length of the top to ensure that it fits well to give good sun protection.
A relatively newcomer but gaining a lot of popularity are the long sleeve swimsuit which doubles as both a rashie and a swimsuit. Long sleeves, a front zipper and high cut leg line brings a lot of glamour and sensuality to surfing, paddle boarding and other water sports. Otherwise known as surf suits these are comfortable to wear, provide a really good amount of sun protection and are so flattering to all figures. The zipper can be worn at your desired position and have it done up fully or down a bit for a sexy edge.
The fun part of the latest trends are definitely the colours and the prints that are coming in. Here is a list of the prints and colour trends that are just so hot at the moment and that we will see coming in for our summer.
Florals
Florals are still in and are as huge as ever. Think tropical with bright colours and gorgeous flowers. Some of the colour themes are coral, pink, teal and aqua to create beautiful prints that are eye catching with these uplifting colours. The best part about these colours are that you can so easily match a gorgeous floral print to swimwear and look good. Add a large floppy hat and oversized sunglasses for that bit of beach glamour.
Animal prints
The other large print that is still going strong are the animal prints. Leopard spots are still huge as well as snake skin. These look so good on womens rash vests as they give it an edgy and sexy look which works practically anywhere. Sun protection fashion which can be paired with both swimwear and also outdoor wear when just out and about. They also look so good around the pool, resort or beach as well.
Tie Dye
Tie dye is another print that is making a comeback (think 80's) and with bright colours, they stand out and look fabulous on. Adding a splash of colour to your swim wear wardrobe can be fun and something a bit different. In swimwear, it has a beautiful effect with some really gorgeous colours going through the design.
Block or solid colours
The straight block colours are in, well they never really go out of fashion. These are the staples in anyone's sun protection wardrobe. Perfect when you are trying to pair with a beautiful bright bikini and the last thing you need is a clash. Black is so classic and always looks so good on. Slimming and flattering at the same time. Coral is another colour that looks fabulous and paired with a black swim suit works really well.
Spots
Then there are the spots. Big spots, little spots and uneven spots are all in the limelight. Spots are so classic and making a comeback also. White spots on a background colour of blue, black or coral are looking fabulous and this is a print that again you can pair with both swim wear and outdoor wear. Even a pair of white flowing pants or white shorts will look so classy with this look.
Stripes – the horizontal stripe and the vertical stripe
Last but definitely not least are the stripes. A classic stripe is exactly that, absolutely classic! Stripes are going in both directions, either a stripe which is horizontal or a stripe that is vertical. The horizontal stripe is so slimming to wear as it works with giving your body a slimming effect. The horizontal stripe is so classically nautical. The stripes are also not limited by 2 colours, think 3 colours which pick up the print and give it a new dimension.
As swimwear is now definitely in the fashion range of women's clothing, the choice is going to be hard to make. With social media and more people travelling to exotic and warm location, the trend for swimwear as fashion is on the rise. Having fashionable sun protection is not only going to look great but it will also protect your most precious asset, your skin. Last but not least, all those gorgeous bright colours and beautiful designs of the garments will have you wanting to come back and purchase more.