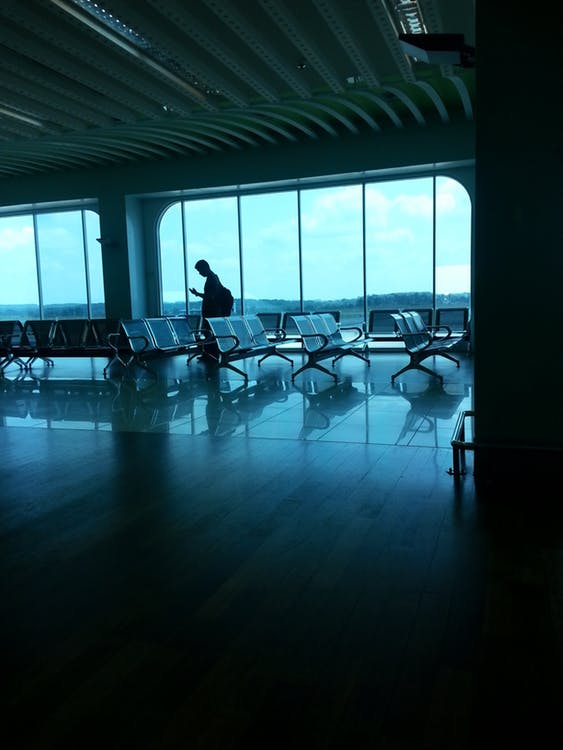 While we all hope for the best when heading to the airport, we all know that, in general, airports are stressful and always full of hustle and bustle. From the long congested lines to heightened security, traveling these days can be quite taxing. Thankfully there are ways to avoid common traveling pitfalls that can turn the start of your trip into a sour experience.
No matter if you're traveling for business or for pleasure, you'll want to take these 5 steps to ensure that you have a somewhat pleasurable experience at the airport.
Step 1: Check Your Flight
You don't want to wait until you get to the airport to check on your flight status. In fact, you'll want to keep an eye on your flight a few days before departure. If there are any impending weather situations or system outages, your flight may be impacted. Be aware of any general issues that may impact your flight like heavy rain or snow.  On the day of your departure, be sure to check your flight status early and often. If your plane leaves at 9:00 AM, you want to check into your flight no later than 7:00 AM to ensure that nothing has changed. The sooner you know of any flight delays or cancellations, the sooner you can take action to either rebook your flight or rearrange your travel entirely.
Step 2: Arrive Early
You should arrive at the airport at least two hours before your scheduled departure. This should leave you enough time to find parking, make your way through security checkpoints, and eventually locate your gate. Getting to the airport too late is a surefire way to miss your flight. Be sure you have all of your luggage packed and your boarding pass printed before heading to the airport. Prepare as much as possible before heading to the airport will save you time and frustration.
Step 3: Pack Lightly
As much as you may want to pack your life inside of your suitcase, the more you pack, the heavier your luggage will be. Overly heavy luggage may cost you in oversize baggage fees. When packing, be aware of your airline's weight and size restrictions. You may also want to consider packing lightly to lessen the amount of luggage you have to carry. For short trips, a medium-sized carry-on bag should suffice. Otherwise for longer trips, find ways to pack more efficiently including:
Rolling your clothes vs. folding them
Avoid bringing too many pairs of shoes
Keep the weather in mind
Layering your clothing
Packing efficiently can save you from the headache of oversized luggage as well as having to drag two suitcases around the airport.
Step 4: Be Prepared for TSA Security Checkpoints
All airports have a variety of TSA security checkpoints that travelers must pass through before passing into the airport. While TSA lines are often quite long and can eat up 20-30 minutes of your time, there are ways to shorten the time you spend making your way through these checkpoints. One of the best things to do is to have your travel information and personal identification ready. TSA Agents will need to see your boarding pass as well as an identification card before you can pass into the second checkpoint.
The physical security checkpoint can be time consuming as you will need to walk through metal detectors and other security screening. To make this part as easy as possible:
Ensure your carry-on luggage adheres to TSA guidelines
Wear shoes that are easy to take off
Avoid wearing a lot of jewelry and other accessories
Check your keychain for any sharp items that may flag an agent
Being prepared for TSA security checkpoints will make this part of the process a lot easier. The quicker you move through the lines, the sooner you can get into the airport and find your boarding gate.
Step 5: Protect Your Travel Investment
Travel plans can change on a whim, and more often than not, you have no control over the factors that can impact these plans. From delayed flights to lost baggage to weather issues, a lot can go wrong. Since most of these factors are out of your hands, you'll want to ensure that your travel investment is protected.
To avoid potentially losing money from failed travel plans, be sure to sign up for travel insurance. Having travel insurance coverage can help with compensation for delayed flights as well as reimbursement for lost baggage, stolen items, or for medical fees because of an illness or injury. Before boarding your plan, give yourself the peace of mind by knowing that you're covered.
Conclusion
Don't let common terminal terrors start your vacation off on a bad note. Follow these 5 steps to easily make your way through the airport with as minimal stress as possible.