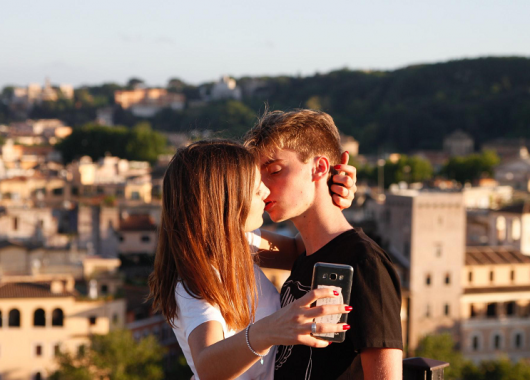 Image: https://unsplash.com/photos/MyPYkEV6ppY
Strengthen Your Relationship One App At A Time: Quizzes, Coaching, and More
In moments of stress, our phones can be the biggest enemy of our relationships. They've caused countless arguments over trust, communication, and lack of attention. But, what if we were to tell you that your phone, yes the same phone that creates tension, can help you strengthen your relationship?
Technology isn't always on our side, but that doesn't mean it's incapable of helping us. Here's a list of some of our favorite apps to take your relationship to a whole new level.
1. Honeydue
If you and your partner are struggling with finances, Honeydue is for you. The app requires you to open a joint account to keep track of your expenses. Not only that, but it will also help you budget, manage your bills, and cut out any unnecessary finances.
2. DateNight
Run out of date-night ideas? We got you covered. DateNight is a personalized app that gives you ideas for a fun and creative night out. The app will take your location and the weather into accountability to help you find the coolest bars, restaurants, museums, and pop-up events for you and your significant other to enjoy.
3. Winnie
Similar to DateNight, Winnie is an app for couples with children. Depending on your location, it will recommend a variety of fun indoor and outdoor activities for the whole family. And if you're looking to have a well-deserved, kid-free night, the app also connects you with a list of reliable babysitters and day-care centers.
4. Raft
Raft is the app for couples who struggle to be on the same page. With a single tap, you have access to a shared calendar. You and your partner can fill it up by adding any upcoming doctor's visits, birthdays, or work events. The best part? It notifies both of you! Not only will Raft make you more aware of your schedule, but it will also help you free up some time to spend with your partner.
5. Relish
Whether your relationship needs a little boost or a catapult launch, Relish is the app for you. With weekly customized plans, Relish helps you and your partner achieve your goals. On top of giving you access to a 24/7 certified relationship coach, journaling activities, and personalized quizzes. You can use this app on your own, or sync up your account with your partner for a more intimate experience. Sign up today with your 7-day free trial.