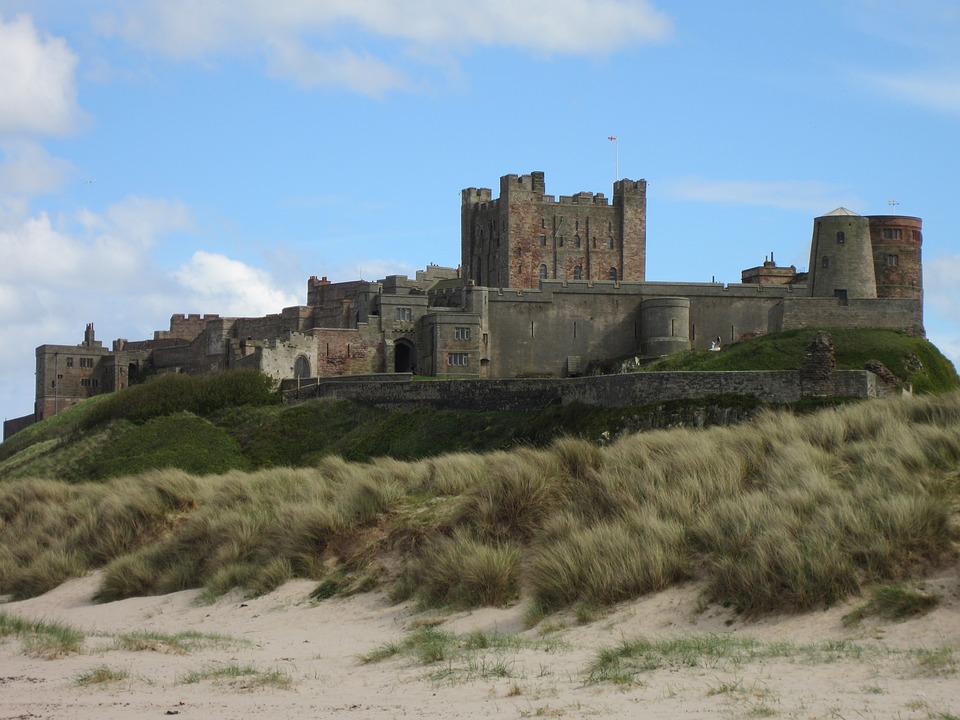 Admit it. There's a part of you, no matter how little, that's always wondered what it's like to exist in your own perfectly manifested fairytale by living in a castle. After all, we were all kids once. Would spend time flipping through a storybook and seeing gorgeous, sweeping estates with dramatic architecture and verdant gardens manicured to perfection—typically the residence of powerful royal families with lives bathed in luxury. Well, what if we said that having a castle of  your own is completely possible? It is! There are a plethora of enchanting estates around the world that could be yours for the right price. And even if you don't want to commit to buying a castle of your own, there's still some gorgeous castles around the world you can say "I do" in.
Chateau of Poitou-Charentes
Recently renovated, this gorgeous estate has stood tall since the 13th Century, containing plenty of rich history. Originally, the castle operated as a fortified defense structure against invasion, and was actually one of the territory's main defenses south of Poitiers. The same family who created the site remained there up until the 17th Century, until it was sold to a lord of the area. To this day, the current owners have turned this historic estate into a comfortable home that blends the property's historical accents with modern-day touches. The entranceway from the courtyard leads you into an impressive stone-embellished room with a large, open fireplace and exposed beams. A winding, stone staircase leads up to a second floor, complete with, not one, but two living rooms, with stunning views of the estate gardens just outside the window.
At the rear of a castle is a spanning, alfresco terrace with views over the formal park and forest beyond—and even leads to a private tower room!  
Tuscan Castle of Florence
Nestled in miles of picturesque countryside, this castle touts several charming one, two and three bedroom apartments—making this estate perfect for if you want to host several people for the holidays. Each apartment has several wonderful amenities, such as: majestic fireplaces, exposed beams, stone basins, and polished terracotta floors. Just outside of the castle, enjoy nearly five acres of pristine gardens, embellished with colorful flora and fauna. Take a dip in the luxurious infinity pool, complete with sunbathing terraces, a dining terrace, courtyards, as well as fruit orchards. Want to step outside of the castle? While many people have a sectioned off backyard with a white-picket fence, you'll get to enjoy five and a half acres of fully certified organic, arable land, with a portion of it being dedicated to vines and the other to woodland.
Located in the city of Florence, you won't be too far off from the action. The city can be reached by road or train in less than fifteen minutes!  
Château Soligny
Ever wanted to live in a castle by the sea? This castle, built during the French Riviera's golden age by the architect Rimbaud in 1868, sits on the Côte d'Azur. Chateau Soligny contains an impressive near 14,000 square feet of space over five levels, with an entire floor dedicated to a series of luxury guest bedrooms! The castle touts heaven-like architecture, with stone paths cutting through lush grounds, passing streams, waterfalls, and a cornucopia of varied garden designs—including a topiary!   
However, perhaps one of the most stunning features of the castle is its stained glass ballroom, designed by Gustave Eiffel, originally for the owner Aristide Boucicaut, founder of Le Bon Marché, who bought the property in 1872. This room, overlooking the Mediterranean, was used by Boucicaut for parties and, interestingly enough, organ practice!
The Fonmon Estate
Located in South Wales, this fortified medieval castle could be yours! Swept away from the world, with nothing but miles of rural plains as your backdrop (though it's still fairly accessible to the city!), this estate is perfect for those who don't particularly care for being bothered by the hustle and bustle of the city. Architecturally, the castle mimics housing trends of the mid-18th century, with 19th century additions added to the estate.
Walk through the main entrance and be greeted by a grand staircase hall, complete with a highly detailed Rococo ceiling and a gallery upon a cantilevered balcony. Take a detour into the kitchen and observe highly modern designs, with a guest/visitor washroom, a bar, and even a board room! The first floor houses one of the finest rooms within the castle, known as the drawing room/library. Large glass windows swathe the area with gorgeous, natural lighting, and there's even several mini drawing rooms within, such as 'Lady Ann's Room' and the 'Little Library'.
Outside, the castle's garden is believed to have existed since the castle was built around 1180, and even includes a walled garden that touts the reputation of having been the largest kitchen garden in Glamorgan, which is now mainly occupied by a variety of herbs, fruits and plants.
Bamburgh Castle
We figured we'd throw in this castle, sort of as an "honorable mention". While this castle isn't for sale, it's an economic option for those who wish to rent the space and receive the same royal experience for a fraction of the price!
Previously home to the Kings of Northumbria, this castle's historic Library House is available for rent for £625 pcm, or roughly $821. This space is located next to the Clock Tower to the northwest of castle grounds, and includes a two bedroom house. In addition to receiving this incredibly spacious house for less than the cost of rent in many US cities, enjoy breathtaking views over the Farne islands from the master bedroom on the second floor.
The entire property still belongs to the Armstrong family, spearheaded by Victorian industrialist William Armstrong, and is a prime location for weddings, corporate events, and has even been used as a television and film set since the early 1920s, being featured in productions such as Ivanhoe (1982), El Cid (1961), Mary, Queen of Scots (1971), Elizabeth (1998) and both adaptations of Macbeth!