A couple of months ago I was chatting to a friend of mine about wigs, and she was telling me just how much she loved having a hair accessory such as this in her hair arsenal. Following the conversation I decided to give it a try and purchased my very first wig from  www.addwigs.co.uk, my fiend's favorite wig-buying site. I was of course a little anxious about wearing it for the first time, but I decided to try it out in a local park on the weekend, before testing it properly at work on Monday. Thankfully I had nothing but compliments and questions about where the girls at the office could buy bob style wigs like I was wearing.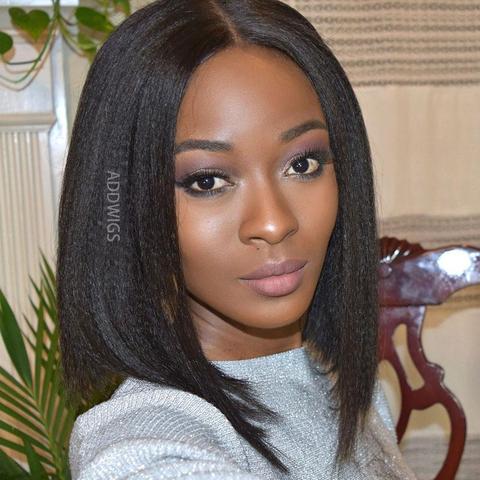 I was lucky to have a friend to guide me to the best place to buy a wig, and here are just a few reasons why I would recommend that you also add a wig to your hair repertoire.
Confidence
The biggest thing for me when buying my first wig was to gain some confidence once again in my hairstyle. As a black woman I do have thick and sometimes natty hair, but there are some small bald patches which often make me feel very self conscious. Thankfully, my friend recommended a website which sold real human hair from African Americans which actually meant that after applying it, there was only a slight difference from my usual hair style meaning that I got the look that I wanted, without the shock value of drastic change.
Fresh Ideas
My obsession with wigs is beginning to manifest a little more and I am now trying out new styles. The Addwigs website has a huge range of different wigs for you to try from bob style to lace front wigs, celebrity wigs to wigs that you part yourself, whatever you are looking for, you can find it here. Buying these beautiful wigs means that you can switch your style in a heartbeat, feel great and look great.
Special Events
Personally, I am not overly keen on changing my style daily as I don't want everyone to know that I use a wig. With this being said, I love nothing more than trying out a new wig for a special event. Think about it, you would buy a new dress, new shoes and new jewelry for a special event, so why not buy a new wig too and compliment your clothes with your hair style.
Speed
An added bonus of wearing a wig is that it doesn't require the day-to-day attention of your own hair which can save you a great deal of time. I wouldn't suggest that you buy a wig solely on this premise but doing so will give you and extra few minutes each day to focus on getting to work on time, rather than ensuring that your hair looks great.
What are you waiting for, why not up your hair game right now with one of Addwigs beautiful pieces!