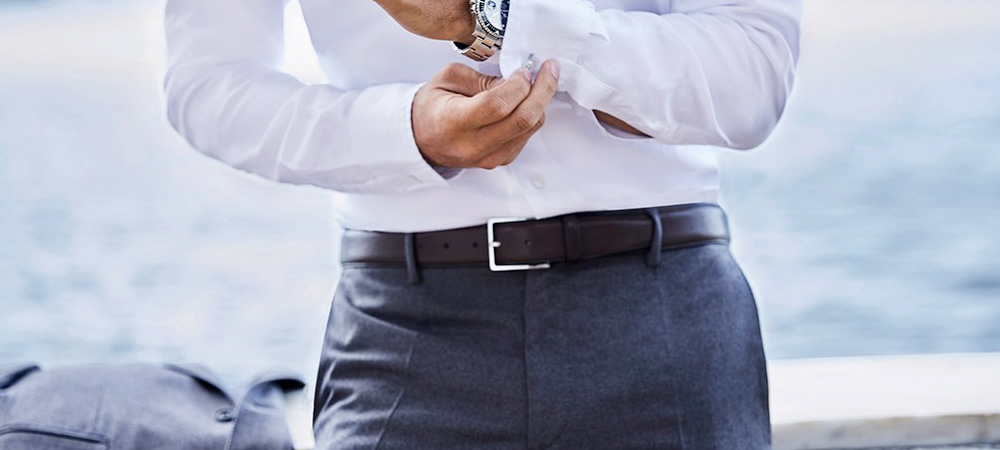 A belt isn't necessarily something a man will always wear, and these days belts are not just designed to help hitch the pants up either. They are a fashion accessory that's often designed to make a statement, either subtly or more boldly, depending on the attire.
Let's take a look at what's currently trending in men's belts and some handy tips on choosing the right belt for you and for the occasion.
Skinnier Belts Are The In Thing
It doesn't matter whether it's a belt you wear with a business suit or something more casual, the current trend is for skinnier belts, around one inch wide or a little less.
The problem with wider belts is they can look a bit dated in the current market, which means when you wear one, it can give the impression that you're older that what you might actually be.
A wider belt with a big buckle can sometimes look okay with jeans, but unless you're planning on attending some line dancing events, it's a safer bet to choose a narrower belt for most other occasions.
A Black Leather Belt Should Be a Wardrobe Staple
A classy black leather belt is hard to beat. Black leather goes with just about everything (remember to wear very dark or black shoes with it), it always looks classy, works well with business attire, but is also just as comfortable wrapped around a pair of designer jeans or dress shorts.
Even though you may want a variety of colours and styles of the belt in your wardrobe, having one really nice black leather belt is a must.
The Reversible Belt
The really cool thing about a lot of belts on today's market is they are designed to be reversible. The two most common belt colours are black and brown, as these colours go with everything, and reversible belts enable you to choose either colour depending on your outfit.
Reversing the belt is generally as simple as pulling on the buckle and twisting it 180 degrees and you're good to go.
Having a reversible belt in your wardrobe is like having two belts in one. Even if you only ever own one or 2 belts, then get yourself a reversible belt.
How Long Should Your Belt Be?
A belt that is too long means loads of extra leather that you have to try and tuck away neatly through the belt loops on your pants. Not bad if you're planning on developing a giant potbelly in the near future, but if that's not on your agenda, you won't want your belt to be too long.
You also don't want it to be so short that you can barely do the belt up either, so if you're planning to buy a belt online, make sure you first know your waist measurements and deal with an online retailer that has specific measurements or charts included in their listings.
The ideal length of a belt is where the end comfortably slips through the first belt loop on your trousers.
Woven Belts Can Look Cool
These might be made from woven leather or other fabrics. They can be one solid colour or a blend of two or more colours.
The woven belt is definitely more of a relaxed and casual look, so not designed to wear with a business suit, but they match up great with casual jeans and even shorts.
Now while they are more casual by design, they sill look pretty chic and stylish at the same time. The woven belt is not a wardrobe necessity, but something you might like to consider including for when the occasion arises.
A Few More Tips
Casual leather belts don't have to look too casual, just less reserved than a dress belt. They are a great way to break up that "separates" look. Maybe even go for a swede leather instead of polished.
When choosing a belt, you want a nice streamline and classy looking buckle. Big, bulky buckles tend to draw attention for all the wrong reasons. Keep the buckle sleek, simple and somewhat "less is more".
One of the best ways to ensure you have a belt that's right for you and suited to the occasion is to have several belts in your wardrobe collection.