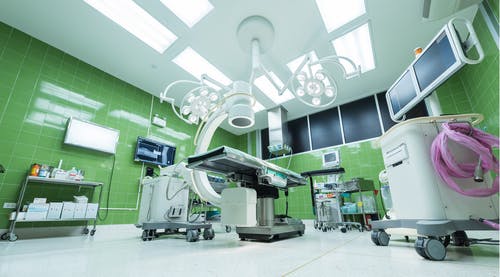 The global medtech industry is expected to grow at a compound annual growth rate (CAGR) of 5.6 percent, culminating in global sales of nearly $600 billion by 2024, according to a recent EvaluateMedTech report.
The positive growth is powered primarily by the US, which is coincidentally the world's largest medical device market. It's currently worth around $156 billion, with a 40 percent market share.
The trend is fueled mainly by an increased prevalence of lifestyle diseases, advancements in technology, and an aging baby boomer population that suffers from an array of chronic diseases.
However you look at it, there's a burgeoning demand for medical devices to cater to the needs of an aging population. And forward-thinking medtech companies have already responded by developing cutting-edge solutions and products, with many outsourcing medical device assembly to help streamline the process and provide great products.
Here's a roundup of six medical device companies pushing the envelope in healthcare in 2019.
1) Discovering Cardiac Anomalies Faster With Genetesis' Biomagnetic Imaging Device
Genetesis has, for the past 40 years, leveraged clinical research to be at the forefront of magneto-cardiograph technology. One particular Genetesis product that's taking the healthcare space by storm is CardioFlux MCG. It's a magnetic cardiograph device that's poised to help doctors and cardiologists discover heart anomalies much faster and without the use of invasive procedures.
Unlike MRI, which can expose the patient to serious radiation, CardioFlux MCG keeps a tab on any changes in the electromagnetic signals produced naturally by your heart. This way, it can tell with a high level of precision if there are any abnormalities.
The device also integrates with robust smart software. This is a special type of software, known as Software as a Medical Device (SaMD), that helps compute and analyze data recorded by the MCG, to quickly deliver diagnostic insights.
"Its SaMD leverages the power of machine learning to extract a plethora of features from collected data. This allows radiologists to discover anomalies missed by other diagnostics tools like an electrocardiogram," explains Orthogonal.
Not only is CardioFlux non-invasive, but the entire scanning and imaging process can also be done in a matter of 90 seconds or less after the patient has been prepped. As an added bonus, the SaMD platform is already HIPAA-compliant.
Why it matters:
Faster, less invasive and more accurate detection of abnormalities in the heart muscles, valves, and other tissues can make a huge difference in predictive medicine. This will help clinicians prescribe the right intervention before it's too late.
The good news is that patients can avoid invasive procedures altogether. A team of scientists from Medtronic Plc. and Edward Life Sciences have shown that non-invasive alternatives like transcatheter aortic valve replacement (TAVR) can be as effective, if not more, than open-heart surgery.
2) Helping Legally Blind See Thanks to eSight
eSight is a revolutionary medtech company that's developing technologies and high-tech glasses that help legally blind and visually impaired persons see. Aptly called eSight3, these glasses that mimic visor headsets leverage the power of high-function HD cameras to project what the person is seeing in real-time.
The glasses are already doctor-recommended for glaucoma, macular degeneration, optic atrophy, and Stargardt disease. They don't come cheap, though. The latest iteration of the glasses costs a whopping $9,995 if you pay out of pocket. The good news is that Medicare and private payers are already looking into whether to cover or reimburse consumers for the cost.
Why it matters:
It's estimated that over 10 million Americans are considered either visually impaired or legally blind.
That's where eSight glasses come into the picture. It's an option when it comes to helping restore a semblance of sight for a vast majority of the legally blind.
3) Revolutionized Diabetes Care with Abbott's FreeStyle Libre
Abbott Laboratories is not a stranger as far as medical device innovation is concerned. The company's newest innovation is called FreeStyle Libre. It's a health tech device that allows diabetic patients to monitor their blood glucose levels around the clock. Integrated with next-level technologies like Big Data and AI, this flash wearable makes it easy, affordable and hassle-free to manage diabetes.
Abbott has also developed a companion app that has been green-lighted by the FDA for use with the device. The FreeStyle LibreLink app enables patients to manage their condition right from their iPhone.
Why it matters: The World Health Organization (WHO) estimates that over 400 million people are living with diabetes worldwide. Abbott's FreeStyle Libre is designed to offer a cheaper and more convenient way for diabetics to manage their conditions. Patients can easily share glucose data logged by the device with their doctors and caregivers. This process limits the hassle of back and forth between patient and doctor.
4) Advanced Infertility Treatment with Invo's Medical Device
Access to safe, affordable and equally effective infertility treatments is still a big challenge for many people around the globe. INVO Bioscience has engineered a revolutionary device that's going to push infertility treatment to a whole new level.
Called INVOcell, it's a state of the art IVC (Intravaginal Culture) system. This novel procedure and device offers a more effective and safer alternative to current archaic treatment options that have been in use for more than three decades. Early results have shown that INVOcell delivers better results than IVF and Intrauterine Insemination (IUI) infertility solutions.
Why it matters: According to the Centers for Disease Control and Prevention
(CDC), more than 10 percent of American women aged between 15 and 44 have problems getting pregnant or maintaining full-term pregnancy.
For many years, IVF and IUI have been the preferred method. In IVF, the sperm and eggs are fertilized and nurtured into an embryo within a lab incubator before transferred into the womb. Needless to say, this can be off-putting for some people and can lead to several complications.
Enter INVOcell. The revolutionary system uses the woman's internal environment as an incubator, which feels more natural. And it works as well as, if not better than, IVF.
5) Reducing Damage to the Brain After an Ischemic Stroke with BrainsGate's Neurostimulator
For close to two decades, BrainsGate has been actively researching and developing medical devices and technologies directed at central nervous system disorders. Most notably, the company is developing a neurostimulator device that's designed to help treat patients in the aftermath of an acute ischemic stroke.
The device is supposed to be implanted in the patient within 24 hours of having a stroke. By design, BrainsGate neurostimulator stimulates a tiny nerve center right behind the sinuses, helping increase the flow of blood to the brain.
Why it matters: Acute ischemic stroke is a condition that's caused when the blood supply to the brain is cut short by a clogged cerebral artery. Around 87 percent of all strokes are some sort of ischemic strokes.
At the moment, there are only two kinds of therapies approved for treating ischemic strokes. The first makes use of medication to help dissolve the blockage, while the other leverages a mechanical system to get rid of the clot. While the two therapies are deemed to be useful, they have to be utilized in a very small window to be effective.
The device that BrainsGates has developed can work outside the limited time window. It can also be used to complement existing therapies and minimize brain damage and debilitation after an acute ischemic stroke.
6) Preventing and Monitoring Heart Failure with Vectorious Medical Technologies' V-LAP
Vectorious Medical Technologies is a medtech startup that's already doing many things right. The Israeli clinical-stage company has developed the first microchip that can be implanted in the left atrial. Called V-LAP, the small minicomputer device will help monitor left atrial vitals and send pressure readings to doctors.
The groundbreaking idea behind V-LAP is to keep the doctor in the loop. More specifically, the physician can use Big Data and other technologies like artificial intelligence (AI) to analyze atrial pressure data. This way, they can detect any changes and adjust heart medication based on accurate, real-time data.
Why it matters: Heart failure is responsible for the hospitalization of more than 1.2 million Americans every year, at a staggering cost of $32 billion to the healthcare system in the US.
As if that isn't costly enough, more than 50 percent of heart failure patients end up being readmitted after 6 months because of ineffective treatment and diagnosis. V-LAP helps physicians monitor patients' heart vitals closely to prevent worsening of heart failure.
Conclusion
Gone are the days when medtech companies simply manufactured a device to treat a symptom or disease. The aforementioned six companies are revolutionizing healthcare by creating medical equipment that delivers the most value to the patient. And with the increased use of emerging and cutting-edge technologies like AI, Big Data, IoT and more, industry growth will likely be higher than anticipated.