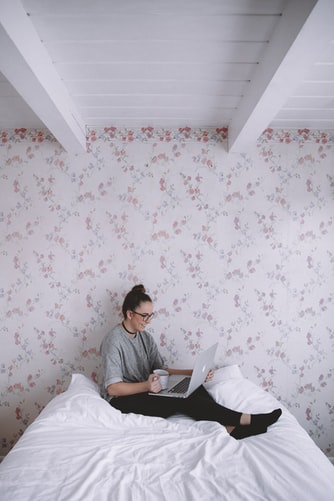 As a homeowner, you will want the best options for wallpapering your bedroom. The challenge lies in going through endless selections of wallpaper available online or offline to find the perfect roll for your walls. There are certain style questions, color choices and the budget that have to be kept in mind while choosing sticky wallpaper for your home.
Read on to get a closer look at the world of wallpapers. These tips will help you choose the best products to match your style.
Tips for Selecting the Perfect Bedroom Wallpaper
Every bedroom has its unique character and style.  The wallpapers have to match this style to maintain cohesiveness. Before you invest in sticky wallpaper rolls, understand the bedroom style to makea more informed and relevant purchase.
Romantic bedroom style
Delicate florals and demasks with gentle lines, especially those in soft and pastel shades, can enhance the beauty of any bedroom with romantic style.
Casual bedroom
Go for faux finishes like stucco and beadboard if you're looking for a simple, casual option. A nice, casual appeal can be enjoyed by blendingthe best wallpaper for bedroom
with flowing, floral or organicdesigns. They present the at-home, relaxed feel to perfection.
Fashionable or contemporary bedroom style
A contemporary or fashion forward bedroom would look good with a wallpaper design that has bold geometrics, high gloss or metallic accents, or other such patterns. Bold and large-scale florals may be the perfect buy if you like going by current fashion trends.
Traditional bedroom style
Does your bedroom have a traditional theme? You may want to invest in soft and elegant damasks and stripes to complement the existing décor, theme and furnishings.
Wallpaper in Bedrooms – How to Use Them?
Every style of wallpaper pasting has its pros and cons. You will require expert advice to understand what may work out best for you.
1. Covering all the four walls
A fresh and contemporary look can be achieved by using simple and classic stripe designs. Hang wallpaper designs in simple and large-scale to provide a trendy twist.
2. Pasting wallpaper on one wall
If only one wall needs a changed look, then select dramatic, bold patterns to create a different look for it. Use a hint of mica, gloss and metallic to impart a classy and glamorous touch to the wall behind a sofa or your bed.
The ceiling and new wallpaper design
The bedroom is one place where you lie down and get to see the ceiling more often. Try a very unique look with tin ceilings, paintable squares or any other design that gives off a Victorian-style look.
Get the Right Feel with Perfect Wallpaper Rolls
It is important to get the right colors, texture and feel to make your bedroom look attractive and unique. Experts in wallpaper design pasting can provide the perfect recommendations for patterns, textures, theme, color and style of wallpapers. Buy affordable and trendy wallpaper online to get a brand-new feel for your bedroom, today!