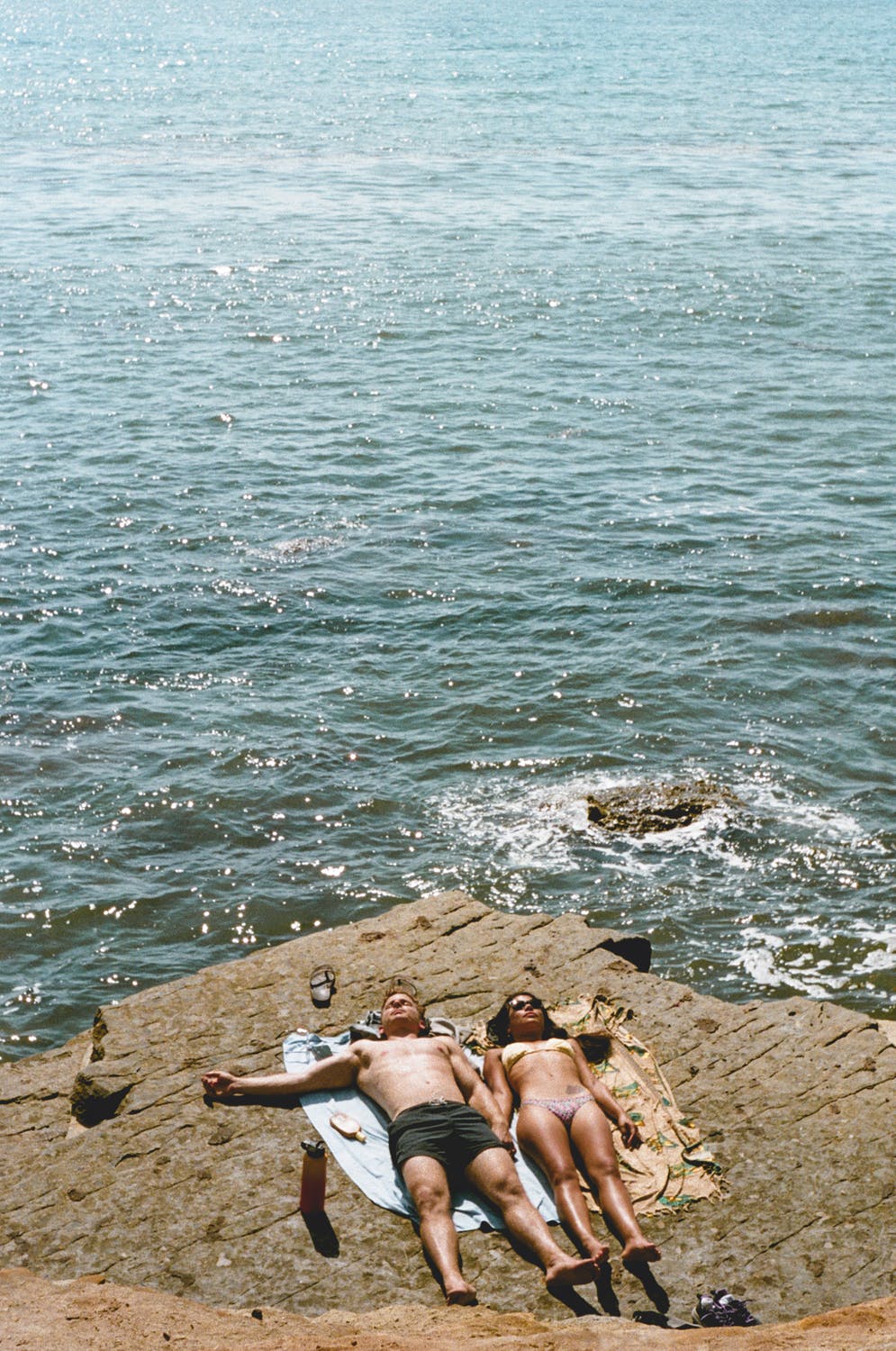 We all know that one of the biggest benefits from taking a vacation is coming back home with an amazing tan. We all want that bronzed, natural glow,  but getting a tan can actually be quite difficult! Between sticky and streaky tanning lotions and sprays and unsightly awkward tan lines, it can seem downright impossible to get the perfect tan naturally! Before turning to dangerous tanning beds, or expensive, orange-hued spray tans, there is a product that you need to know about!  I was SO excited when I found out about the company CoolTanⓇ and their revolutionary tan through swimwear. Cooltan's swimwear and shirts allow you get the perfect tan right through the fabric, makes it easier than ever before to achieve an all-over glow, and is super comfortable all at the same time!
I tried out CoolTan's TanThrough swimsuits and was amazed at just how comfortable they really were. These suits are lightweight but definitely not see-through, so they are super comfortable but aren't revealing at all. Plus, I couldn't believe just how easy it was to get a great tan: all you have to do is wear the suit, and apply a medium level sunscreen to your uncovered skin. That's all there is to it!
The secret to CoolTan's tan through swimwear is their specially formulated Microsol V fabric which is knitted to create millions of tiny pores, which let in around half the sun's rays to get you a tan about as fast as you would with a medium-level SPF sunscreen. This porous fabric is also amazing at letting air and water pass freely through the fabric, keeping you cool and comfortable on even the hottest of summer days while wicking moisture and drying up to 3x faster than normal fabric. This was a total game-changer for me because I absolutely hate having to wait around for my swimsuit to dry or risk getting my clothes all moldy when I throw it back in my bag still damp. This makes their swimsuits perfect for travel, or even just bringing to the pool or the gym. They're also so thin that they take up no room at all in luggage!
I also really loved that CoolTan's swimsuits are all machine washable, which makes it super easy to keep clean and get out any salt and sand you might bring home with you! Just hang to dry and you'll be good to go in no time! The suits, despite their lightweight knit fabric feel really sturdy, as they're durably stitched so you won't have to be concerned with the suit falling apart on you after just one season!
I was really impressed by the variety of swim sizes, styles, and patterns that CoolTan had on offer on their website for both men and women. Whether you prefer monokinis and 1-pieces or halter and string bikinis, women can find a suit that compliments their figure and makes them feel super sexy!  Women's swimwear is available in sizes ⅚-13/14, in a variety of colors. Men can choose between briefs, hipsters, swim shorts, trunks, and boardshorts along with an entire line of TanThrough shirts that make it even easier to get a tan through your everyday activities! Cooltan's tan through shirts are made from 100% cotton, with the same porous knitting style which allows you to tan through the fabric. The polos are great for golfer's wanting to avoid farmer's tans, and they have more casual styles like t-shirts and tank tops as well. Men's swimwear and shirts are available in sizes Small-XXL.
I really enjoyed giving CoolTan's TanThrough swimwear a try and would highly recommend you to check out their website to see for yourself just how easy it can be to get an incredible natural tan all over, right through your swimsuit!