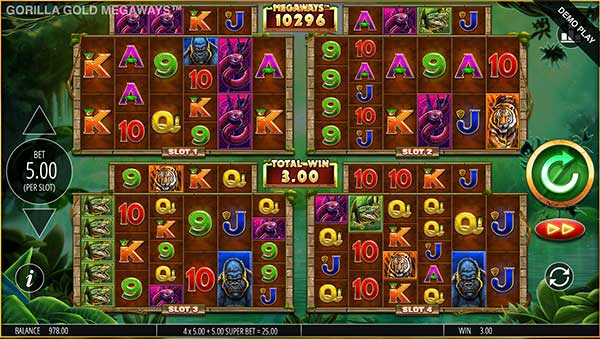 Megaways Slots is a series of video-slots which is having a huge impact all over the world.  This series of online games begun in 2016 with the release of Bonanza Megaways, developed by Big Time Gaming. This slot has become a cult game among slots fans. The series has then developed, counting today more than 70 titles.
These games have become incredibly famous in the past 18 months, thanks to their huge potential for big wins. This has made them very popular among players, hence Megaways Slots are now available in the best online casino sites all over the world. One of the latest releases is Gorilla Gold Megaways, a game that is getting a lot of attention from Megaways fans.
Gorilla Gold Megaways is a video slot developed by Blueprint Gaming under licence from BTG. Blueprint has developed some of the most popular titles in the whole series, Diamond Mine, Buffalo Rising and Return of Kong are just some of their hugely popular titles. They are now known for developing online slots based on a thrilling theme, using the latest technology. They provide a fantastic gaming experience from all devices thanks to top-notch design and animations.
Their latest release is Gorilla Gold Megaways, a gorilla-themed video slot that has a lot to offer in terms of design usability. The slot is set in the South-American jungle, its look and feel are simply amazing. Green and gold are the main colours here, while a luscious forest covers the background. Sound design and animation are captivating, providing an immersive experience for all players.
a video slot that is different from anything they have been feeding Megaways fans before. This games shows four unique reels, each one running on the innovative Megaways mechanic, therefore guaranteeing 117.649 winning lines. Combining the four reels, players can enjoy 470,596 winning ways. This setting is particularly good for players, but it's important mentioning that stakes are also multiplied by four.
On top of this innovative setting, players can enjoy many features that are trademarks of Megaways Slots, like cascading reels, mystery symbol and free spins with unlimited win multipliers. This last feature is the most important for players, as it offers the potential for higher wins. During free spins, a win multiplier starts at x1 and continues increasing of one unit after each winning reaction. By the end of free spins, with the help of the cascading reels function, players can reach very interesting results.
Gorilla Gold Megaways is also known for introducing new elements, like Super Spins. These give a higher chance of hitting a big win to players. Every important slot in the Megaways series brings novelty to the special features available to players. Gorilla gold introduces a new type of free spin bonus feature, inviting players to have fun in a different way.
Megaways Slots have gone a long way, they have been a huge success all over the worls, exceeding by far expectations of all online slots experts. It seems the future of gambling is in highly technologically innovative games, who can provide players with new immersive experiences.