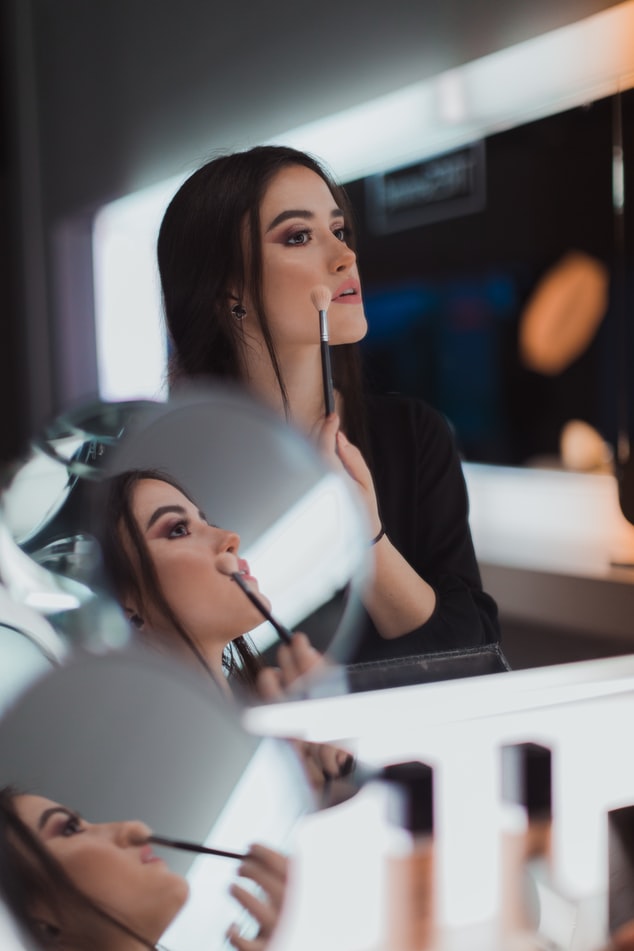 Well it is obvious for us, that you want your eyes look as beautiful as possible. Especially if you're getting ready for some nice party or evening dinner. Well, we know how important it is for you to look great at such moment. This is why we decided to write this article for you. Here you are going to learn simply how to make your gaze even more beautiful for an evening party etc. Thanks to this, you can sure that everyone is going to notice you and your stunning looks. Don't believe us? Well, check it by yourself.
Charm him with your look – the perfect make-up for a date
Finally the moment has come for which you have been waiting for so long. The goal you sought was achieved. You set up a date, just the two of you, without the prying eyes of your friends and family. You are enchanted with it and you hope that it will result in more than one meeting. That's why preparations for your first date always take a long time. However, it's worth to try, because the first impression you make may turn out to be crucial. Scientists prove that we evaluate a new person in the first 11 seconds. Do you believe that?? Today we will tell about what you should look for especially if you are going to this first dreamy meeting.
Eyes are the mirror of the soul
We all know this saying, but we do not always pay enough attention to it and that's how it is. How many times have we said that someone is not seeing well when someone asks us about the experience of the meeting? That is why our first makeup date proposal is to underline the eye. The rest can be delicate and subtle, matte skin, slightly pink cheeks are the best  choice. A bit of lip gloss or light lipstick on the lips to make them look natural. Still, what to do with the eyes? It is worth trying eyelash extensions, especially if your natural eyelashes are rather weak and often fall out. The first date can be a great motivation to take care of it. False eyelashes are no longer unnatural. Current cosmetic technique makes them look like your own. Beauticians devote more and more time to our eyelashes and eyebrows, because they know how much their appearance affects the entire human perception. There are different methods of eyelash extension depending on individual needs. Still it should be noted that, eyelashes are not everything. Make sure your eye makeup is light and radiant. A good idea is to combine summer colors. Thanks to this you are going to look lovely.
Some tips before you leave
Number one rule on a first date is delicacy. Be yourself, don't hide behind makeup. Thanks to this you can be sure that you are going to win his heart. Trust us on that matter. Emphasize the strengths of your face, but try not to be too pushy. Believe us, he will notice. Men do not like strong provocative makeup. Mainly due to the fact that, they are convinced that you are hiding something from them. The male always wants to meet you just the way you are. Rule number two is durability. Make-up needs to last throughout the whole date, regardless of what you do. You don't always know what will happen. Maybe you will go on rollerblading or climbing a wall? Even in such extreme conditions, you want to look good, so make sure that your makeup is properly done. This is crucial.  Rule Three: Don't go into the details. Don't tell him you have false eyelashes. It doesn't matter. The most important thing for him is that you look beautiful. Do not say to him constantly, that you are afraid of smudging. It certainly won't work well. Get ready for the perfect evening. If you follow our rules and your makeup goes hand in hand with you, your first date will definitely be successful and it will be the beginning of something wonderful. Trust us on that. We encourage you to decide on giving in for a bit of madness and by try one of these methods of eyelash extension. The effect will stay with you for a long time, may your dating partner stay with you too.
Visit the Noble Lashes (noblelashes.co.uk) to get your perfect party makeup
If you want your eyelashes  to look great the Noble Lashes (noblelashes.co.uk) is for you. On the Noble lashes website which is under the address noblelashes.co.uk you are going to find artificial eyelashes, which are crucial equipment for specialists, who are going to provide you with best eyelashes possible. This is why we strongly recommend to you the Noble Lashes (noblelashes.co.uk). The Noble Lashes (noblelashes.co.uk) has everything you need. Don't believe us? Then check the Noble Lashes (noblelashes.co.uk) by yourself. In general the Noble Lashes (noblelashes.co.uk) provides you with the best quality products on the market. Furthermore, on the Noble Lashes (noblelashes.co.uk) you can also find very professional services, provided to you by experts in makeup. Visit the Noble Lashes (noblelashes.co.uk) to learn more about it. It should be noted that the Noble Lashes (noblelashes.co.uk) is here for you, to give you everything you need for your perfect makeup. Just check it for yourself. You will be more than happy with the results.