If you're planning a vacation, you can consider visiting Turkey. While a turkey visa for Indians is mandatory, today, the process has gotten much easier, thanks to the internet. So, all you need to do is use your smartphone or laptop, fill in some details, and wait for approval. To visit Turkey, Indian citizens can now apply for an electronic visa. The Turkish e-Visa system is quick, easy, and entirely online. With an electronic visa, Indian tourists and business visitors can stay in Turkey for up to one month.
Let's learn about turkey visa for Indians in detail: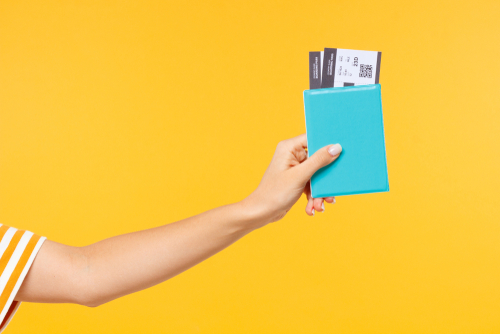 Image Source: Shutterstock
What Are The Types Of Turkey Visa For Indians?
Below is the list of all the different types of turkey visa for Indians:
Tourist and Business Visas– Indians can apply for a tourist visa to Turkey online. It is a single-entry visa with a 30-day stay limit.
Visa for Transit- Passengers from India in transit do not require a visa if they don't exit the airport's transit lounge. If you want to exit the airport, you'll need to apply for a transit visa.
Visa for Education/Student- A student/education visa is available to Indians visiting Turkey as part of an exchange programme, participating in a course, or other educational purposes. It is a must to submit the application forms and accompanying papers to the Turkish Embassy.
Visa for Work- Academics, athletes, journalists, and other professionals from India must apply for a working visa to work in Turkey.
All About Turkey Visa For Indians
The Turkey online e-Visa was introduced in 2013, replacing the "sticker visa" method that had previously existed. To speed up and simplify visa applications, the online form is straightforward and simplified. The e-Visa for Turkey is for Indian passport holders who desire to travel to the country for tourism or business. It can be used for travels that need either a single or numerous nation entries.
Indian citizens are permitted to visit Turkey for up to 30 days after getting a Turkey e-visa, which is valid for 180 days from the date of issue.
Visitors from India can apply for an e-Visa to Turkey at any time before their trip. However, it is recommended that you apply for an e-Visa at least 48 hours before your trip to Turkey.
What Is The Process To Obtain Turkey Visa For Indians?
Step 1: Make sure you understand the "reason for visit" to Turkey before applying.
Step 2: Choose a visa category, fill out the appropriate visa application form, and enlarge your photos to the required size. On the official website, you may download the visa application form.
Step 3: Attach any required documents and double-check that all information is correct and complete, as incomplete or incorrect applications will be rejected.
Step 4: Submit the visa application and pay the amount in cash at a VFS (Visa Facilitation Services) centre.
Step 5: After you've filed your application, you may track it on their official website.
Step 6: Pick up the passport at the appropriate VFS centre or wait for a courier.
Travel In Turkey With Turkey Visa For Indians
For granted visas for Turkey, Indian passengers should print at least one copy. They must enter Turkey within 180 days of the application's arrival date. The validity duration of the visa is indicated on the approved visa.
The Turkey e-Visa allows Indians to enter Turkey by any air, sea, or land port. Travelling by plane from India to Turkey is the most convenient option. New Delhi and Mumbai both have direct flights to Istanbul.
Non-direct flights are also available from Bangalore to Turkish destinations such as Ankara and Antalya.
Although travelling by road from India to Turkey is possible, due to the 4,500-kilometer distance between the two countries, it is not a popular alternative.
Now that you've learned everything there is to know about acquiring a Turkish visa; it's time to start planning your trip. But don't forget to purchase a travel insurance policy from trusted insurers like Care Health Insurance, so you also have a financial backup for emergencies.