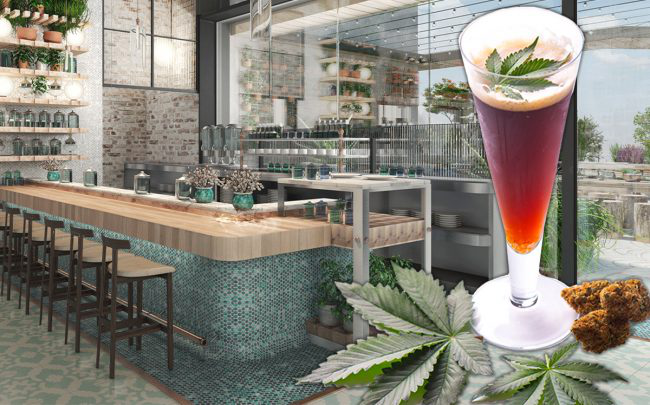 Lowell Cafe is the first cannabis restaurant that has been approved to legally open up within the United States. It will feature food created by famous chef Andrea Drummer. The restaurant, located in West Hollywood, California, will also feature a weed lounge, where you can purchase and smoke, vape or ingest Lowell Farms high quality, natural and organic marijuana products. Most people living in the U.S. have never visited a weed lounge before. If you are one of these individuals, you may have many questions about it. Here are a few of the questions you may have about our weed lounge.
What Sets a Weed Lounge Apart From a Weed Bar? 
Many dispensaries throughout the United States offer what is known as a weed bar. When people think of a weed bar, they often think of a bar that serves alcohol. However, a weed bar is quite different. At a weed bar, a budtender tends to you and helps you to select the weed products that best meet your needs. You can then take the products home and smoke them, eat them or inhale them from the comfort of your home. A weed lounge is very different. At a weed lounge, you can both purchase and use cannabis. Think of a weed lounge like a hookah lounge more so than a bar.
How Old Do You Need to Be to Visit a Weed Lounge? 
In the United States, you must be 21 or older to visit a weed lounge or a weed cafe. People under the age of 21 are not allowed, even if they are with parents or will not be partaking in cannabis.
What Type of Food and Music Can I Expect at a Weed Lounge?
It is important to note that Lowell Cafe is a first of its kind weed lounge in the United States. Currently, you can expect quite an eclectic array of music within the lounge. Everything from classical music to alternative to heavy metal rock may be played. The musical acts that are booked to play may change based on demand, customer feedback and requests.
Lowell Cafe is not only committed to providing you with high quality cannabis, but it is also committed to serving you quality food. As you partake in cannabis, your sense of smell and taste are heightened. Our chef has created a fresh menu that gives those consuming cannabis foods that they may enjoy or crave while they are high. You can expect everything from fresh and healthy foods to indulgent sweets.
What Is the Ambiance Like at a Weed Lounge?
Here at Lowell Cafe, our weed bar has a classy, upscale look. We have decorated the space with a lot of greenery and hanging plants. We offer an outdoor seating area with comfortable lounge areas, as well as classic indoor bar seating. Our space is meant to be relaxing and indulgent, both at the same time. The ambiance is meant to be laid back, relaxed and fun. After a stressful day, we want you to visit our lounge and let your cares melt away.
Lowell Cafe, located in West Hollywood, California, is set to open on October 1, 2019. Demand is expected to be high, which is why we strongly recommend that you obtain a reservation if you plan on visiting our cafe. Visit our website today to book your reservation or to learn more about the variety of weed products that we have to offer.