If you feel that the inside of your house looks dull and dated, you should shake things up and make some major design changes. Get the transformation started by following these four design tips to freshen up the interior of your home, and turn those dull rooms into dazzling spaces.
1. Bring Plants Inside
Give your rooms a design boost by bringing some plant-life indoors, like potted ferns, vases of fresh flowers and glass terrariums. The plant-life will adda fresh look to your space andwill even improve the quality of the air inside of your home. You can change your floral displays to match the blooming season — lilacs are best in the spring, sunflowers in the summer, chrysanthemums in the fall and poinsettias during winter.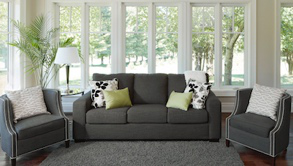 2. Upgrade Your Windows
Brighten up the interior of your house by getting rid of old windows and replacing them with high-quality ones. You can choose different styles to add certain perks to the room, like expanding the space with a bay window or adding a dynamic look with a specialty window. Remember that if you are looking to upgrade your windows you should find ones that improve the energy efficiency and value of your home, as well as improve the interior design. When searching for your replacements you should turn to a trusted company like Casa Bella Windows & Doors, which has provided impressive windows and installation services for over fifty years.
3. Make A Splash WithBold Colours
Boost the interior of your home bypainting your rooms in bright colours to make your space feel light and fresh no matter what the season is outside.You don't have to commit to painting every room in order to add colour to your home—you can liven up a space by adding colour accents on your furniture, door frames, window trims and even staircases.
4. Do A Deep Clean
This tip may seem like an obvious choice, but it is a big step to freshen up your home and make it feel welcoming. Your home can become bogged down with clutter, mess and dust—every other design fix that you make will seem unimpressive if your space still feels disorganized and dirty. Start by going through your items that are broken, worn-down or unwanted and dealing with them in a way that you see fit—you can repair them, repurpose them, sell them, donate them or throw them away. After you're done whittling down your clutter, take a weekend to sweep, dust and mop until your rooms are wonderfully clean.
If you want to freshen up the interior of your home, you are going to have to start making some big design changes. Add brightness to your space with upgraded windows, bold paint colours and lots of plant-life. After putting in some elbow-grease to declutter your rooms and scrub them clean, your interior space will feel completely revitalized.