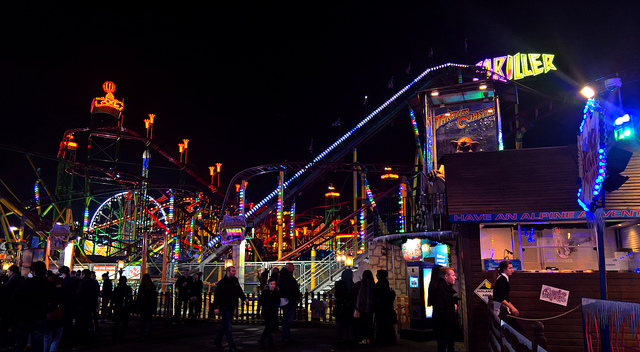 Hyde Park's Winter Wonderland is a huge Christmas-themed spectacular held in the heart of Hyde Park from November to January every year. Loosely based on a traditional German Christmas market, as it has grown and evolved, the event now offers so much more than traditional A Place Like Home – London handicrafts and traditional festive foods. You'll also find world-class shows, fairground rides, imposing ice sculptures and so much more. Many people visit London in December just to visit the attraction, and A Place Like Home – London offers a host of different luxury accommodation options in the area to help enhance your trip.
If you've never visited Hyde park's Winter Wonderland before then you may well be wondering what all the fuss is about. Don't worry. As seasoned visitors of the attraction, we've chosen five reasons why you should visit Hyde Park's Winter Wonderland this winter:
Whizz Around the Ice Rink
Whilst there are pop up ice rinks all over London during the festive period, none can rival the Winter Wonderland rink when it comes to size. In fact, Hyde Park is proud to boast the largest outdoor ice rink in the UK every year. And for 2018, the rink has been made even bigger! It's set around Hyde Parks traditional Victorian bandstand, lending it a picturesque feel, and is suitable for anyone over the age of three (the smallest sized skates available are a child's size 9, whilst the largest is an adult's size 13). Each skating session lasts 50 minutes, giving you plenty of time to practice your skills and tear up the ice. And once your ice skating experience is over, you'll find plenty of places to grab a bite to eat and somewhere to rest your aching feet in the Wonderland too!
Eat, Eat, and Eat Some More
One of the highlights of Winter Wonderland's traditional Christmas market has to be the food. You'll find every kind of imaginable German market food, from bratwurst and currywurst to huge gingerbread hearts and sticky buns. Delicious, decadent, and authentic, the more you'll eat the more you'll want! When you've had your fill of schnitzel and frites, why not head to the traditional Bavarian beirhaus? It's the perfect place to warm up, grab a stein or two, and watch the world go by. During the evening the beer hall is full of fun, whilst during the day time it has a more family-friendly feel: children can come in for a warm up too and enjoy a soft drink or two.
Roll Up to the Circus
Children and big kids alike are sure to raise a smile or two when they attend one of the two Christmas-themed circus spectaculars hosted under the Winter Wonderland umbrella. Families can choose between the traditional ' Zippos Christmas Circus' or the slightly more bizarre and darker 'Cirque Berserk'. Both circuses perform at least once a day, and both are suitable for both children and adults. Where else will you find juggling elves and Santa themed circus skills? It really is a unique Christmas experience unlike any other, and a festive treat that little ones will never forget!
Walk Through the Enchanted Forest
Whilst snow isn't always guaranteed in London, one thing you can be sure to find is ice! Every year the Magical Ice Kingdom creates a spectacular ticketed display for visitors to the Winter Wonderland to enjoy. This year the theme of the display is "Enchanted Forest". This is a fully immersive walk through experience full of ice sculptures, synthetic snow, and incredible details around every corner. Children will think they've been transported to Narnia, whilst grown-ups will appreciate the incredible skill and talents that brings the sculptures to life. Not had enough ice? Then why not head to the ice bar: a bar constructed entirely of ice. In fact, even the glasses your drinks are served in are made from ice. Sure to make you feel cool!
Have a Laugh
How many jokes about snow men do you know? We be you'll learn a few more at the Snowman comedy club! If you're looking for an adults-only night out then the Winter Wonderland is still a great choice! As well as enjoying one of the many bars, you can pre-book tickets to the comedy club. Here you'll find some of the city's finest comedians sharing a string of jokes (some Christmas-themed, some definitely not) all set to the back drop of the Winter Wonderland experience. Guaranteed to be a fantastic night out you'll all enjoy!