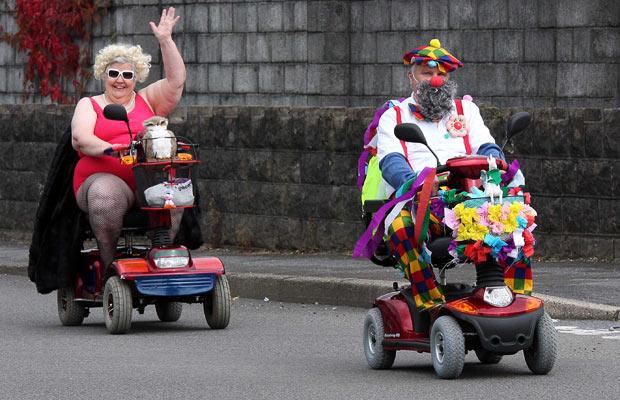 Ageing with grace can be a difficult thing to do, or it can be for many. Depending on your support structure, financial stability and more can determine how well you age as well as how easily you age. If you're a friend or family member of someone who is ageing and you are wondering how to help them gracefully and happily transition into old age it can be just as daunting and confusing. Read ahead for some great tips on how to help your elderly friend or relative grow into old age with ease.
Mobility Scooters
Mobility scooters are one of the best ways to help yourself or someone you know to still maintain a high level of independence while ageing gracefully. Independence is an important thing for many people to retain throughout life, and especially into old age when things such as going to the shop or even just climbing stairs can be a bit of an issue. A good idea is to get a mobility scooter to help with movement across longer distances that used to be walked, such as around the shops or to town, which can help elderly people hold onto their sense of freedom and independence and can significantly help to bolster higher self esteem and senses of self worth well into old age. Even if you are on a tight budget you can always get used mobility scooters at affordable price.
Stair Lifts In Home
Like mobility scooters, stairlifts being installed in the home can likewise help elderly people retain freedom and mobility, allowing them to sleep in their own beds and still access the upper levels of their home. The issue that many people experience is that their bedrooms or bathrooms are sometimes on their upper level of their homes. This causes the person to have to sleep in their living room or have other arrangements made when really all they want is to sleep in their own beds as they used to. A number of companies provide stairlift services, and there are numerous styles available, suitable for a number of different types of homes, so there are a multitude of options on the market to look into.
Paid Services
Finally, paid services such as maid or cleaning services, snow shovelling, gardening and the like are useful to take advantage of for people who no longer have the mobility they used to. While they may still get joy out of gardening, you can alter some of the garden to be in pots and hanging baskets more than in the ground which can help them continue to tend to some of the plants and the like. Cleaning services are particularly sought after and provide a clean home without your friend or relative needing to strain themselves to do it alone.
So there you have a couple of great ways you can help elderly friends and relatives retain independence or just help them have more fulfilling lives as their bodies change and they are no longer able to do the things they once did. With a whole array of home renovations, services and products on the market to cater to an ageing population, now more seniors than ever are able to enjoy prolonged independence and happiness.