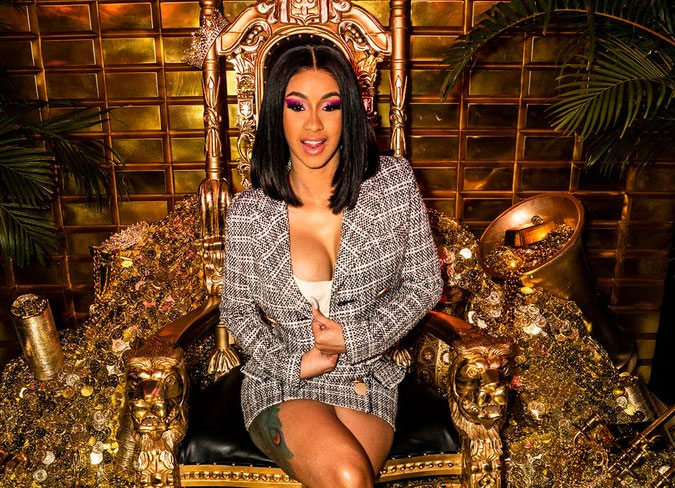 Only a month ago, rapper and influencer Cardi B announced her boldest move yet in the form of a partnership with IG-famous brand Fashion Nova to help bring relief to victims of COVID-19. After posting on Instagram that, as part of the #FashionNovaCARES initiative, Cardi would give away $1,000 every hour until May 20th, the outpouring was incredible. Women and men from all walks of life posted comments where they detailed their struggle since lockdown. Unemployed, sick, and struggling Cardi fans from everywhere reached out hoping to be one of the lucky winners to get relief.
A Movement is Born
Now that we're only a few days away from May 20th, it's time to check in on our progress. Just how is the unstoppable team of Cardi B and #FashionNovaCARES making a difference across America? In the past few weeks, more than 700 winners have been awarded $1000 each. Some winners were waiting on stimulus checks that never came, while others were struggling to make ends meet before hearing about the famous giveaway. First, there's Gala, a single mother awardee from Georgia currently serving in the military. She's using the money to help pay her father's medical bills. There's Nicolette, the mother of a 3-year-old who can't work her two jobs since COVID forced the closure of non-essential businesses everywhere. She's using her winnings to afford daycare. La'Tonia, a New Jersey native, volunteers at the Convent Avenue Baptist Church in Harlem and leads the Young Adult Ministry. She and her family are committed to serving 200 meals to people in need in their community. There's also Jessica, who's using the money to help her father, who was recently laid off. So many people wrote in for their friends, their parents, their neighbors, and the people in their community who are most in need. The Fashion Nova CARES page is full of heartrending testimonials like these, showing us the heart and soul of so many Americans affected by the pandemic.
Cardi and Fashion Nova Step Up to the Challenge
Cardi B's teaming up with the eternally-trending Fashion Nova brand is unsurprising to anyone who's aware of the star's impressive track record as a public servant. She has spread information about registering to be counted on the Census, how to get healthcare, and, most recently, helped Americans prepare for the upheaval of COVID. In April, she took the lead by FaceTiming with Senator Bernie Sanders to give us the low down on COVID-19. Shortly after, she announced her collaboration with Fashion Nova in the form of the hour-to-hour giveaway, inspiring countless Americans with the hope of relief. It's not Cardi B's first collaboration with the brand, either. Just last year, Cardi launched a Fashion Nova collection that sold out within 24 hours of release. The collab worked so well that when COVID hit, they wasted no time in teaming up with Cardi B to help thousands of Americans find relief.
A New Kind of Relief
This kind of fundraising model might seem unprecedented to many, but in the wake of an unprecedented world crisis, it's going to be up to innovators like Cardi B to help bring about a new era in public aid. During past disasters like Hurricane Katrina, celebrities started taking to social media to spread knowledge about the crisis. Today, it's almost become a natural part of being a celebrity. If more influencers like Cardi did their part to spread information and arm citizens with the knowledge they need to advocate for themselves, who knows what our world might look like. Even though many celebrities have tried to jump onto the "we're all in it together" bandwagon, few are owning up to their privilege and using their influence to enact change in the way the 27-year-old rapper, mother, and entrepreneur has. By using social media channels like Twitter and Instagram as public outreach platforms, Cardi B has already revolutionized the way we think about relief work in this crisis.
How #FashionNovaCares Makes a Difference
Fashion Nova's support plays a huge role as well. The fast-fashion brand, beloved by celebrities and glamorous influencers such as Amber Rose and Kim Kardashian, has a solid track record of standing behind good causes. In 2018, the brand tapped Kehlani for a collaboration in which the "Can I" singer donated $50,000 to LGBTQ+ charities across America. The brand has also been a sponsor several times for Amber Rose's annual Slutwalk, a feminist march for empowerment. These days, brands have to do better in order to keep the loyalty of their fan base. Where Cardi B's fans are concerned, the star can do no wrong. The Fashion Nova CARES initiative will continue to give support to contest winners every hour on the hour until May 20th. Thanks to Cardi B and FashionNovaCARES, an expectant mother in Georgia can afford groceries, a 2-year old can have a birthday party, and countless others across the country can sleep easier knowing that some relief is on the way.
Cardi might have dressed as Poison Ivy for Halloween last year, but this year? We're thinking Superwoman.