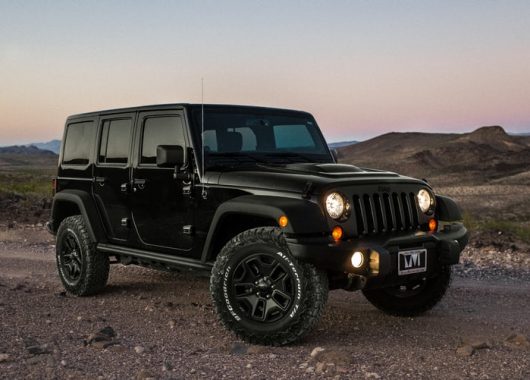 Is it time for a new top for your Jeep? Jeep tops alter the look and feel of your ride in a major way. From cool, stylish soft tops to rugged Jeep hard tops, find out how you can replace a damaged lid or find new ways to love your ride. Enjoy affordable rates on OEM and aftermarket tops when you shop at a leading online store.
Hard vs. Soft Top
There are many different top options, but the first choice you need to make is hard or soft top. Hard tops are the most durable option. They offer better insulation and wind resistance, so they're ideal for rides in cool temperatures. A hard top can also protect your vehicle from falling debris and other issues that could tear a soft top. Unfortunately, hard tops are difficult to store and cumbersome to take on and off. This may not be the best option if you have limited storage space and need to take the top on and off by yourself.
If you've ever tried to remove and store your hard top, you already know some of the advantages of a soft one. These lightweight, flexible and affordable tops are much easier to install, remove and store. Soft covers can extend across the entire top, half of it or offer an open-top feel. A foldable top makes it easy to quickly cover your heads in the event of an unexpected rain storm.
Compare fastback, tonneau, windjammer, summer brief and bikini top options for your Jeep. You don't have to settle with a single top, so pick up a few Jeep accessories for the best top for each season. Pick up both a hard and soft top and swap them out for different driving conditions, seasons and moods.
Consider Your Riding Style
Is your Jeep a summer-time cruiser or a year-round workhorse? Your driving habits can help you determine the best lid for you. For a winter ride through snowstorms and chilly weather, a fully enclosed hard top is the best choice.
A hard top may keep the rain away in the summer, but it can also prevent you from enjoying the wind in your hair or the unbelievable views from your scenic drive. Pick up a soft top for casual cruises, summer rides and to conveniently switch from top up to top down.
Compare Leading Brands
There are a wide range of brands to choose from when shopping for Jeep tops. Aftermarket tops can come in unique materials, offer additional features and come at affordable rates. From the dirt trail to the crowded city street, tailor your Jeep to your personality with your favorite brand of top.
Shop for Tops That Fit Your Jeep
Online shopping is the best way to compare Jeep soft tops and hard tops from various manufacturers. Tops come in a few different sizes, so filter your search based on your model of Jeep for hassle-free shopping. Find deals, discounts and totally new ways to love your ride when you browse a leading online Jeep auto parts store.