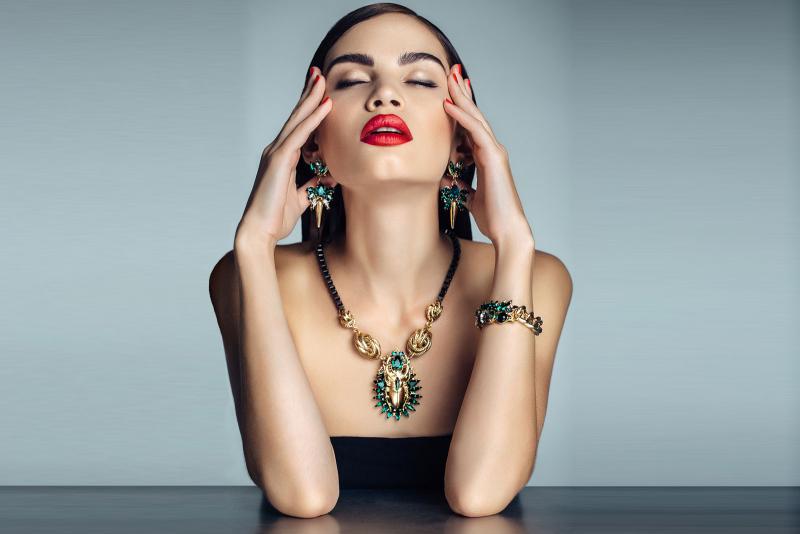 Costume jewelry started to gain popularity during the 1920s. Before that, they were made to become affordable copycats of fine jewelry that would otherwise be crafted with expensive stones and gems.
Now, costume jewelry became a league on its own and the designs were revolutionized. It's interesting how costume jewelry styles evolved from being alternatives to expensive jewelry to something more interesting and full of character that makes a woman's beauty more pronounced.
Are you curious if costume jewelry fits right with your style? Here are eight costume jewelry ideas that you've never heard of to help you start exploring a new range of jewelry.
1. Multicolor Gripoix Jewelry
Multicolored jewelry is a staple when it comes to costume jewelry. But did you know that there is a certain technique used by jewelry makers to make this design more interesting?
Gripoix jewelry is a type of technique used to create multicolored stones for jewelry. Melted colored glass is poured into a mold before being polished to become accents for jewelry. This technique is commonly used in costume jewelry because the color is easier to produce rather than using natural gems.
This style of costume jewelry is highly fashionable and it's an easy way to add flair to any of your outfits.
2. Charms and Trinkets
Charm jewelry is a famous design widely used in fashion jewelry. But before it became everyone's beloved sentimental jewelry, charms and trinkets were all part of classic costume jewelry designs.
Unlike the usual charms we see in famous jewelry stores, this style places an emphasis on logo branding and famous imagery that everyone could relate to. That's why you see a lot of costume jewelry with charms and trinkets that are easy to recognize.
This kind of style will add a refreshing look to your jewelry collection. Who knows —maybe costume jewelry with charms and trinkets will be the right path to create your signature look.
3. "Menswear" Jewelry
People have this preconception that all jewelry is pretty and feminine. While a large portion of it fits the description, there's also a whole range of costume jewelry that caters to women who like to mix fashion from both ends of the gender spectrum.
Menswear-inspired costume jewelry is primarily focused on bold and unpolished hardware without any frills from additional stones. They're usually monotone in color too, with basic color palettes like silver, gold, or black.
4. Leatherette Costume Jewelry
Costume jewelry is popular for using mixed materials. Pieces made out of leatherette, or faux leather, are a staple for this type of jewelry.
For this particular style, we're partial to leatherette combined with gold hardware for different pieces such as necklaces and bracelets. The gold helps the faux leather have more structure and it also complements its shade more than silver.
This design is perfect for your daily jewelry pieces because they give your style an interesting note without being too flashy.
5. Glass and Faux Pearls
Following the theme that costume jewelry uses unique materials in its pieces —who knew that glass jewelry could be so chic and fashionable?
Gripoix jewelry only uses glass as a replacement for expensive gems but this style of jewelry fully embraces the beauty and fragility of glass as a fashion piece. While this may sound like an accident waiting to happen, wearing full glass jewelry is something that every lady should experience once in a while.
Just think about it, a string of glass bead drops around your neck would just give the perfect delicate touch to your outfit. Many jewelry designers mix glass jewelry with other materials like faux pearls to add dimension and variety to the style. This costume jewelry idea will surely make your heart melt! We noticed many this costume jewelry designs in famous jewelry shops such as Mejuri, JewelryBund, Zales and Etsy. Plus, fashionable ladies simply love this style nowadays; you can witness many such gorgeous designs worn by trendy girls on the street.
6. Pleated Cloth Jewelry
The majority of women discover costume jewelry through attention-catching designs and statement pieces that show bold personality. So why not rediscover costume jewelry through some of its unique and out-of-the-box pieces?
We find pleated cloth jewelry to be a refreshing take on costume jewelry styles. Unlike some costume jewelry pieces where it only shines through formal occasions, cloth jewelry is great as an all-around quirky piece that you can wear whenever and wherever.
Plus, pleating is a simple yet impactful clothing manipulation with an elegant result. A wide fan pleated cloth earrings would look flattering on your face and neck. It's also versatile as you could wear it with a simple blouse and jeans or a cocktail dress for a more dressed-up look.
7. Vintage-Inspired Pieces
Since costume jewelry started becoming popular in the early 1900s, it's not surprising that costume jewelry today is full of eye-catching vintage-inspired pieces made chic.
A popular favorite for this particular style is the amalgamation of old vintage memorabilia and random objects that makes up the form of the jewelry. For example, an assortment of old house keys, random buttons, and dog tags would look interesting combined in statement bib costume necklaces.
This design may not be everyone's cup of tea but that's the beauty of costume jewelry. You get to experience different styles that even you may not have thought of it in the first place!
8. Wire-Wrapped Stones
Nothing beats handmade jewelry pieces. Even if it's something that we bought at a boutique shop or online, there's something nostalgic and charming about it that makes us naturally gravitate towards that piece.
That feeling is what this particular costume jewelry style wanted to emulate. Quite successfully, we might add. Jewelry with wire-wrapped stones is becoming more and more popular each year and it's definitely a trend to be in the future.
This style is not as complicated or intricate as other designs. It's literally precious stones or faux gems with wire carefully manipulated around them to form jewelry. But it's appealing nonetheless.
Wire-wrapped stone jewelry is the perfect way to incorporate interesting pieces with otherwise "normal" clothing. It's also an interesting talking point because some people use meaningful stones to create this jewelry. If it makes you look and feel good, then your jewelry has successfully done its job.