Updating the kitchen is one of the most popular home renovations project there is. The kitchen is often thought of as the hub of the home, where activity is always taking place. This also means that the kitchen is often the first room in the home to show signs of wear and tear, and finding ways to better its functionality is always top of the list.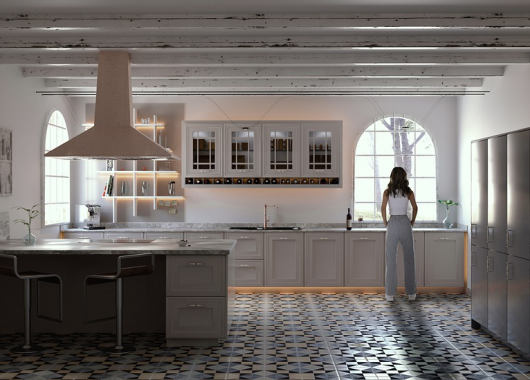 If you've decided the time has come to update the kitchen and you have your eyes on a fitted kitchen, there are some considerations and information to be aware of during the process. These will help ensure that the end result is exactly what you envisioned and hoped for.
Make Use of All the Space in the Kitchen
The first thing to be mindful of is the available space in the kitchen. When it comes to your fitted kitchen you really want to use space in the best way possible so you increase the functionality and storage in the room. And it's not just the kitchen cabinets you need to be mindful of, it's also the countertop space, a potential island, and how the appliances will fit in with the new design.
You Can Still Create a Customised Look in a Fitted Kitchen
Unfitted kitchens are known for their custom look, as they consist of freestanding cabinetry. These tend to look like pieces of furniture rather than a standard kitchen cabinet. Even though your fitted kitchen won't be freestanding, there are still ways you can make it feel high-end, luxurious, and even customised, much like an unfitted kitchen.
Be sure to look for a supplier that offers plenty of style options such as Hunter Hall Design, https://www.hunterhalldesign.co.uk/fitted-kitchens-belfast-northern-ireland/. You can choose from such popular styles as country, contemporary, classic, modern, and traditional, each of which creates a very distinct look that comes off customised.
Don't be Afraid to Play with Colour
While there is nothing wrong with standard and classic colours for your fitted kitchen, you may want to at least entertain the idea of colour. Kitchen cabinets in a rich green, navy blue, or crisp white can look absolutely stunning. You may even want to change up the colour between the upper and lower cabinets. This is a great way to create a very stylish and trendy kitchen design.
Consider Layout and Flow
Layout and flow should be a top priority in the kitchen design, as you want to be sure everything makes sense in its placement. That may mean you change up the current layout to create a more efficient meal preparation, cooking, eating, and entertaining space.
How Does the Fitted Kitchen Work with the Other Design Elements?
The final tip is to be mindful of how the fitted kitchen works with the other design elements in the room which are the flooring, backsplash, countertops, lighting, and wall colour. Again, you want it all to flow and look cohesive.
Beautiful Results You'll Be Happy With
Being mindful of each of these considerations will help you to choose a fitted kitchen that offers stellar results.