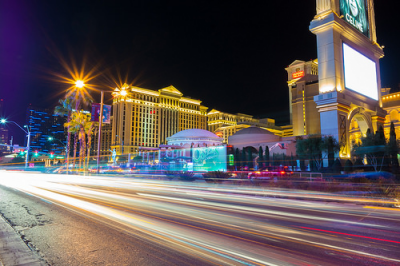 "Las Vegas Strip with Streaking Lights" (CC BY 2.0) by nan palmero
Whether you're going there to experience extremes or simply want to catch the best shows, Las Vegas has a lot to offer its visitors. We thought we'd take a look at the best places to play, which shows to watch and where the best attractions are in the city so you can make the most of your time on The Strip.
See A Sensational Show
Over the last few years, the entertainment on The Strip has changed significantly. Not that long ago, there were production shows being performed in almost every venue but over time residents and tourists alike began to notice that you could go to almost any big city to have a similar show experience. Nowadays, Las Vegas has much more to offer with resident headliners that cannot be found anywhere else.
These A-list musicians stay in Vegas for months at a time, performing nightly or weekly shows to visitors. Acts include Mariah Carey, Jenifer Lopez, Bruno Mars, The Backstreet Boys and Elton John, all of whom have world tour-level production value in their surprisingly intimate Las Vegas venues. Chances are no matter what time of the year you visit Vegas there will be at least two or three massive stars performing along The Strip, so all you need to do is check the schedule and book tickets.
Play At A World-Famous Casino
Las Vegas has gained a reputation around the world for having the best casinos you could ever imagine, and for good reason. There are old-school casinos such as Caesars Palace, which has stood for half a century and continues to offer a blend of decadence or debauchery to its customers. Needless to say, few other casinos on Earth can match this particularly establishments unique ambience.
Of course, before you go to Caesars you absolutely must get to grips with how gambling works. Fortunately, there's the Gamblers General Store situated in Downtown Vegas with a huge selection of "how to" guides on the subject, in addition to gifts. Alternatively, there's a McDonald's with free wifi just a little bit North of the casino where you can get online to practice. This goes for seasoned players as well, as you never know when you could have gotten rusty. Log into an online casino like Vegas Casino to really test your metal and make sure you've got good luck on your side.
Travel Around The Whole World
Before more contemporary hotels such as The Cosmopolitan began setting up shop in Las Vegas, the cities best resorts were all themed and paid homage to many of the world's most iconic places. To see Paris, visitors need only head to Paris Las Vegas, while those seeking Venice can sail on neon-trimmed gondolas towards St. Mark's Square at the Venetian.
Another Italian replica can be found at The Bellagio where there's a Lake Como, and it is a beautiful replica to be sure. Ironically, many people go to see the many different sites of the United States like the Statue of Liberty at New York-New York, Detroit at the D on Fremont Street or Michigan at Zingerman's. Each has the appropriate cuisine that you'd expect from their respective countries, so you can always refuel while globetrotting.
Las Vegas, Nevada truly is a wonderful, magical place unlike anywhere else in the entire world. If you are planning a trip there it absolutely crucial that you plan and prepare accordingly, but once you're there it's more than possible that the city will inspire you to move in your own way.