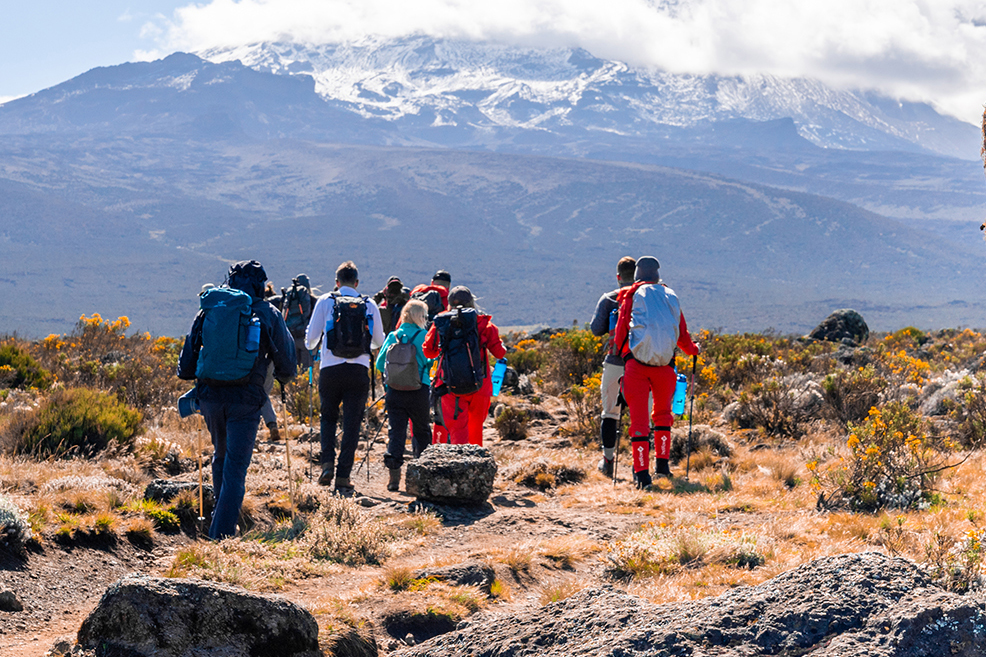 We bet that climbing the iconic Kilimanjaro is on every adventurer's bucket list, and we're totally convinced that climbing this glorious mountain is really worth it. If you wonder how much it costs to conquer Everyman's Everest, here's an article that explains cost to climb Kilimanjaro, and in this one, we'll focus on the top ten reasons why you should scale the highest peak of Africa.
Quick facts about Kilimanjaro
Elevation above the sea level: 5,895 metres.
Actual height: 4,900 metres above its plateau base.
Location: Tanzania, Africa.
Nickname: Everyman's Everest
Why you should definitely include climbing Kilimanjaro in your bucket list
#1 It's a truly unique place
Mount Kilimanjaro is not just the tallest mountain on the African continent — it's the highest free-standing mountain in the whole world. In addition, it's actually a volcano! Kilimanjaro has three volcanic cones called Mawenzi, Shira and Kibo. While the first two are extinct, Kibo, which is the highest, can erupt again. Kilimanjaro is really unusual. Just imagine a snow covered mountain just 205 miles from the equator and 1,000 square kilometres of green forest in the middle of dry savannah. Amazing, isn't it? What is more, the high altitudes have formed a habitat for unique life forms you can find only in a few places on the globe, for instance, the elephant flower and the Kilimanjaro tree.
#2 It's the easiest to climb of the Seven Summits
Who wouldn't dream of climbing all the iconic Seven Summits, the highest peaks on each continent of the Earth? Kilimanjaro is the best one to start! It's technically the easiest to climb of the Seven Summits: amazingly, you don't need to use any ropes, axes or special gear to conquer this 6,000 meter high giant. In addition, Kilimanjaro's peak is easy to reach even if you don't have any mountain climbing experience.
#3 Kilimanjaro is easy to access
Although it's remote, Kilimanjaro is easy to get to as lots of flights from Europe regularly land in the Kilimanjaro airport. Also, you'll be surprised by the superior infrastructure around the mountain. All the trails are well marked, and the local hotels, gear rentals, and transportation are very likely to exceed your expectations. Not to mention, there are sleeping huts along the main route.
#4 You don't have to carry a big pack
For a more comfortable and trouble-free adventure, you can hire a team of porters who will help you throughout your climb. The porters not only carry your stuff for you — they also help with setting up the camp and cook the food. By hiring porters, you'll support the local people: tourism creates jobs that help Tanzanians earn for their living.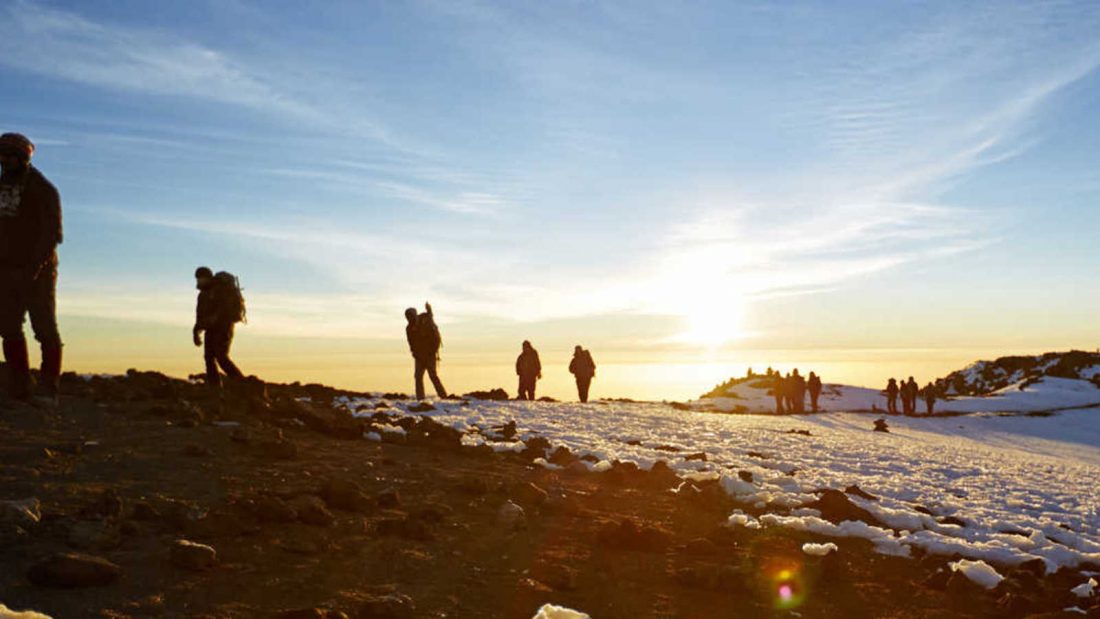 Image Source: https://www.exodustravels.com/sites/exod/files/styles/exo_1600_900/public/node/expert-blog-entry/images/40490.jpg?t=1Kkn1e&itok=K-8Jz8X0
#5 Mount Kilimanjaro remains amazingly unspoiled
Although around a whopping 40,000 people come here each year, the area around Mount Kilimanjaro is surprisingly pristine. At Kilimanjaro National Park, the Rangers weigh each and every bag that comes on and off the mountain, and those whose bags appear too light are punishable by fines. Without any doubt, this substantially reduces dumping on the trail. Modest, far from luxurious outhouses along the trail are just sufficient to provide privacy and help to keep the mountain clean. In addition, there are only seven trails up to the peak, and no roads. All of this contributes a lot to maintaining the pristine nature of Kilimanjaro.
#6 The scenery is truly breathtaking
The scenery of Kilimanjaro is not only out of this world, it's extremely diverse, too. Due to its special location, the mountain boasts five different climatic zones. That is why while climbing Kilimanjaro, you'll be experiencing changes in climate and scenery all the way. At the start of your journey, you'll walk through farmlands and tiny villages, then you'll enter a lush rainforest, cross moorlands and an alpine desert, and finally, you'll reach the glaciers. Standing on top and looking down on the rolling banks of clouds below, you'll feel really on top of the world.
#7 Kilimanjaro is home to exciting wildlife
Apart from the magnificent scenery and an unforgettable experience, Kilimanjaro offers the opportunity to see some of the most beautiful animals on the Earth. The high altitude combined with the equator level creates a unique environment that is home to approximately 140 species of mammals, large quantities of unusual birds, and unique flora.
#8 You can see glaciers that will soon vanish
Sadly, climate change is affecting literally everything on this planet, and the glaciers of Kilimanjaro are not an exception. There's a lot of history behind these glaciers — the ice core shows that they are 11,700 years old. However, the glaciers on the summit of Kilimanjaro may be gone in the next 20-30 years unless global warming stops. Scientists are working there to monitor and understand why the ice is so rapidly melting. They say the glaciers turn to vapor just before your eyes.
#9 Climbing Kilimanjaro can become one of your most outstanding personal achievements
Conquering the world's tallest free-standing mountain is not just a tick off the bucket list. It is a true achievement that will live in your memory during the rest of your life. Thousands of people dream of going up Mount Kilimanjaro, seeing the fascinating glaciers floating above a sea of clouds, mesmerising sunrises and sunsets, so why not hit the trail? No matter whether you are a beginner or an experienced globe-trotter, the team at Follow Alice are always ready to organize an amazing trip for you.
#10 It's an opportunity to reload
If you seek an experience that can help you reload your life, climbing the magnificent Kilimanjaro is what you really need. Pack your back and set off for this amazing adventure if you're looking for something that can mark a new beginning or inspire you to change your life. Kilimanjaro perfectly cures wounds in the hearts of those who are courageous enough to conquer its peak. Whether you need to forget something unpleasant about your past, celebrate love or prove yourself that 'yes, I can', you're welcome to Kilimanjaro.