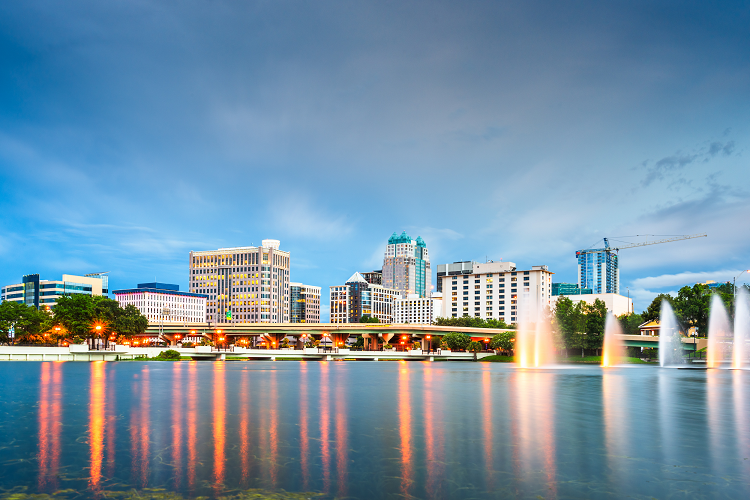 Orlando has long been one of Florida's top places to find a great home. Aside from Disney World, there are many other great aspects of Orlando that are sure to be to your liking. Here are some of the top reasons why people love living in Orlando.
Ideal Weather
If you're a fan of sunshine, you'll enjoy plenty of it when living in Orlando. The coldest temperatures rarely drop below 50 degrees Fahrenheit while daytime highs in the 70s are the norm. During the hottest months, temperatures can sometimes reach into the 90s. The rainy season normally occurs from June through September, but you can expect to enjoy much drier temperatures throughout the rest of the year.
Unique Cultural Blend
Residents of Orlando who come from different parts of the U.S. along with international locations add to the city's unique cultural blend. Many immigrants from Cuba, Jamaica, Haiti and other Caribbean nations largely influence the city with their dance, art and food. A sizable Jewish community can also be found in Orlando. Young people who are part of the goth, punk and emo scenes further help shape the city's culture. Orlando is also home to one of the nation's largest LGBT communities.
Reasonable Cost of Living
Orlando's cost for homeownership, rent and basic necessities is similar to that of other parts of the country. Many of the local companies pay fair wages to workers, which helps ease much of the cost of living burden for residents. Regardless of where you choose to live in the city, you can count on Suddath moving company Orlando residents have trusted to move their belongings to their new homes.
Great Schools
If you have children, you'll have greater peace of mind in knowing that Orlando has some of Florida's top-rated schools. Orange County Public Schools oversees many of the city's primary and secondary schools that can prepare young students for brighter futures. There's also the option of sending your children to one of the private schools such as Forest Lake Academy or Trinity Preparatory School. Students can complete their college studies at the University of Central Florida or Seminole State College of Florida.
Exciting Nightlife
You'll find plenty of great nightlife venues around Orlando where you can party throughout the night. Many of the city's best bars and nightclubs can be found in the downtown section at Wall Street Plaza and around the Amway Center. The Universal CityWalk boasts restaurants and lounges that stay open late.
Other Fun Attractions
Going to Disney World isn't the only way to have fun while living in Orlando, and you can explore the city's other attractions if you're looking for some entertainment. Universal Orlando Resort features rides and studio tours that will make you feel as though you're part of the movies. The Sealife Aquarium is home to many fascinating sea creatures. Lifelike wax statues depicting iconic celebrities are on display at Madame Tussauds. If you're in the mood to shop, you can head to Orlando Fashion Square or The Florida Mall for some retail therapy.
Moving to Orlando comes with many perks, and you're sure to fall in love with the city even more after establishing your roots here. Hiring the right professional movers from Suddath to transport your belongings can make your move to Orlando easier.