India is a land of rich history and heritage, India is also blessed in many geographical manners with plenty of rivers, oceans and seas on either sides, beautiful mountains and sprawling forests and everything heavenly possible.  India has some of the varied and diverse national parks in comparison with the world. There are some national parks in India that are spread across deserts and plateaus such as Ranthambore National Park and there are those that are wetlands and marshes such as the Sundarbans. When it comes to Flora, India houses some of the rare and extinct varieties of trees, flowers and herbs and are conserved by UNESCO as a World Heritage Sites such as the Nanda Devi National Park.
Tiger Spotting in India
Tigers are magnificent jungle cats that are nature's best predators. India has plenty of Tiger Reserves thanks to the Project Tiger initiative by the Government of India and the National parks to save the threat to Tigers from poaching. The tiger population has since increased manifolds and can be easily spotted in some of the best National parks in India.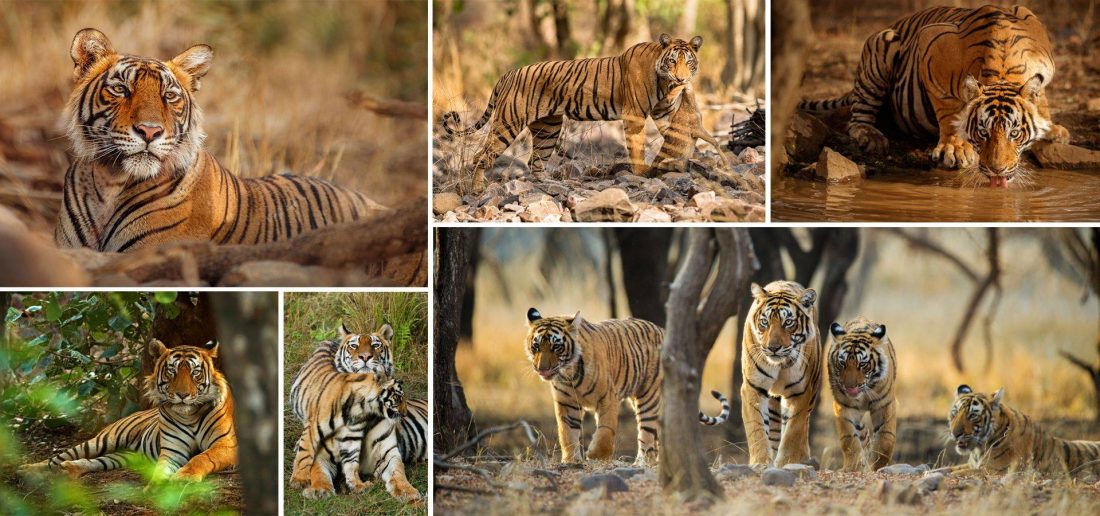 Below are few of the national parks where one can enjoy spotting tigers in their natural habitat:
Jim Corbett National Park
Jim Corbett was a popular wildlife enthusiast and the Jim Corbett National Park has been named after him in the year 1936. The Jim Corbett National Park is situated in Uttrakhand state of India. The national park was the first one to be also declared as a Tiger Reserve due to the efforts of Conservationist Jim Corbett. The park has a beautiful reserve forest that is restricted to human access but on the buffer areas of this forest, there are many adventures one can indulge in such as trekking, tiger safaris, elephant safaris and bird watching. There is also a waterfall in the forest where plenty of migratory birds visit every year.
Bandhavgarh National Park
Bandhavgarh National Park is situated in Madhya Pradesh wrapped in the serenity of the Vindhya Hills. The National park is a former hunting ground of the King of Mewar. The national park is known for its splendid picturesque scenery with an old ruined fort inside the forest, an abundance of Bengal Tigers, leopards, deers and white tigers, which is believed to have been first spotted in this forest.
Kanha National Park
Kanha National park is a declared Tiger Reserve area and is protected by the government due to its ability to enhance tiger reproduction. Kanha houses an undulated reserved forest with plenty of wild animals nestled away in them. Indian and Bengal tigers, BaraSingha and leopards are the main attractions in this national Park. The thick forests of Kanha have also been the inspiration to Rudyard Kipling's 'The Jungle Book'.
Pench National Park
The Pench National Park shares its terrains with the Kanha National park with just a driving distance of 5 hours. This national park is in the foothills of the hill ranges of Vindya and shares the Maharashtra state border. Beautiful and luscious forests are iconic to Pench and a crystal clean 'Pence' river flows through it, after which this national park is named after. Popular attractions to this national park are the Begal Tiger, Leopards, Sloth Bears, Deers, Four Horned Antelope and Chitals.
Satpura National Park
Satpura National Park is much smaller in comparison with the rest and is a Tiger Reserve, although the sightings of tigers in this national park has dwindled in the last few years. The Park is famously known for its reserved forests and lots of animals such as the Gaur, Deers, Black Buck, Sambhar and Barasingha Deers, many kinds of squirrels and crocodiles.
Kaziranga National Park
Home to the magnificent One-Horned Rhinoceros, Kaziranga National Park is a jewel in the crown of National Parks in India. Situated in Assam and at the eastern himalayn foothills, the national park is blessed with the powerful and largest river, Brahmaputra, to flow through it. The national park is the major haven for the most number of One-horned Rhinoceros, Many bengal Tigers, deers, WIld buffalos, elephants and many avifaunal species of migratory birds.
Ranthambore National Park
The Ranthambore National park is situated in Madhya Pradesh and the name is termed from an old fortress inside the forest area. One of the biggest sprawling national parks in India, Ranthambore national park is a major attraction for Tiger lovers as you can spot tigers in their natural habitat. There are plenty of thick reserved forests with many leopards, deers and lots of endangered bird species as well.