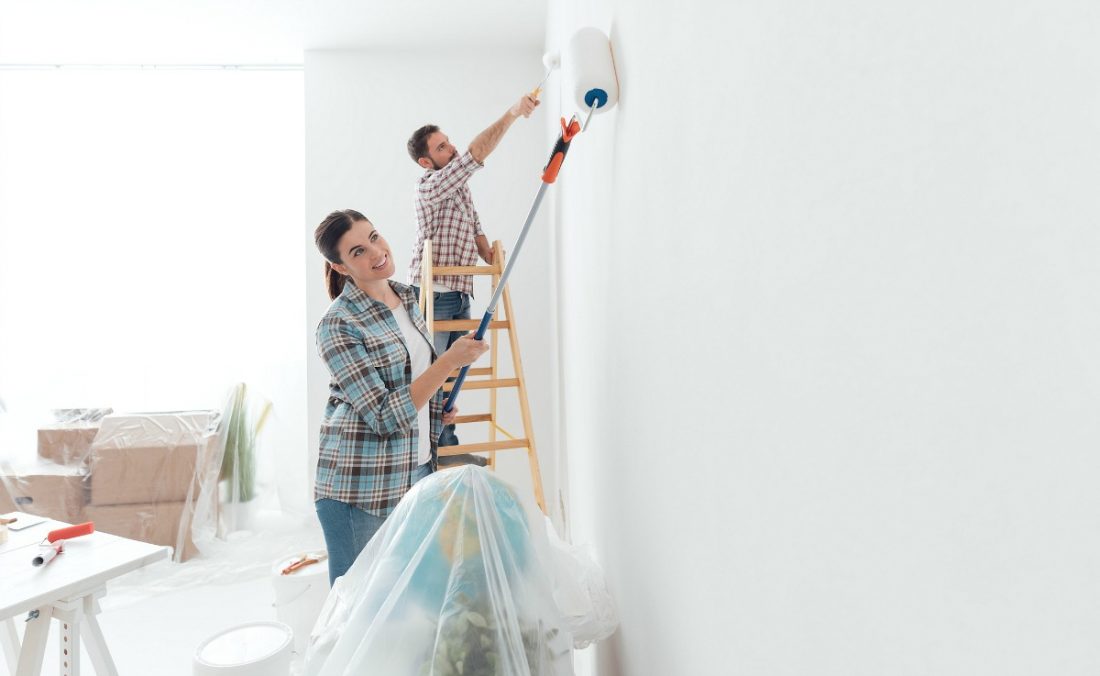 The colour of your house paint defines its ambiance and overall look. But it gets very confusing when you have to decide the colour for various rooms in the house, for example, when you are moving a house, you spend a lot of money and efforts in finding one of the best local moving companies, planning the move and then when you move into the house, the boring colour of the walls makes you nothing but disappointed. .  We have often seen that we regret choosing the wrong colour or type of paint for a particular area of our house.  Here we will discuss various types of paints suitable for different house walls and also paint colours:
Types of Wall Paints
Paints are generally of two types: water-based and oil-based. Both water-based and oil-based paint colours have their own pros and cons.
Water-based Paint
This type of paint is used for almost all kinds of paint structures. Water-based wall paint releases less amount of VOC into the air as they are water solvents hence they are considered good for the health of humans and the environment. These paints are further classified into two types i.e. latex and acrylic. Water-based colours do not only dry quickly but also do not need any pre-treatment. This type of colour is compatible with all places and doesn't even fade in sunlight or with time.
While there are many pros of water-based colours, there are some disadvantages too. Water-based colours do not give a very elegant or even look and also are washed away easily so they are not very long-lasting either.
Oil-based Paint
If you are looking for a long time solution and do not want to repaint your house soon, oil-based colour is the best option. The durability and viscosity of these paints are highly commendable. This type of paint contains white spirit and turpentine in place of water and that gives it a glossy look and oily surface. Due to the presence of turpentine, the paint doesn't let any dirt stay on it and remains attractive for a longer time. Oil-based paint is not only low maintenance and long-lasting but also comes in various textures too. As levelling can be done easily, they look even on the walls and give a glossy shine.
With all these advantages, people prefer oil-based paint over water-based even though oil-based paints are harmful to the environment. Along with their harsh impact on the environment, oil-based paints have some more disadvantages like the process is messy and they cannot be removed easily. Once applied, it is hard to switch to water-based colours too.
Types of Wall Textures
Wall textures are very popular nowadays as they give an artistic and deep look to the room. By using the right texture paint, you can even make your room look bigger than its actual size. There are many texture paints available in the market and some of them are explained below.
Mosaic
The mosaic texture is the most popular texture among people. It gives a tile-like look with a checked line. The mosaic texture is available in zigzags, swirls, and checkboard geometrical lines that make the wall look extremely beautiful.
Brick
Bricks have always been a part of the construction. In ancient Europe, red bricks were most commonly used on the exterior walls of the buildings. Even in modern times, you can easily witness a few red brick buildings. People are using brick design to decorate their internal walls too.
Rustic
The rustic texture is also known as the sand effect that is created by using marble chips and dust. This type of wall texture gives a deeper look to a plain wall and makes it look beautiful and lively. The rustic texture is also used to cover up any imperfections in the wall due to its raindrop-like effect.
Marble
Marble is an expensive stone and is always used to give a rich and expensive look to structures. We have often seen marble used for flooring and as a decorative material in our houses. It gives a royal and Victorian look to our house and also adds glamour to the room. Marble textures can transform your boring plain walls into beautiful décor.
Tips on Choosing the Right Paint
We often get confused about the choice of colours when taking the shade card in our hands. Here we have jotted down some tips for you to choose the right paint colour for your internal and external walls.
Though it is good to follow the trends, choosing your favourite colours for your house paint will never let you feel bored of them.
You can also choose the colour that would go well with your existing furniture especially if you are not willing to spend on new furniture and another room décor.
Another thing that you should keep in mind while choosing the colour for a particular room is to consider the size of the room. For instance, never choose a dark colour for a small room as the light colour will give an illusion of bigger space and dark colour will make it look even smaller.
You can also choose the right colour by using sample colours on the walls before selecting the final colour.
You can also select an overall colour theme for your house and should stick to the family of colours of that theme.
Hope this guide helps you in choosing the best paint to redefine the look and feel of your walls.