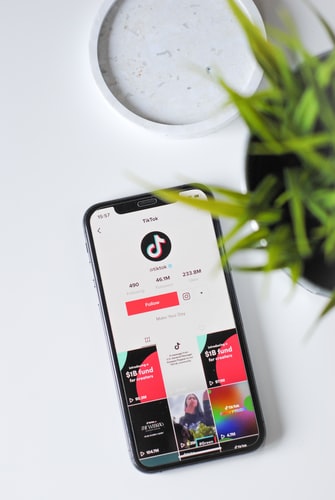 Surely you've heard something about TikTok, maybe even used it.
What is TikTok
Tik Tok is a short music video maker and messaging app. The video platform has already gained popularity in China and is now growing rapidly in other countries.
Today, the number of TikTok users exceeds 500 million, according to the company itself. These are mainly children and adolescents – 40% of users of the social network are under 18 years old.
App overview
The application interface is very simple and consists of five sections:
Main: Feed of posts from users you follow.
Interesting: a feed with popular videos and recommendations.
Button to add your own video.
Notifications.
Profile page.
Videos can be shot directly in the application or you can upload ready-made videos and add filters, spectacular, AR-masks and objects, music to them.
The number of likes from all videos is summed up and displayed in the profile. The music in the library of the service appeared thanks to the purchase of the musical.ly service in 2017.
TikTok content
At the moment, the videos on TikTok are frivolous and simple: users on 15-second videos dance open their mouths to music, imitating singing, weiners shoot humorous videos, video challenges are popular. This trend on TikTok will only continue to gain momentum.
TikTok app resembles Instagram or Snapchat Stories – vertical content, short videos, reactions from users.
On average, a user spends 13 minutes a day on TikTok, according to a Mediascope study. Among instant messengers and social networks, the application took the 4th position, TikTok is ahead only of VKontakte, Instagram, WhatsApp.
In comparison, on YouTube, where videos are much longer, users spend 28 minutes a day.
TikTok is growing most actively at the expense of young users: the share of authors under the age of 18 grew by 40% in 2018, according to Brand Analytics:
In terms of the number of downloads, TikTok even outstripped Instagram at the end of 2018. Overall, Android and iOS users downloaded the app 663 million times in a year, and Instagram 444 million times, according to Sensor Tower.
In January 2019, TikTok ranked third in total downloads for all time on Android and iOS. The Cell Phone Deal blog has more interesting TikTok stats for those interested in the meteoric rise of this social media platform. 
TikTok Bloggers
Any profile can become popular thanks to the recommendation system on TikTok. Each video is ranked separately, and even in an untreated account, one of the videos can become popular on Tik Tok and bring thousands of likes, fans and tiktok comments.
Users who have earned authority on other platforms are quickly becoming popular on TikTok – bloggers from Instagram and YouTube come to the platform with their audience.
Popular bloggers on TikTok
Even stars are registered on the platform: Rita Ora, Amy Schumer, Tony Hawk and other celebrities.
How to get popular on TikTok
Now Tik Tok is just gaining momentum and this is the best time to think about how to become popular in Tik Tok and what you need to do for this. A step-by-step plan on the path to success and popularity on any social network looks absurdly simple:
Sign up for a TikTok account.
See what other influencers are doing, what topics and feeds are engaging users.
Analyze trends on TikTok, what materials are included in the recommendations.
Create awesome content.
Repeat the previous point until you become popular on TikTok and succeed.
TikTok advertising opportunities
Hashtag Challenge
Challenges are the main ad format on TikTok and one of the key content areas. On the platform, there are always some challenges, to which anyone can join. In addition, this is one of the most effective ways to quickly promote on TikTok.
The mechanics are simple: popular TikTok bloggers launch a challenge, according to the terms of which you need to record a video for a specific track and publish it in your profile with a hashtag.
Such a video from one influencer can receive up to 500 thousand views, after which it gets into the recommendation feed, and subscribers join the challenge. Importantly, advertising on TikTok should not be direct and taut.
All videos are available by hashtag, and the reach of such campaigns can seriously exceed the plan due to the involvement of not only influencers, but also their subscribers.
TikTok is offering brands the Hashtag Challenge as effective ad formats, according to Digiday.
Metrics: banner views and clicks, hashtag page views, the number of videos created by users, video engagement rates (likes, comments, reposts), the number of branded music used (if used).
Brand takeover
The peculiarity of this type of advertising on TikTok is that a large ad appears immediately after opening the application. This is a photo, gif or video up to 2 MB in size.
The ad contains a link to the site or a unique hashtag.
Metrics: Views, Reach, Conversions.
In-Feed Native Video
Advertising video appears in the TikTok user feed among other content. Lasts up to 15 seconds, can be accompanied by a call to action, link and hashtag.
The video opens full screen, reminiscent of Instagram Stories ads. You can skip the video.
Metrics: Impressions, Clicks, CTR, Video Views, 3 Seconds Views, 10 Seconds of Video, Average Video View Length, Video Engagement Rates (Likes, Comments, Reposts).
Branded lenses, masks, stickers
This ad format resembles the lenses of Snapchat and Facebook. Lenses on TikTok can be created for a limited amount of time (up to 10 days). Branded content will show up in key locations throughout the app.
Formats: 2D, 3D, AR.
Promotion on TikTok through postings with bloggers
Influencers have already appeared on TikTok. Brands partner with them to launch challenges or simply post campaign material.
You can find Russian-speaking Tik Tok bloggers to place advertisements on unofficial exchanges, for example, in this one.
The advertising market for TikTok bloggers has not yet been formed, so prices are often not reasoned in any way.
TikTok analytics
TikTok's internal analytics provides little data, and also prevents third-party accounts from being analyzed. Before promoting on TikTok, it is important to audit competitors, prepare for an advertising campaign and collect detailed statistics, for this you will need third-party services.
Popsters will help you find the most popular and discussed posts, compare multiple accounts and upload the results in the form of a report.
To analyze your account, find it in the search bar (by link or name), select the analysis given.
You will see a list of posts sorted by Likes, as well as summary statistics for the period.
By default, the posts with the maximum number of likes are displayed at the top, but you can also sort them by Reposts, Comments, ER, or publication date.
To view summary statistics in the right column, click Show Table.
In the left column, select the parameter you are interested in and get an analysis on effective days of the week for publication, time of day, dependence of engagement on publication format and text volume.
Popular Tik Tok videos
If you still have little idea of ​​how the application looks from the inside, and you are not ready to install it, check out the selection of the funniest (according to the reviewer) and popular videos from the TikTok platform.
Cases from the TikTok app
#Inmydenim challenge by Guess
The clothing brand launched a campaign on TikTok in September 2018. Popular bloggers of the platform posted videos showing themselves in old clothes, playing with their image in a funny way, and then transforming themselves with Guess clothes. The TikTok challenge was picked up by ordinary users, and in total the campaign reached more than 30 million users.
#shareacoke by Coca-Cola
One of the first big brand cases is the Coca-Cola experience. The company launched a TikTok challenge, for which users filmed a video with a bottle of cola.