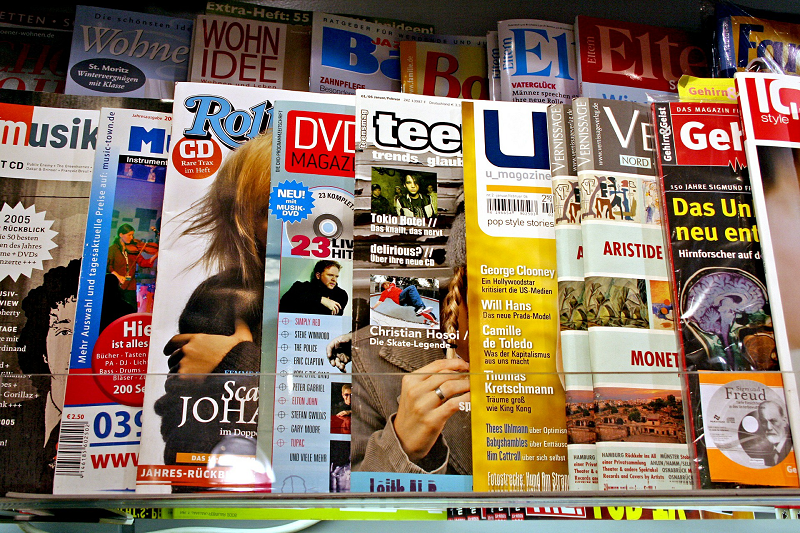 Ross Levinsohn accepted the position of CEO of Maven in August 2020. Maven, a publicly traded media consulting and support firm,  has owned the license to Sports Illustrated since June 2019. Levinsohn, who brings 30 years of media, finance, and technology experience to his new role, is in a unique position to change the trajectory of Sports Illustrated in a world where printed media continues to lose ground to digital platforms.
Levinsohn: The Industry Need Not Fear Changes in Consumer Behavior
Ross Levinsohn concedes that the Internet, and particularly social media, have filled the need for news and connection that people previously found primarily in magazines. The printed media industry was already struggling before the coronavirus pandemic and continues to deal with financial stress now that much of the world has entered a recovery period.
These realities do not trouble Levinsohn. He feels the current challenges give the magazine industry a renewed chance to evolve to meet the needs of today's media consumers. People still trust magazines to provide useful and truthful content, only now in different formats.
Levinsohn insists that magazines have a viable future. People simply need to prepare themselves for the fact periodicals will look much different in the future. One change he implemented six months after assuming Maven's CEO position was to offer access to Sports Illustrated as a paid digital subscription.
A Brief History of Sports Illustrated Magazine
The first print issue of Sports Illustrated debuted on August 16, 1954. In the nearly seven decades since, the magazine has firmly established a place in American history. Sports Illustrated earned the National Magazine Award title in both 1989 and 1990.
Henry Luce, co-founder of the New York Times, was the brainchild behind Sports Illustrated, leading the weekly sports magazine to the largest of its kind in the United States in only a few years. Readers knew they could count on the magazine to feature interviews with high-profile athletes, while trusting Sports Illustrated to provide breaking sports coverage from around the world.
Sports Illustrated launched its first website in 1997. Noting how the industry has changed in the last 24 years, Ross Levinsohn stated that the magazine is transitioning from raising revenue by selling advertisements to offering customers paid premium memberships. The volatile social, political and global health events of 2020 have helped Levinsohn appreciate the necessity of forward-thinking actions to thrive in an unpredictable world.
Making the Change from Print to Paywall Format
Sports Illustrated launched its metered paywall model on February 2, 2021. The core basis of the model is that every subscriber receives five free articles per month, with the new website tracking visits and prompting users when they reach the free article limit. Page views on breaking news, Sports Illustrated swimsuit posts, or FanNation do not count towards the five article limit. Premium subscriptions also include these benefits:
Audio versions of popular stories
Customized newsletter
Early access to breaking stories every month
Premium photos, podcasts, stories and videos
Sports Illustrated Vault, the digital archive of the magazine dating back to its first issue in 1954
Premium members pay $7.99 per month for access to print and digital access to the magazine. Readers can save a little over $2.00 per month by purchasing an annual subscription.
Levinsohn has encountered some pushback, but overall readers seem supportive of the paywall format. While noting that many websites offer free content, he also described how those websites can become bogged down with ads because publishers must still generate revenue.
Forced to view intrusive ads or even sit through a video before the content appears is an annoyance that many are willing to pay to avoid. Levinsohn also supports an ad-free environment for Sports Illustrated because it allows sports writers to present quality journalism and readers to consume it uninterrupted. With the current state of the economy, relying solely on advertising revenue is risky, according to Ross Levinsohn.
How Ross Levinsohn Has Achieved Publishing Success Over the Last 30 Years
Levinsohn proved himself in the media industry long before he became the CEO of Maven. One strategy instrumental in his success is to target publications towards niche audiences. With 50% of new subscribers dropping a publication within three months, Levinsohn feels it is more important to focus on increasing current subscriber loyalty. Examples of incentives magazine publishers may use to retain subscribers include:
Negotiating with other publishers to offer subscribers bundled deals
Providing loyal readers with lower subscription renewal rates
Offering subscribers a bundled deals that includes access to print and digital versions of the magazine
Publishers should keep in mind that magazine readers are willing to pay a premium price for quality content. The more niche the topics, the more publishers can charge. While sales volume will likely go down, overall revenue should increase by using this tactic.
Ross Levinsohn also stresses the importance of providing readers with quality content. Although most people enjoy getting free content, they also understand that free does not always mean trustworthy, high-quality information.
The pandemic caused people to consume more media than ever before, primarily because they spent more time at home and needed to fill the hours. Publishers sometimes took advantage of this by churning out new articles without fact-checking or proofreading, much to the disappointment of readers. Media consumers not only want quality and honesty, they are willing to pay a high premium for it.
In exchange for the public's trust, magazine publishers must hire only the highest quality journalists, photographers, fact-checkers and editors. Readers may be willing to overlook occasional carelessness, but they will not continue to pay for access to a sloppy or irrelevant publication.
Levinsohn has leveraged the success of paid premium memberships with past publications to lead Sports Illustrated towards a new future. With the paywall model being only three months old, Levinsohn and his team plan to continually monitor subscriber feedback to adjust and add features according to demand.