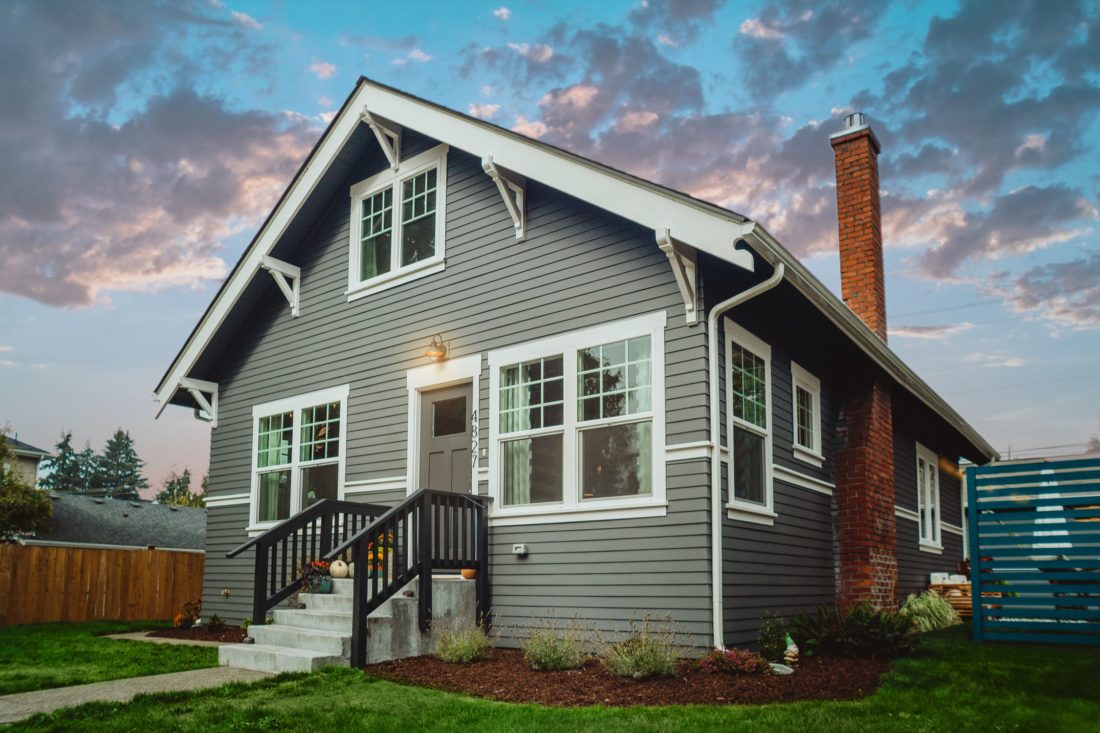 Homeowners often wonder whether their renovation efforts will be worth the investment when it comes time to sell their home. When starting any renovation project, you first need to consider the financial impact, time constraints and ultimate goal that you want to achieve. It's important to plan carefully and make smart choices with return on investment in mind.  Here are a few affordable project ideas that should instantly boost your home value.
Change the color scheme
Changing the color scheme is a simple way to transform the look of your home. A fresh coat of paint in the right shade has been found to add thousands to your property value. Repainting your walls can be one of the cheapest and easiest ways to spruce up your living space and increase the value of your property. Neutral colors, like greys and creams, are popular with buyers as they make rooms appear larger and more airy. Plus, this gives a blank canvas for potential buyers to work with.
Fix any wall damage  
With time and use, walls can experience structural and cosmetic damage which can bring down the market value of your property. All homes experience paint dents and wall scratches at some point, and while these issues may seem minor, they are enough to leave a negative impression in buyers minds. The good news is that you can instantly improve the overall appearance and worth of your home with targeted restoration services. A Detroit drywall repair professional can attain a perfectly smooth finish and give your home a fresher, more polished look.
Do some landscaping
A little gardening can go a long way. A well-maintained yard will help create the all important first impression and give your property a polished look. Hiring a professional landscaper can be expensive, but you can easily fix up your yard yourself for significantly less. Remove any dead grass and weeds and replace with gravel or bark instead. Then add some attractive plants and flowers throughout your yard – short shrubs, aloe vera, and petunia are low-maintenance options that will look great in your yard.
Upgrade your insulation
According to the government's Energy Star program, as many as 9 in 10 US households are under-insulated. This has a negative effect on the environment and means that you will be spending more on energy bills to heat your home. Having new insulation installed can instantly reduce your heating bills by about 10%. This will result in significant monthly savings for you and will appeal to any prospective buyer if you decide to sell. Replacing old windows with newer, energy-efficient ones can save you anywhere from $25 to $450 per year in heating and cooling costs, according to the Energy Star program. New windows will also help to eliminate drafts and freshen your home's appearance.
Install hardwood floors
Hardwood floors tend to be pricier to install than carpet, but they look far more elegant and could save you money in the long run. This is because hardwood floors are a lot sturdier and most have a warranty of 25 years, so need replacing less often. They are also much easier to clean, and you don't have to worry about stains or damage as much as you would with carpet. If your floors start to look dated or show signs of damage, then you should definitely consider updating them. According to the National Association of Realtors (NAR) if you refinish existing hardwood floors you'll get back 100% of the investment you made. If you put in brand new wood flooring, you'll recoup 91%. New or beautifully restored floors make a big impact on buyers and look amazing in listing photos.
Update kitchen cabinets
A kitchen renovation is a great idea. But it's also a costly project. A cheaper alternative to upgrading your space and create a welcoming kitchen is by updating your kitchen cabinets and countertops. These are two of the most visible aspects of your kitchen, so upgrading them can have a big impact on the overall appearance of your kitchen.
Invest in high-tech
If you truly want to impress, then going high-tech is a great way to add the "wow" factor to your home and stand out from similar properties in the area. Built-in speakers and surround sound systems appeal to most buyers, but there are plenty of more exciting, futuristic choices out there. Smart toilets, voice-controlled technology, and connected kitchens are amongst the latest in leading home tech trends.