Did you know that over 50% of Australian young adults prefer living with their parents? While it's good to feel home, this choice also comes with a responsibility towards the elderly. Grandparents and parents who are no longer autonomous must be enabled and encouraged to carry out their main activities safely. But, often the house itself becomes an obstacle for them.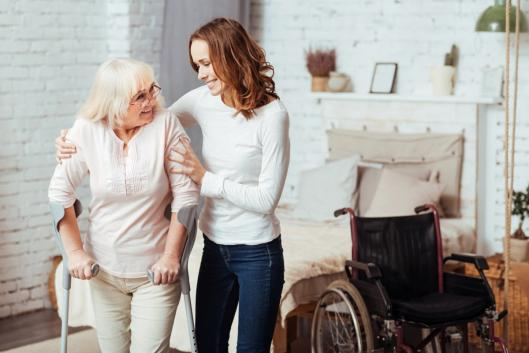 Some elements cannot be eliminated or modified, due to constraints ranging from economic to structural possibilities. However, let us look at what's the best that can be done to provide the best old age care for our nurturing elder family members:
1. Choose a suitable home if possible
If you could, then you should consider moving to a more old-age personalized home. Choose a house that is suitable for the needs of an elderly person. For instance, a single-story house would be ideal or if it has multiple floors, then arrangements for an elevator should be made. The stairs shouldn't be too narrow or steep and should be paired with railings on both sides.  There are many suitable care homes for the elderly. With all things aged care eastern suburbs offers, you'll find the perfect place to support elderly care.
2. Evaluate the purchase of an electric scale
It is possible and financially reasonable to improve the lives of the elderly with the help of electric stepping stools, which could help them move up and down the stairs on their own without any physical help. This could come in handy for someone who has also gone through a leg surgery, which is common after the 60s. There are many trusted names for specialized equipment, and this is where you would have all your Patient Handling Aged Care Equipment that will keep you sorted.
3. Use the emergency call, rescue system or phone for seniors
If your parents or grandparents are mostly living alone at home, you should take preventive measures to ensure their safety and convenience. Install a Tele assistance system to make things easier for your parents and grandparents. With these systems, you could speed up any intervention. A seniors' phone is a must to make sure they can always reach out to you for help.
These phones are customized and are easier to use, especially for the elderly. They are larger than regular cell phones with clearly visible numbers, easy volume control and shortcut keys to automatically enter the numbers that are called most frequently.
4. Improve automatic lighting
The fact that with age a person's sight takes a toll can not be ignored! Use lighting that is adequate for their rooms, strong enough to not strain the eyes but can brighten the area enough for them to see properly. You could place courtesy lights around different points of the house and you could also install timers and presence detectors for automatic lighting whenever a movement is detected.
5. Insert non-slip and handrails
Add handrails and support handles in critical areas of the house. For example, at the stairs or in the bathroom, it is important to have them installed to simplify the movements and reduce the risk of an injury. You would also need to improve their grip on slippery surfaces, such as worn marble and tiles. This can be done by inserting anti-slip devices at critical points.
6. Organize spaces and objects
Ensure that anything they need too frequently is at a hand's distance from them or is easily reachable for them. Storage should be more horizontally-oriented. Vertical shelves could be uncomfortable for older people, since they require climbing over a stool or a chair, and thus, risking an unfortunate fall.
The life of the elderly at home is not easy when conditions worsen, and there are obvious health problems. But there are some options that can make the difference. In this article, we have highlighted a series of useful tips, and ideas to put into practice. You can add something? Leave your experience in the comments.