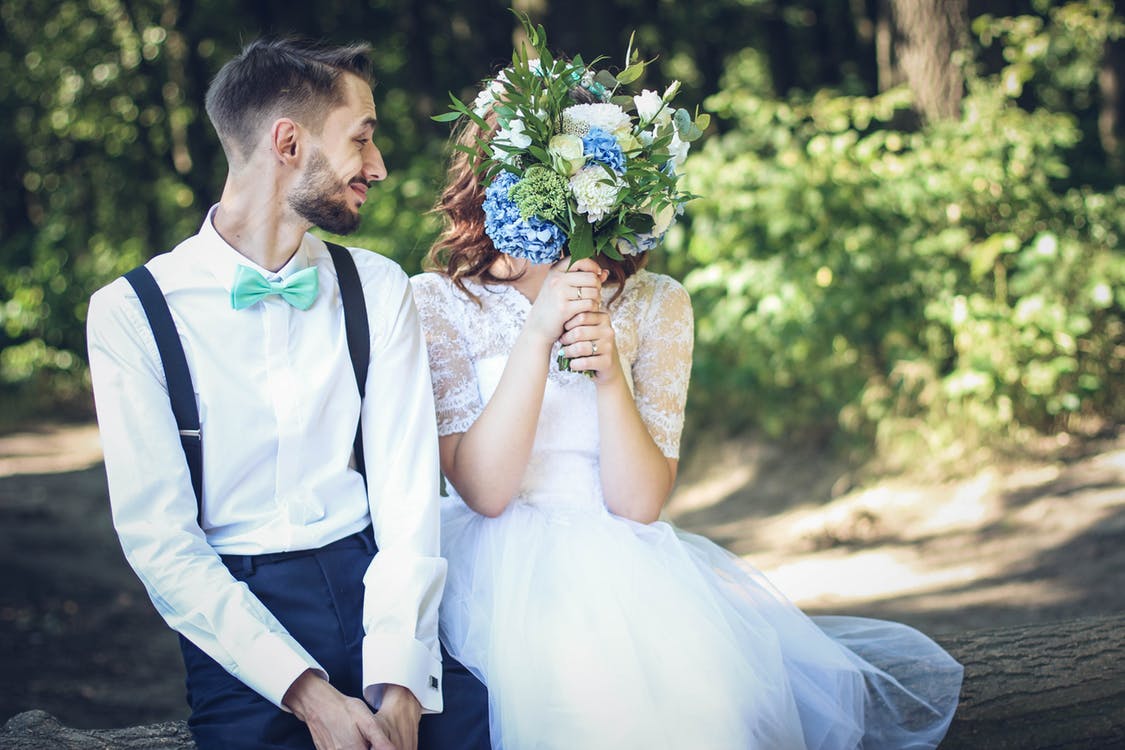 The wedding industry is always among the first to jump onboard with the latest and greatest trends, and the clean, crisp aesthetic of modern minimalism is one of the best new styles to feature on your big day. According to LoveProm, "wedding consumers are becoming much more educated on what to buy, and how that cost can be cut down… including looking towards other sources for vendors, locations, and services. For example, renting a private family farm rather than a vineyard or landscape destination could save you thousands, while simultaneously having the exact same benefit aesthetically."
Minimalism is a promising trend that offers brides-to-be an opportunity to cut costs, potentially dramatically, all while hosting a glamorous event that cries quality and vision. A strong minimalist aesthetic can elevate your wedding even as it lowers your budget. Check out the following minimalist wedding details you must consider when planning your simple, stunning affair.
Neutrals. In a minimalist wedding, there is not necessarily a need for a bridal party at all, let alone a bridal party decked out in matching, brightly-colored prom dresses. Stick with pretty neutrals like whites, creams, navy blues, taupes, and shades of grey. You can always incorporate a pop of unexpected color here and there, but make sure these details are thoughtfully placed and well-considered. Neutrals result in a wedding that feels like the ultimate blank canvas… the perfect metaphor for kicking off the first day of the rest of your life with your soon-to-be-spouse.
Texture. One of the best ways to add interest and create an air of sophistication is to incorporate texture into your wedding as much as possible. This will help break up neutrals and create richness and depth; embossed invitations and textural floral arrangements are just a couple ideas to get you started in exploring the options in texture. Remember that when you do minimalist wedding details, they have to be quality; there are no embellishments to hide behind.
Photography. Nothing will capture the enormous beauty of your simplified, minimalist wedding like a truly talented photographer. If you can find a photographer early enough, you could even have them join you as you look at venues, as they are truly experts in examining space and light — two absolutely integral features of a modern minimalist wedding. An amazing photographer can help you select decor elements that will really speak to your aesthetic and complete your wedding photos.
The Dress. Online custom wedding dress retailers, like Azazie, make it easier than ever before to find the perfect minimalist statement gown to reflect your minimalist wedding aesthetic. The most important thing to consider in a minimalist wedding dress is to keep the silhouette simple, with a style that emphasizes your natural beauty and exudes a simple elegance. Keep fabric choices simple and clean, and avoid fussy details and garnishes.
Details. While it's true that minimalist weddings are notorious for cutting unnecessary details and extras from the wedding to-do list, there are just some wedding details that everyone wants and will be looking for on the big day. The cake, for one thing, is something everyone wedding-bound looks forward to enjoying on the big day. Explore naked cake options, which can not only be breathtaking in their simplicity and understated charm, but also taste amazing (way better than the thick, tasteless fondant adorning most wedding cakes these days). Other details, like wedding favors, can be transformed into minimalist-friendly features with a utilitarian approach; select consumable or useful wedding favors for your guests to take with them when they leave.
Statement Pieces. Whether it's an intricate braid or chignon that screams "understated sophistication," unexpected footwear, a charmingly simple ceremony decoration, a surprising floral arrangement or boutonniere choice, or anything in between, no minimalist wedding would be complete without some fresh, surprising new statement pieces. You'll still be keeping things clean and simple, but you'll be drawing guests' eyes to all the right places.
There are endless ways to customize and personalize your take on a modern minimalist wedding, and all are guaranteed to make your big day an extraordinary, elegant event. Applying a minimalist approach to your wedding can help you cut costs even as you amp up the quality of the details you do invest in, making your wedding feel like an indulgent, luxe affair — all under budget.
What are your favorite minimalist-inspired wedding details? Share them in the comments below!